FotolEdhar - Fotolia
The future of workplace structure: Cross-functional teams, AI impact
The digital workplace, including the CIO shop, is moving toward cross-functional collaboration, greater openness to outside contributors and the uptake of artificial intelligence.
The future of workplace environments will be defined by collaborative teams in which employees wield cross-functional...
Continue Reading This Article
Enjoy this article as well as all of our content, including E-Guides, news, tips and more.
skills and work in tandem with intelligent machines.
That was the analysis of academics, CIOs and other executives speaking last month at the MIT Sloan CIO Symposium. The corporate drive toward digital transformation -- and the related desire to fend off digital disruption -- requires a faster pace of innovation, a development that is also changing the nature of work.
In addition, an array of potent technologies -- from advanced automation to rapidly evolving machine learning -- promises to redefine the roles of enterprise IT professionals. Those trends will change the way things get done in the IT department as well as in the lines of business IT supports.
Jim Fowler, vice president and CIO at General Electric, said he sees a movement away from organizations with traditional structures in which an employee focuses on a single, specific function. He said his role at GE, and other company roles for that matter, has already departed from that model.
"I do HR work for part of my day; I do finance; I do IT," he said, noting that work is becoming more cross-functional.
I think it's clear we're moving from a world where people tell machines what to do to a world where machines are more and more going to tell people what to do.

Jim Fowlervice president and CIO, General Electric
Fowler cited the example of GE's aviation business, which takes the strongest people in various disciplines and places them in a room with business executives to address challenges as a cross-functional team. The group, which consists of employees in the first five years of their careers, was formed to address another reality of the new work environment: namely, that methods traditionally used for grooming up-and-comers, such as rotating them from department to department, take too long.
"Every two weeks, a new business leader comes in with a problem or an initiative or something they need help solving," Fowler said. "I think you're going to see more self-forming teams like that."
At Bank of New York Mellon (BNY Mellon), teams are beginning to coalesce around the organization's 170 business services and the financial products those services support. The company has appointed digital officers for each of its product lines. Those officers determine how the product needs to transform in a digital environment and how it will generate revenue, according to Lucille Mayer, head of client experience delivery and global innovation at BNY Mellon. Technology and product become more closely aligned.
"So, I see a flattening," she said. "We start to have self-empowered teams owning services."
Future of workplace collaboration
Employees able to cultivate a cross-functional role and willing to work on a team may have the best shot at employment longevity, executives suggested.
As the future-of-workplace picture begins to emerge, the safest employees will be those with analytical backgrounds who can adapt, evolve and acquire cross-functional skills, noted Cynthia Nustad, executive vice president and chief strategy officer at Health Management Systems, and that company's former CIO. Health Management Systems, based in Irving, Texas, focuses on cost containment in healthcare.
The best-positioned employees are "not locked into what they are doing day to day," she said.
The future of workplace teams, however, won't be limited to corporate employees. Teammates may also drift in from outside an enterprise's walls.
Teams "are going to be augmented from people who aren't your employees, who are coming in and out of those teams to do work," Fowler noted.
David Neitz, CIO at CDM Smith Inc., a 5,000-employee engineering and construction firm based in Boston, said the company asked itself, "Do we have all the right people to come up with the next innovation?" The company decided to elicit ideas for solving problems via open forums and cultivate partnerships to supplement its in-house expertise. As for the latter approach, CDM Smith teamed with Object Theory, a software development startup in Portland, Ore., specializing in mixed reality, to deploy Microsoft's HoloLens technology. CDM Smith uses HoloLens to digitally superimpose modifications onto real-world assets such as buildings and bridges.
Other CIOs are also teaming with startups, with those relationships sometimes brokered by venture capital firms.
While CIOs and IT shops work toward greater collaboration and a wider scope of partnerships, they also must grapple with fast-moving technologies such as artificial intelligence (AI). The future of workplace tech will see a different type of interaction between people and machines.
"I think it's clear we're moving from a world where people tell machines what to do to a world where machines are more and more going to tell people what to do," Fowler said. "From a technology perspective, we're seeing machine learning [and] artificial intelligence really start to come of age where you can have that machine learning take over the RTS [readiness to serve] process."
The RTS process involves the tasks required to keep infrastructure -- such as a gas turbine -- available and ready to meet customer demand.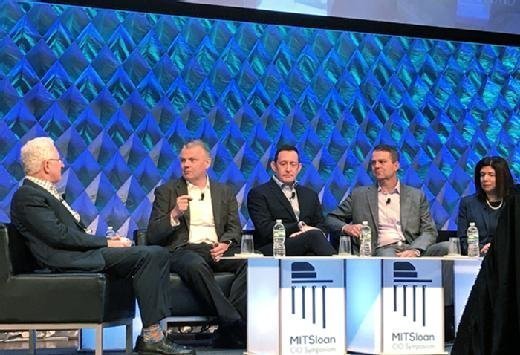 Fowler said he sees a future in which GE employees spend less time on RTS activities or figuring out what happened last month, last quarter or last year regarding a particular customer transaction and more time working in a predictive capacity.
"The future worker is more of a modeler," Fowler said. "They're taking a host of business decisions that need to be made and they're using the data they have to predict the outcome for the company and the customer."
The future of workplace roles, however, has yet to solidify. Fowler said he is fairly certain about the jobs that are going to change or potentially vanish, but he is less certain about what new roles might emerge.
"It's not clear for me [what] new jobs are going to get created," he said.
On the other hand, Ernest Ng, senior director of employee success strategy and people analytics at Salesforce, said his company aims to employ technologies such as machine learning to augment employee skills rather than wiping out jobs.
Mona Vernon, CTO at Thomson Reuters Labs in Boston, added AI requires human assistance to deploy, noting the importance of domain expertise and knowledge of the business context. "There's no such thing as AI out of the box," she noted.
That said, Vernon acknowledged that while many people will find themselves augmented via emerging technology, some may be left behind.
And Ng suggested that no job will be sacred, including now-hot fields such as data science, which he said will become commoditized. He said data science platforms already have emerged that let users pick from hundreds of different data models, parallel process them and then kick back the best model to use. He said a number of companies already provide such platforms, which include Salesforce Einstein, which brings together AI and customer relationship management. "I am going to have to actually step up my game," he said.
Unconventional paths to a digital future
The future of workplace training and development may call for a new manual.
David Gledhill, group CIO and head of Group technology at operations at DBS Bank, a multinational bank based in Singapore, said leadership training at the bank has a different look these days. Psychometric analysis and other traditional methods are no longer in the frame.
"Two years ago, we trashed all of that," Gledhill said.
Instead, DBS had its top banking leaders participate in hackathons with startups and university students. Gledhill said the goal is not to create anything, but rather to have the bank leaders absorb startup culture and the minimum-viable-product approach -- lessons they can take back to the workplace.
Health Management Systems' Nustad said her company promotes volunteerism to help cultivate otherwise hidden talent. She said employees tend to forget who they were when they join a company and start to scale the career ladder. Volunteering, however, lets them learn different roles and uncovers "skills you are harboring in your company that you didn't even know were there," Nustad said.