voyager624 - Fotolia
Slack roadmap reveals new integration, collaboration in 2019
Slack plans to invest more in security, speed and integration with business productivity apps in 2019. The vendor revealed the plans in a roadmap presentation to admins this week.
Slack roadmap updates revealed in a web presentation to about 1,200 IT administrators this week promise improvements...
Continue Reading This Article
Enjoy this article as well as all of our content, including E-Guides, news, tips and more.
to the workstream collaboration app's performance, reliability and quality. Updates will also make it easier for users to work with people outside of their company and to scale Slack more securely.
The Slack roadmap updates ensure the desktop and mobile apps and the web client are as fast and reliable as possible, the vendor said. Slack also is working to reduce memory and battery drain, add integration with other productivity apps and reduce noise from unnecessary notifications.
Slack launched in 2013 and caught on among business users who can easily download the application and use it to improve productivity, without IT approval or oversight. Large vendors have deployed their own versions of workstream collaboration platforms in recent years, including Microsoft Teams, Workplace by Facebook and Cisco Webex Teams -- formerly Spark.
The common characteristic of all these tools is they allow employees to chat, share documents, events and work together on projects in real time. But Slack's popularity and early start have allowed the platform to maintain its edge with users, who are known to continue to use Slack even after their employers officially deploy platforms such as Teams, said Wayne Kurtzman, research director for social and experiential solutions at IDC.
"What I am seeing and hearing from clients is that Slack's ease of use and functionality, especially integrations, is a high bar for others to meet," Kurtzman said. "Microsoft, Cisco and others have good roadmaps, but IT needs to look at the needs of all constituents to determine the best [platform] for their culture and their organization's mission."
What to expect from Slack in 2019
Slack has already improved the way its application works with external organizations via Shared Channels -- a feature it launched last year to allow different companies to connect. Upcoming launches are about furthering collaboration outside of companies in a secure way.
"Having a product that allows you to collaborate with partners, customers and agents is something companies are finding incredible success with," Kurtzman said.
One of the most requested features -- deeper integration with Microsoft OneDrive -- is coming soon. This will enable users to click the Plus button to easily add OneDrive files.
Another top-requested feature coming to Slack is the ability to invite entire user groups to channels. Being able to bulk-add individuals to a channel, such as members of a design team, will make administration and spinning up new channels easier, the company said.
The Slack roadmap presenters, Angeli Agrawal, Slack customer success manager, and Mat Mullen, Slack product manager, spoke during a web roadmap event on Nov. 27. They did not provide a specific time frame for the release of these or other features, as the timelines are not definite.
One "longer-term strategic update" is an "Announce Only" channel that will allow specific people within a company to make announcements in a channel that is read-only, Mullen said. For example, a sales announcement channel allows an internal executive to share news to their specific team and because it will be a read-only channel. So, there will be no noise in response to the announcement.
Another feature on the Slack roadmap is a WYSIWYG editor, which will enable users to format rich text without having to remember text markup rules.
Other improvements to the Slack desktop app are speedier load times and smaller memory requirements. The new desktop client -- presented in an online demonstration alongside the current version -- showed a far faster load time.
Another key improvement, according to Slack, is more access to the app even when connectivity is low. This means users will be able to load Slack, use their channels and mark messages as "read" even while their internet connection is down.
Meanwhile, Slack's enterprise version, Grid, will include more security options. Customers will soon see Enterprise Key Management improvements, enabling more control over encryption keys. With this, admins will be able to revoke access to Slack content for a certain time period for specific employees. These security features will help Slack compete with workstream collaboration tools that tout enterprise key management, such as Symphony and Cisco's Webex Teams offering, Kurtzman noted.
"[Enterprise Key Management] was a significant step," he said. "What Slack is doing next is accelerating additional levels of security into enterprise key management. It's something they promised, and they appear on time to deliver it."
Grid customers will soon see general availability of External Shared Channels, now in beta, allowing them to do exactly what the feature's name indicates.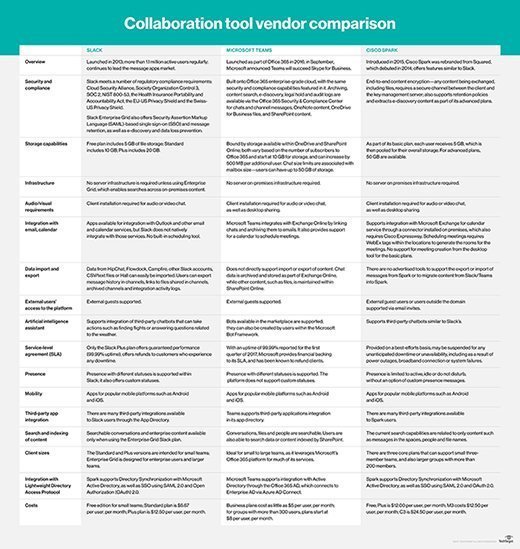 More productivity channels, less noise
Slack's recent Astro acquisition will likely lead to better interoperability between email and Slack. The web event presenters did not say, specifically, what more interoperability means. For now, the company is working to improve connectivity and is thinking holistically about other communication channels, including phone calls, and how to integrate them all, Mullen said during the web presentation.
The Astro team is working to improve the connection between Slack and Microsoft Outlook and Google Calendar; those apps are all going to be in sync with Slack "in the near future," Mullen said.
Improvements to the Slack interface are intended to make external apps more readable and easier to interact with. For example, users can accept a Google Calendar meeting invitation within Slack, instead of leaving the app to open the Calendar and then accept an invite. According to Slack, better integration with Google Drive will also allow users to reply to a Google Doc comment within Slack, rather than switching between the different platforms.
Slack's ease of use and functionality, especially integrations, is a high bar for others to meet.

Wayne Kurtzmanresearch director for social and experiential solutions at IDC
Perhaps the most annoying aspect of Slack for many users is the number of urgent-sounding notifications that are anything but. There are features available now to remedy this, such as the Do Not Disturb option, but the Slack roadmap includes more features to better manage noise, such as adjusting notification preferences for channels and for specific users.
Users also will be able to snooze Slack notifications when they don't want to receive them, such as during vacations or holidays. Notifications will appear, but won't light up and ping users.
The roadmap also includes the ability to automatically clear a status at a certain time each day, or apply default expiration dates on time-off schedules, so employees have less to remember to do when they return to work, Agrawal said in the web event.
The partnership deal Slack struck with Atlassian in July will yield new integrations with Atlassian's collaboration tools, including Confluence, Jira, Bitbucket and Trello. As Slack previously announced, the partnership deal also means the end of HipChat and Stride as of Feb. 15, 2019.
Integration is critical for enterprises that use multiple platforms and need to minimize toggling between apps. Part of the decision about which workstream collaboration app to use should include its ability to plug into other business applications, Kurtzman said.
"When you can bring your whole tech stack into a collaboration platform, there is better productivity, fewer meetings and faster deliverables to market," he said.
Slack vs. Microsoft Teams
The Slack roadmap, particularly the enterprise Grid option, appears to show the collaboration software vendor can stay competitive with Microsoft, which launched a free version of its Teams app in July. Microsoft's big competitive advantage is its massive installed customer base and Teams' integration with the software giant's productivity platforms, with which its customers are already familiar.
This month, Microsoft updated Teams with a number of features similar to those Slack plans to roll out, including a Quiet Hours feature and the ability to bulk-add teams to its collaboration platform. Microsoft also unveiled the ability to schedule Teams meetings from a mobile device and invite people who are part of the organization via the Microsoft Teams app for iOS and Android. Teams users will also be able to schedule channel meetings soon, among other updates posted in the November roundup blog post.
All the workstream collaboration vendors are bringing out updates fast and continuously, matching each other feature for feature. With fewer and fewer feature gaps, the choice of which platform to use comes down to ease of use, integration and employee preference, Kurtzman said.
"People want to communicate at work, as well as they do at home. So many people planned their Thanksgiving Day using Slack at home," he said. "People at work don't want to jump through hoops to communicate. Ease of communication is what Slack provides."