Fotolia
Add real-time customer experience to your CX strategy
At its recent CX conference, Oracle emphasized how important it will be to provide real-time CX. Users and analysts weigh in on how plausible that actually is.
LAS VEGAS -- A major theme at Oracle's Modern Customer Experience conference this year was the importance of making the most of time spent with customers, while at the same time not wasting the customer's time.
Oracle's solution proposes real-time customer experience, which means providing value -- through marketing, sales or service -- to customers exactly when they want it.
"You will be outmaneuvered if you're not thinking in real time," Rob Tarkoff, executive vice president and general manager of Oracle CX Cloud, said at the keynote. "Real-time CX is right on the horizon … and it will become a required part of any future CX system."
What do customers think?
Oracle customers are generally united behind the idea of real-time customer experience, regardless of how close they are to being able to deliver on it.
Elsevier, a Dutch publishing company, is definitely not in a place where it can deliver real-time CX, said Marc Grant, CX software engineering manager. But it is a priority. Grant believes virtual assistants will play a bigger role in delivering faster customer service.
Nannette Bromley, senior IT project manager at Bissell, a vacuum cleaner and floor care product manufacturer headquartered in Walker, Mich., said that while they provide real-time information to their agents, they are still working to deliver real-time customer experience. So far, Bissell built a web portal for customer self-service to limit the number of phone calls needed to solve customers' problems. She said that while the company is always looking to improve customer experience, it will probably always play catch up as far as supporting the channels and services that customers want as technology evolves.
Sportable Scoreboards, a custom scoreboard manufacturer based in Murray, Ky., is one of Oracle's smallest customers. They don't currently collect much customer data. However, even without a data-driven approach to marketing, sales and service, speed is what sets them apart from their competition.
"We'll get you a quote with a firm price and a graphic rendering of that scoreboard in your school colors, with your logo that day," Janson James, director of administration at Sportable Scoreboards, said. "Speed and personalization [are] where we have won, and we need to double down on that. What that really comes down to is minimizing the risk for the customer."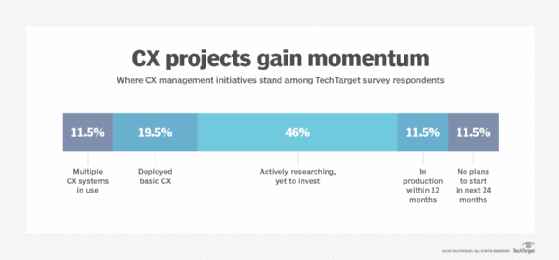 Who gets left behind?
Analysts at the conference have differing opinions on how quickly real-time customer experience will become as vital to business success as Tarkoff and other Oracle executives said.
Real-time CX is right on the horizon … and it will become a required part of any future CX system.

Rob Tarkoffexecutive vice president and general manager of CX Cloud, Oracle
"There are the fast movers, the companies that can respond in real time in some way already, and then there is everybody else," said Ginger Conlon, U.S. editor of The Drum. "The faster you can do it, the better; but if you're behind, you're not actually behind, you're with most everyone."
If an organization is in a position to provide customers with real-time customer experience, it is not an opportunity to pass up. The first companies to implement this strategy will be able to differentiate themselves in the marketplace, which will be profitable, said Denis Pombriant, managing principal of Beagle Research Group.
"As somebody looking to adopt real-time CX, you have to ask yourself, 'Is this something that I can afford to let go by?'" he said.
Ultimately, most companies will need to take a few intermediate steps to collect, clean and integrate customer data before they can direct their attention to providing a real-time customer experience.
"Your data and your systems need to be connected to respond in real time in a relevant way, and a lot of companies don't have that yet," said Conlon.
Dig Deeper on Customer experience management