Fotolia
New Oracle Eloqua features, integrations collect actionable CX data
New integrations and updates for Eloqua, Oracle's B2B marketing tool, emphasize the importance of actionable data in delivering a positive customer experience.
LAS VEGAS -- Oracle this week rolled out new Oracle Eloqua features and integrations designed to save employees time and drive a better customer experience.
New Oracle Eloqua features include email send-time optimization and marketing best practice guidance, announced at the annual Modern Customer Experience conference. Eloqua integrations with Oracle Infinity, Oracle Data Cloud and DataFox can help make marketers more effective by improving the CX data at their disposal.
Other major vendors, including Microsoft, Adobe and Salesforce, are also focused on building platforms that bring together customer data and AI tools to get real-time, actionable insights that make marketers more efficient, said Brent Leary, analyst and owner of CRM Essentials.
"There is a lot more choice for customers," Leary said. "They have a lot more power, and because of that it becomes critical to make the most of the split seconds you have to get a customer or prospect's attention and convert them into a customer or a longtime customer."
Infinity integration
Oracle Infinity monitors customer behavior across websites and mobile applications in real time. It can also pin behaviors to specific known and anonymous users. Now that Infinity is integrated into Eloqua, Eloqua can take that behavioral information and trigger an action, such as send a promotional email to a customer.
The integration between Eloqua and Infinity makes it possible for marketers to automate the process, instead of moving back and forth between the two applications.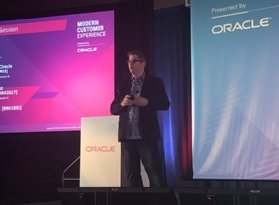 Furthermore, being able to track behavioral data over time makes the CX data more valuable. For example, if a customer repeatedly buys the same type of shoe, marketers can identify those customers as an audience to target.
The basic version of Infinity will be available to all Eloqua customers for free, while its advanced capabilities can be purchased, according to Oracle.
"There are massive amounts of data that are collected with some of the new capabilities," said Pierre Custeau, vice president of product management for Oracle Eloqua. "We want to make sure that data remains insightful, useful and actually helps your marketers get better."
Data Cloud and DataFox integration
To give customers richer account-based marketing capabilities, Eloqua will integrate with Oracle Data Cloud and Oracle DataFox in the next few months. Oracle acquired DataFox in 2018, bringing with it the company's AI-driven database of more than 3.5 million B2B companies' information. Oracle Data Cloud has similar capabilities for B2C account information. Together, the data sets can enable Eloqua customers to get more granular with CX data when delivering targeting content to their customers.
There is a lot more choice for customers. ... [It's] critical to make the most of the split seconds you have to get a customer or prospect's attention.

Brent LearyAnalyst and owner, CRM Essentials
DataFox processes more than 7,000 news articles each day to extract information, according to Oracle. It gleans such information as what company has a new senior executive, what company is showing signs of growth and what company just declared bankruptcy, among other news.
"The potential for this integration with DataFox, Data Cloud and Infinity is that it brings data together and gets it to the point where [marketers] can use it to create a personalized piece of content that means something to the customer right now, as opposed to something that might have been interesting two weeks ago," Leary said.
New Oracle Eloqua features
Using AI, one of the new Oracle Eloqua features can now determine the optimal time to send emails to individual recipients based on when they will be most likely to engage with the content, a capability Oracle dubs "send-time optimization."
Later this year, this function will also include campaign arbitration, a measure to prevent any individual customer from receiving too many emails. If the recipient is involved in multiple campaigns, they won't get all of the emails from those campaigns at the same time. Oracle will stagger them based on the priority.
Also among the new Oracle Eloqua features is a function that delivers in-app marketing best practices to encourage users to get the most out of their Eloqua subscription.
With 55,000 active users of Eloqua every day, it takes time for people to become proficient with the platform, while some customers plateau early and don't use all of the features, Custeau said. The new best practices feature is designed to help customers make the most out of the system and move to the next level.
The recommendations draw on data science, machine learning and AI to ensure that the information is relevant to each user and each organization. The first lessons focus on making sure that people are aware of capabilities they are not using and provide them with documentation.
Editor's note: TechTarget offers ABM and project intelligence data, tools and services.