sp3n - stock.adobe.com
Digital experience projects balance CX, data privacy concerns
Users want hyper-personalized, convenient experiences when they shop or stay at hotels, but brands must balance the thin line between convenience and invasion of privacy.
ORLANDO -- There may be nothing more frustrating after a long day of travel than getting to your hotel room, swiping the key card and seeing a red light instead of green.
That's one of the many inconveniences Hilton hopes to solve through its digital experience strategy, called Connected Room. The IoT technology allows guests to use their mobile device as their in-room remote, lighting control, a digital key and as a remote to set or change their room temperature.
"Our app is an all-in-one command center that empowers customers," said Naveen Manga, vice president of customer journey technology and delivery at Hilton Worldwide, during a session at Gartner IT Symposium here this week. "It provides choice and control."
The company has more uses in mind for Connected Room technology, and continues to add partners, such as Netflix, to customize the digital experience. For example, Hilton could monitor the battery status of the room door lock systems to ensure guests never see that blinking red light when they arrive. It's a simple use case that could have a profound impact on customer experience, he said.
The IoT system is in a limited number of Hilton's 5,500 worldwide properties so far, but it's being rolled out worldwide. The technology behind it is a proprietary in-room appliance that sends protocols to other devices in the room using Bluetooth. It's scalable "from edge to core," and secure across boundaries, according to Manga.
"Having a proprietary device in the room that's fully redundant, and a secure system that we built on open standards, allows us to control it and build it out," Manga said.
Earlier this year, Disney rolled out technology called Interactive TV (ITV) to personalize the experience for guests of its Coronado Springs Resort here. Upon arrival in the room, the guest's name is displayed on the screen with a welcome message. Guests can connect their personal devices to the screen and see their vacation plans, including any photos linked to their accounts. This digital experience technology will be rolled out to all Disney World resorts in the years ahead.
For every person who appreciates the convenience of hyper-personalization from Hilton and Disney, there is someone who finds it "creepy." A group of attendees here said they wouldn't want to see their name automatically appear on the hotel room TV screen or have their personal preferences connected. Among them is Thierry Beniflah, a business relationship manager who works at a global human services organization. He said data collection is too ubiquitous, and he gladly trades convenience for personal privacy.
"I don't want my data to be collected and sent somewhere else. There is no way you can control the way the data is used once it's collected," he said. "So, I lie shamelessly every time I'm asked to fill out my personal information online."
The 'privacy paradox'
While plenty of people say they don't trust companies to use their data ethically, many -- particularly millennials -- are willing to share their personal information in exchange for convenience and personalized experiences, according to a 2019 Gartner survey. This "privacy paradox," as Gartner calls it, marks the inconsistency between customer concerns about privacy and their desire for a personalized digital experience.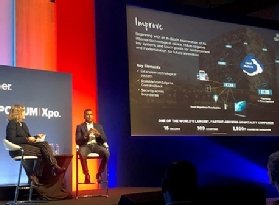 Take facial recognition payment, for instance, which allows consumers to simply look into a camera to approve a transaction. In China, facial recognition payment systems have already been adopted and use is accelerating, but the AI technology isn't likely to expand to regions where such technology is seen as an invasion of privacy, according to Van Baker, a Gartner analyst who led a session on trends in digital experience through 2020 here this week.
"As far as [Chinese citizens] are concerned, it's the ultimate in convenience," Baker said during the session. "In other areas of the world, [facial recognition] is viewed as the ultimate invasion of privacy."
Companies such as Hilton have to be sensitive to cultural views and provide the right type of personalization for customers, while allowing them to safeguard their personal data.
"We allow our customers to opt in or out, and see where we store the data, what we store and we allow them to delete that data. In compliance with GDPR, the process is done through Hilton's global privacy office," Manga said.
He added that across the layered architecture of a connected room, security is built in. "[Security] is a first-class citizen," he said.
While the hotel giant works to serve customers who want maintain privacy, it continues to experiment with technologies in ways that can improve the customer experience. One such example is robotic butlers, which are being tested in Hilton's labs, Magna said.
"These haven't seen the light of day -- but we are looking at how to make these types of technologies complimentary," Manga said. He added that AI has its place, but service industry workers get nervous about their job security when the topic comes up.
Dig Deeper on Customer experience management