Getty Images
Lob launches direct mail automation platform
As direct mail makes a comeback, longtime API vendor Lob launches a web front end to automate physical mail campaigns directed by marketing automation data.
Direct mail marketing is making a comeback, thanks to millennials' enthusiastic response and marketing automation technology that reduces the cost, environmental impact and the general nuisance it caused in past decades.
Lob, a direct mail automation vendor, hopes to capitalize on the revival of paper marketing mail. The company released a no-code web platform on Wednesday to enable U.S.-based marketers to use its APIs, which developers use to integrate into many CRM and marketing automation systems since the company launched in 2015.
Marley Spoon, a meal-kit vendor that competes with the likes of HelloFresh and Blue Apron, is a Lob customer. The company has found success with direct mail to acquire new customers and also to target lapsed subscribers, said Malin Dettmann-Levin, Marley Spoon's CRM lead.
The reactivation effort begins with segmenting lapsed customers according to recency, frequency and monetary transactions, meaning Marley Spoon sends a four- by six-inch postcard to repeat customers who bought the most food, starting with those who most recently quit. Using data-driven segments as part of a coordinated multi-channel campaign -- rather than blanketing a whole geographical region -- makes sense from a cost and tactical perspective, Dettmann-Levin said.
Because Lob is limited to U.S. customers and the Berlin-based Marley Spoon caters to customers in many countries, Dettmann-Levin uses multiple tech vendors to execute direct mail campaigns. Lob is more straightforward, she said, as it integrates tightly with Iterable, the company's CRM. Lob also has features the others don't have, such as web hooks to activate campaigns, customer data automation and tools to more closely track reactivations.
"In other regions, you don't really know what's going on," Dettmann-Levin said.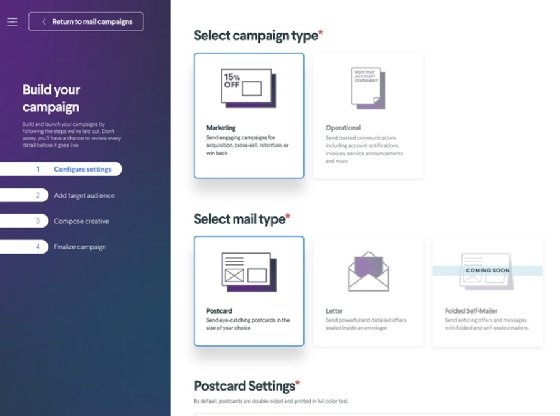 Direct mail resonates with younger customers
Gen Xers and baby boomers might remember the pre-internet era where direct mail was called "junk mail." But younger people don't connect direct mail with waste -- yet. Lob users find that targeted, personalized direct mail approaches get traction with their millennial customers, said Ritu Kapoor, Lob Chief Marketing Officer.
That makes sense, said Liz Miller, Constellation Research analyst, because people from Generation X and older remember sorting through a half-full mailbox every day and throwing out most everything -- typically a stack of irrelevant ads, offer letters and flyers -- and keeping a few bills.
That's exactly how millennials view digital marketing, Miller said. The pandemic only made the noise worse. Current digital tools also make personalization feasible at scale.
"There is channel overload," Miller said. "When everyone went home, marketers kind of went, 'Oh, God, we can't reach people through our billboards anymore. Let's divert all that money.'
"This caused a weird budget shift, and we ended up with far more push-type engagements that went through digital channels, bombarding people on social, email, SMS text messages, whatever that digital choice of stalking and bombarding was," Miller said.
For marketers who are looking at ideas like transmedia storytelling -- where you tell different parts of a single story across a multitude of channels -- direct mail becomes a very powerful tool.

Liz MillerAnalyst, Constellation Research
Direct mail, in comparison, is novel to millennials and their younger peers. Once a symbol of environmental waste, direct mail is reforming its image, Miller said. Paper manufacturers and printers have gone out of their way to become more sustainable, with plant-based papers and inks, Miller said.
Add to that today's cloud tools that can automate and target a small, specific audience, and direct mail has reemerged as a useful channel in the marketer's mix.
Lob also has a feature that verifies addresses to determine which ones are out of date, and which ones might take too long for delivery and therefore too late for recipients to participate in an offer campaign, Kapoor said. This data-driven tool also saves resources, and will be part of a larger bundle of sustainability features Lob plans to release later this year.
The one drawback of direct mail as a medium is that certain metrics marketers can track on digital channels -- such as whether an email is opened or not -- cannot be tracked on paper. But with A/B testing of direct mail groups vs. email groups, QR codes and campaign-specific URLs to which a piece of mail can direct a customer, marketers can measure return on direct mail investment to inform how they spend their budgets.
"For marketers who are looking at ideas like transmedia storytelling -- where you tell different parts of a single story across a multitude of channels -- direct mail becomes a very powerful tool," Miller said.
Lob subscription pricing begins at $260/month for small businesses with three users, plus added costs for printing and other features such as address verifications.
Don Fluckinger covers enterprise content management, CRM, marketing automation, e-commerce, customer service and enabling technologies for TechTarget.