Getty Images/iStockphoto
Top 10 SMS marketing best practices
Customers may be willing to opt into receiving texts from a brand, but marketers should follow various best practices to ensure they don't overload or overstep with customers.
The best marketing strategies catch a customer's attention in a quick, easy way that promotes engagement and action. SMS marketing can do that.
SMS marketing -- marketing communications sent through text messages -- can reach customers almost instantaneously, as nearly everyone always has a cellphone on them. Strategies for this type of marketing are similar to email marketing yet require quicker messages to get their points across. While this approach has various challenges, it may be the easiest way to reach customers.
"In the jewelry retail space, we have discovered SMS is a great channel for reaching customers, keeping them engaged and getting them to convert," said Amber Smetana, SMS marketing lead at Peoples Jewellers based in Canada.
Peoples Jewellers is part of Signet Jewelers, which operates approximately 2,800 stores, primarily under the name brands of Kay Jewelers, Zales, Jared and Peoples Jewellers. It is the world's largest retailer of diamond jewelry.
Experience with SMS customers has convinced Smetana and the Peoples Jewellers' team they can more easily take advantage of deals and discover new products through SMS versus other digital channels.
"We send targeted messages to multiple, carefully crafted segments, are constantly A/B testing things like send times and [calls to action], and are … mindful of various regulations, such as obtaining consent," Smetana said.
To succeed in their marketing efforts, organizations can follow these 10 SMS marketing best practices.
1. Be engaging and get the customer's consent
An SMS marketing strategy should start with marketers getting the customer's permission to send messages, according to Liz Miller, vice president and principal analyst at Constellation Research.
If marketing teams don't get customers' consent, they risk jarring consumers with a random, out-of-the-blue text from someone trying to sell them something. It runs the risk of customers marking a company's messages as spam.
"What [organizations] often forget is that people do not think of their phones as a mobile billboard," Miller said. "They think of it as a way in which to have bidirectional conversations with people they choose to have a conversation with. You should, therefore, start that dialogue in a way that is consistent with what the customer believes they have signed up for."
2. Keep texts simple
Text messages have a high average read rate, as they can reach consumers in real time. Because of this, marketers should find ways to add value to their messages. For example, they can use a conversational tone and deliver information concisely and digestibly, Smetana said. As shoppers' attention spans can be brief, marketers should keep copy short and to the point, with no more than a few hundred characters.
Don't waste space. Be short and concise. Be brief. Be brilliant. And be gone.

Liz MillerVice president and principal analyst, Constellation Research
In terms of messaging, Miller said marketers should get right to the meat of what they want the customer to do or have a conversation about. "Don't waste space. Be short and concise. Be brief. Be brilliant. And be gone," Miller said.
3. Offer incentives
Many consumers want to sign up for texts from brands they like and trust. To aid in this, marketers can incentivize their text messages with an attractive offer, such as a discount or free service. Additionally, they could create VIP or highly engaged customer segments and reward these members with exclusive coupon codes or event invitations, Smetana said.
However, some customers may have to pay to receive certain texts, Miller said. Not everyone has unlimited talk and text on their mobile phones. So, marketers should make opting into SMS alerts worthwhile for these customers.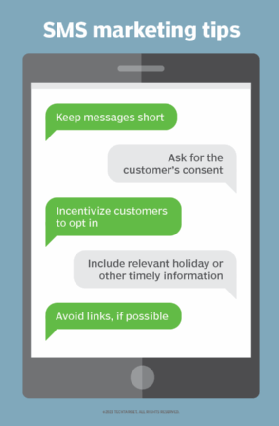 4. Focus on the present
Text messages are a form of real-time communication between parties and, therefore, have more of a short-term focus than a long-term one. An SMS marketing strategy shouldn't include messages about things a month away, Miller said. They should be about something relatively near term.
"When you think about the psychology of [text] messaging, it's about a quick burst of communication. 'Hey, Mom, I'm heading home.' 'Hey, what do you want for dinner?' People are having timely communications in their text messages," Miller said.
5. Consider relevant holidays, events
Marketers should keep ongoing or automated message strategies current with timely content. For example, during a holiday season, marketing teams could include links to gift guides or appointment booking in their welcome or cart abandonment messages, Smetana said.
Teams should build scenarios that offer a range of mobile touchpoints, according to Mike McGuire, Gartner research analyst. These touchpoints including the following:
Text messages.
Mobile wallets.
Mobile web browsers.
Native mobile applications, especially for social media.
6. Include SMS in a multichannel strategy
To make SMS marketing most effective, marketers should tie it to other forms of communications, rather than use it as a standalone practice. SMS marketing should integrate into the totality of how, when and where an organization communicates with the customer. A multichannel strategy -- where organizations interact with customers on various channels, like email and social media -- can help.
"Multichannel marketing lets you create a unified experience across multiple channels to promote brand loyalty," Smetana said. "We've considered the unique strengths of each channel and what format would be most effective for communicating with customers to build out an ideal experience."
7. Segment audiences for better targeting
Marketers can better target their messages -- and overall communications performance -- if they break their audience into segments. Teams can base these segments on various factors, such as demographics, location, frequent vs. one-time buyers, engaged vs. unengaged customers and more.
However, marketing teams must ensure all communication fits within a customer's overall journey with the brand. Marketers should also ensure communication is consistent across channels so it aligns with the story that customers put together about the brand, Miller said.
8. Avoid texts that redirect a customer elsewhere
Marketing teams should take care when they send texts that would redirect a customer to another location, like a website. For example, if a customer isn't familiar with the brand or isn't expecting the text, they may assume the message is part of a phishing scam.
"If it is something or someone not known to them, they'll likely worry that it is a scam or junk mail. If your text message seems like junk mail, they will likely report it as such," Miller said.
However, if marketers do choose to include links in their SMS campaigns, they must ensure customers can say no or ignore the recommendation.
9. Be creative
Marketers should be bold and innovative with their content creation. For example, they can experiment with capitalizing essential words to highlight them, integrating emoji to make a message more relatable and using automated replies to enhance interactivity.
SMS strategies offer marketers unparalleled reach to their audiences and a simple method of engagement with elevated read and response rates, McGuire said. Creative messages, such as a holiday-oriented sale announcement or a witty response to a social media trend, can also better engage customers and boost read and response rates.
10. Act on the data that SMS efforts can produce
SMS marketing does more than passively push out messages. Ultimately, marketers must remember all SMS efforts play a role in their data collection strategy. Marketing teams should use the information they gather wisely, ethically and judiciously. Also, they should note that, when they send messages, the customer assumes the brand will eventually send something more valuable as well, Miller said.
"For example, restock alerts via text make it easier for customers to purchase previously sold-out products, and sending texts about limited-time releases and new product launches enables customers to act on deals faster," Smetana said.