FotolEdhar - Fotolia
4 customer insights research techniques for your organization
Organizations conduct customer research in order to understand customers, create new products and increase revenue, all of which can be overwhelming without a strategy in place.
Customer insights research can help companies figure out new strategies that create value for customers and improve the bottom line.
Good research requires using quantitative and qualitative methods, and either can determine if a strategy will work. Quantitative methods include relationship-level surveys to understand the customer relationship, customer journey-based surveys and data analysis of a CRM or contact center database. Qualitative methods include one-on-one interviews with representative customers, focus group discussions and customer or employee observations.
However, more informal approaches often yield the best customer insights. It's easy to get caught up in a formal market research plan, but sometimes the best ideas come from throwing the plan out, said Alissa Reiter, vice president of marketing at Trulia, a real estate listing service.
Classic research methods are helpful, but it's also important for organizations to understand their services from a customer perspective, Reiter said. This involves finding creative ways to figure out what customers care about.
"I find the most profound insights come from one-on-one, in-depth conversations, where I have the room to get really curious about things, to understand the 'why' behind the trends I'm seeing in data," Reiter said.
1. Create persona summaries
Formal methods for collecting customer insights -- such as surveying groups that are representative of the population at large, recruiting focus groups, monitoring online bulletin boards and running insight panels -- generate a lot of data.
It's important to summarize this data and make it accessible on company intranets. The real payoff comes in how you share and process that information as an organization, and what you do with it, Reiter said.
One approach is to organize these summaries into customer personas, which can be a powerful device for synthesizing consumer insights. Personas help bring customers to life; they have a name and a backstory, and they help you better understand how to address customer needs.
"When we develop new products, personas become our lens for brainstorming, decision making and ultimately feature prioritization," Reiter said.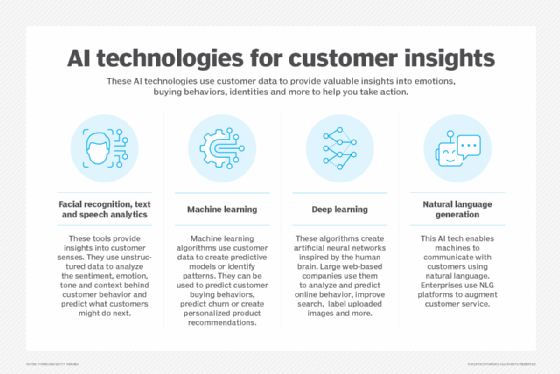 2. Balance art and business
Understanding what customers want and translating that into products that deliver is an art form that is fundamental to any business.
For example, Trulia research shows that 85% of people looking to buy a house care as much, or more, about the neighborhood as the house itself. However, these customers lack a single source of information for both, and many potential buyers do stakeouts in their cars, walk their dogs down potential blocks and lurk on neighborhood social media groups to get a feel for the neighborhood.
These insights lead Trulia to create Trulia Neighborhoods, which captures images of everyday life in neighborhoods and includes perspectives from locals.
"This brought an in-depth picture of residential life in the neighborhoods across the country, and it was all sparked by insights we unearthed in research," Reiter said.
3. Tune a platform
Many companies use off-the-shelf AI tools for customer insights research, such as Lexer, Crimson Hexagon and ClearSight, to map out data about companies, individuals and products.
To derive the most useful insights from these tools, organizations need to regularly identify the questions that guide data collection and determine whether the data could be better organized around a new set of questions, said Jeff Pazen, director of customer experience at ServerCentral Turing Group, a cloud consultancy.
This process, known as tuning, requires knowing what matters to your customers personally, professionally or both. For some businesses, knowing who someone is, versus what they do, is far more important, Pazen said. These types of questions change the sources you use and research you do to learn more about the individuals.
4. Start with an actionable hypothesis
Customer insights are only valuable when companies can act on the insights in a way that benefits customers and the bottom line. Companies need to listen to customers, do research and develop a hypothesis, all with the intention of taking action on the insights they gain, said Mike Manfredo, senior principal at West Monroe Partners, a business and technology consulting firm.
"Too many organizations take the first step of listening to customers or completing some data analysis, but they do it without a specific reason or don't plan to actually take action on the insight identified," he said.
It may be challenging for organizations to act on these insights, depending on the structure of the organization and at what level the customer insight team and its level of influence resides.
"The best way we've seen small and new customer insight programs build momentum is to identify and partner with an early adopter within the business that is funded to make changes and improvements," Manfredo said.