Customer Loyalty and Satisfaction Learning Guide
Find out about customer loyalty and satisfaction, marketing, metrics and advice on the best ways to retain customers. This SearchCRM.com guide will lead you through defining, measuring and maintaining customer satisfaction and loyalty. Also, learn about customer loyalty successes at other organizations in the collection of case studies.
Attaining customer loyalty is a puzzle that involves lots of pieces fitting together. A company's marketing strategy, employee retention, customer service consistency, adequate analytics and CRM systems all play a role in retaining satisfied customers and creating a superior reputation. Customers have so many choices these days, and it's the company with a careful mix of loyalty programs, dynamic employees and a sense of service that will succeed in creating rich, personalized customer experiences and luring customers away from competitors -- and keeping them year after year.
Table of contents:

Understanding customer loyalty

How to build customer loyalty

Measuring customer loyalty

Customer loyalty case studies and industry-specific strategies

Customer retention: Long-term strategy

More CRM and call center learning tools


| | |
| --- | --- |
| Understanding customer loyalty | |

Customer loyalty and retention basics
According to market analysts and consultants Don Peppers and Martha Rogers, business success is harder now than ever before because of oversupply in all markets. In their book Return on Customer, they point out that customers have become the scarcest resource of all. So it's crucial that businesses continually find and keep new customers and understand the ways customers interact with organizations. Each customer interaction within your organization is equally important, and each can bring you more sales -- or leave you without. This diagram from Peppers & Rogers' consultancy shows the pillars of an effective customer satisfaction strategy.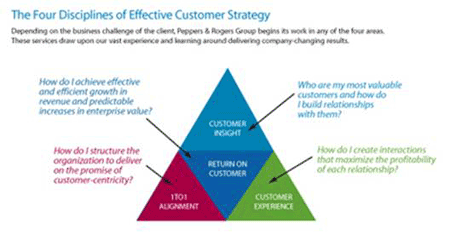 Source: Peppers & Rogers Group, 2005
Getting loyalty programs right is a changing proposition these days, as a new age of customer loyalty programs is dawning, thanks to radio frequency identification (RFID) tags and wireless point-of-sale technology. But there are some key pitfalls to keep in mind:

Make sure there's a payback

Get good data, and be patient

Do more than encourage future behavior

Weed out the unprofitable customers


Expert Jim Berkowitz advises businesses to use these six questions as a guide to start building customer loyalty:


What are the expectations of our customers and what it will take to exceed them?
What differentiates our company in the eyes of our customers?
To what extent can we grow our business with our existing customers?
How do our interactions with our customers affect their satisfaction and buying behavior?
Do we have any customer segments that require different treatment?
How loyal is our customer base and how can we improve it?

Learn more about customer loyalty and satisfaction with these resources:


Voices of CRM podcast: Martha Rogers
Find out more about customer loyalty and customer experiences in this exclusive podcast with Martha Rogers, CRM industry and customer management guru. Rogers talked with the SearchCRM.com news team about the "Return on Customer" concept, customer lifetime value and measuring customer engagement.

Return on Customer, written by Don Peppers & Martha Rogers; published by Peppers & Rogers. This sample chapter provides an overview of measuring and enhancing customer value.


Customer loyalty terms and definitions
There are some common key terms involved in measuring and building customer loyalty and satisfaction. Churn rate is a measure of customer or employee attrition, and is defined as the number of customers who discontinue a service or employees who leave a company during a specified time period, divided by the average total number of customers or employees over that same time period. Businesses can derive information about customer satisfaction and loyalty by measuring their customer churn.

A contact center (customer interaction center) is a central point in an enterprise from which all customer contacts are managed. The contact center typically includes one or more online call centers but may include other types of customer contact as well, including email newsletters, postal mail catalogs, Web site inquiries and chats, and the collection of information from customers during in-store purchasing. A contact center is considered to be an important element in multichannel and loyalty marketing, and is usually a company's primary touch point for customers.

Customer life cycle is a term used to describe the progression of steps a customer goes through when considering, purchasing, using and maintaining loyalty to a product or service. Marketing analysts Jim Sterne and Matt Cutler have developed a matrix that breaks the customer life cycle into five distinct steps: reach, acquisition, conversion, retention, and loyalty. In layman's terms, this means getting a potential customer's attention, teaching them what you have to offer, turning them into a paying customer, and then keeping them as a loyal customer whose satisfaction with the product or service urges other customers to join the cycle. The customer life cycle is often depicted by an ellipse.

Customer service and support is the part of a company's customer relationship management (CRM) department that interacts with a customer for their immediate benefit, including components such as the contact center, the help desk and the call management system. This part of the department is integral in carrying out a customer loyalty building strategy.

Customer service chat is an Internet service that allows the user to communicate in real time with a customer service agent by using an instant messaging application that's built into the company's Web site. CSC is often part of a "blended media" approach to contact center management, where customer service agents use multimedia routing technology to interact with customers by telephone, fax, email and chat. In retail e-commerce, chat is promoted as adding social interaction to the online shopping experience as well as being a way to provide immediate responses to customer questions.

One-to-one marketing (sometimes expressed as 1:1 marketing) is a CRM strategy emphasizing personalized interactions with customers. The personalization of interactions is thought to foster greater customer loyalty and better return on marketing investment. The concept of one-to-one marketing as a CRM approach was advanced by Don Peppers and Martha Rogers in their 1994 book, The One to One Future. Only the term is new; the approach is almost as old as commerce itself. In the past, for example, proprietors of a general store would naturally take a one-to-one approach, remembering details about each customer's preferences and characteristics and using that knowledge to provide better service and experiences. One-to-one marketing seeks to reinvest marketing with the personal touch absent from many modern business interactions.

For more terms related to customer loyalty, check out these WhatIs definitions:


average handle time
This common call center metric gauges how long a call center agent is on the phone with a customer.
Call logging
Call logging (also known as call recording or call monitoring) is the practice of listening to, recording and assessing interactions between call center agents and callers. These practice is used for staff training and development, customer quality control and liability protection.
First call resolution
This metric indicates what percentage of customer issues are completely resolved with one call to a call center.


Browse the customer loyalty concepts buzzwords

Test yourself on customer loyalty programs and strategy
Learn customer service best practices in this quiz from SearchCRM.com. Test yourself on call center basics and use the comprehensive answers to make sure you have the necessary information to help your call center excel.

Take the customer service and call center quiz

Find out how much you know about customer loyalty with this quiz. You'll find the most common terms related to customer loyalty, as well as the associated technology and best practices for retaining customers.

Try this customer loyalty quiz


Table of contents:
Understanding customer loyalty
How to build customer loyalty
Measuring customer loyalty
Customer loyalty case studies and industry-specific strategies
Customer retention: Long-term strategy
More CRM and call center learning tools