Enterprises using AI in sales gain sharper view of customers
AI-powered sales tools are helping enterprise sales teams spend less time on tedious administrative tasks and get back to what they do best: selling.
Sales teams are most effective when they spend their time selling. If companies aren't selling, they're not generating revenue. Increasingly, enterprises are using AI in sales to improve their bottom lines.
Cognitive tools help sales teams analyze prospects' emotional states to improve cross- and up-sell opportunities, help with the response time to inbound inquiries, improve the matching of sales reps with customers and provide better lead scoring. Taken together, these improvements help make sales teams more efficient and successful.
Augmenting inside sales
For organizations that depend on phone-based sales, it's extremely important to match callers to the appropriate agents to maximize up-sell and cross-sell of products and services. Many organizations are now using AI systems to help match individuals for sales, support and other sorts of human-to-human interactions.
These AI algorithms are able to take into account a variety of data points about the caller. The systems gather information, such as their inbound interest, and match the data with client profiles and notes from the CRM system and third-party profile information, such as social media data. The systems use machine learning to then identify patterns of successful and unsuccessful client interactions all in a matter of seconds. These patterns are then applied in real time to make, manage and augment human pairings and measure the outcome to provide feedback for the process for future pairings.
AI algorithms are able to provide further assistance to agents by recommending responses to questions or by analyzing the caller's voice and suggesting actions to agents, like slowing down their speech, providing more detailed responses or empathizing more with the caller. Additionally, AI systems are able to monitor calls in real time to allow supervisors to step in if needed. Once the call is complete, systems can analyze call data and provide suggestions for future calls.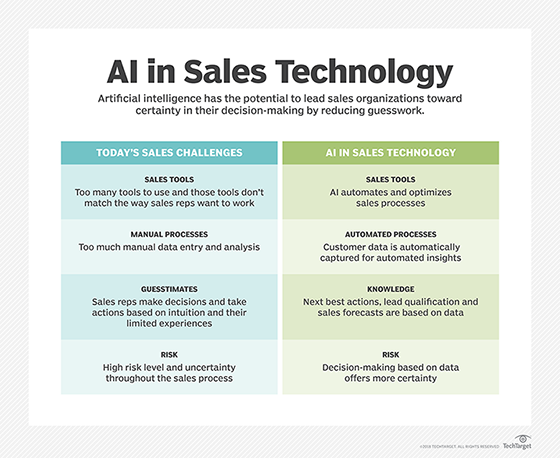 Improving sales follow-up and increasing close rates
One common problem with sales is that sales teams don't always follow up with potential leads, letting them go cold. Sometimes sales reps may follow up a few times with no reply from the prospect, so they give up. Other times, the sales rep might leave the company and all their potential leads and communications will be gone, too. Or the problem might be that a lead comes in from low-performing channels and is flagged with a low lead score so reps don't want to follow up.
AI sales assistants allow the sales team to automate and improve the routine, labor-intensive parts of the marketing and sales funnel. Autonomous agents can proactively identify and prioritize new opportunities as they come and automatically respond to leads. This allows for faster responses to customers inquiring about products and services.
Conversational AI agents can automatically engage with, nurture, follow up with and qualify leads through a variety of channels, such as email or chat, before handing the leads off to a sales rep to close the deal. In this manner, AI sales assistant tools are able to follow up with every lead and help companies avoid missing out on potential sales revenue.
Additionally, these AI tools lighten the upfront work for reps, enabling them to focus their time on higher-value tasks. AI tools are helping sales teams set more sales appointments from a pool of leads, improve marketing ROI and, ultimately, close more business in less time.
Transforming sales conversations
The majority of a salesperson's day is spent talking to people, whether it is on the phone or in meetings. Most of these conversations can provide highly valuable data for an organization, yet these data points are often not recorded. Sales departments are finding value in analytics software that records phone calls, team meetings and conversations and generates insights from interactions with customers and others.
With speech-to-text capabilities and natural language tools that understand the context of conversations, these systems can create notes and takeaways from meetings, produce transcripts, and automatically highlight important phrases or topics discussed to help with next steps. These tools are unlocking the hidden dimensions that govern voice conversations in the enterprise, and specifically are helping sales teams hit their quotas by improving their business conversations.
Companies are also using various voice-based AI technologies to educate and train their sales teams. By using natural language modes of interaction, businesses are creating more custom training tools with more accurate scenarios and situations. Systems can also monitor answers and provide immediate suggestions on how to handle certain situations, how to up-sell and various other suggestions in a training environment. This data can then be compared to various data from the sales rep, such as the time it takes him to close a deal, and track improvements over time.
It's important for the sales organization to not be bogged down by the sales process, spending time logging into multiple accounts, entering data into various systems, querying systems for basic information and vigorously jotting down notes from a meeting. Companies looking to get more value from their current sales team are finding that AI tools can augment the skills of current employees. AI technologies will continue to transform sales at organizations of all sizes, and their relevance will only continue to increase in the coming years.