Perfect AI-defined infrastructure by analyzing your data center
Before implementing AI, evaluate your IT team and data storage center. Experts explain the fundamental elements of data storage required to tailor an AI-defined infrastructure.
As the rapid implementation of AI in enterprises continues, companies need to evaluate and ensure the upkeep, security and cost-effectiveness of their data centers to create AI-defined infrastructure.
AI workloads take a toll on both IT departments and their standard data storage centers. Many companies implementing AI in their everyday processes should constantly evaluate storage options for their business and evaluate the level of need for current and future expansion into AI.
As you research and implement AI in your enterprise, first make sure to evaluate your data center by analyzing the following characteristics:
Location. Do you want your data center to be on-site or off-site? Can your IT team manage processes using a colocation center? Is it within range in case of emergency? Is there a designated area for your data center infrastructure? How does the internal location affect service?
Data centers have multiple locations. They can look like a closet in a corner of an office. They can look like a server room that you're cooling with whatever office cooling you have, said Bill Cory, regional vice president of sales at Flexential.
Projected growth. Does your data center provide the AI-defined infrastructure needed to match your projected growth? Colocated data centers can range from 80,000 square feet to 200,000 square feet, Cory said, and have the potential for growth. For companies with AI in their future, IT departments may need to reconsider their data center capacities in light of the extended power, cooling, energy and room that some AI implementation will bring.
AI implementation. Are you planning to implement AI, machine learning or robotics into your enterprise in the future? How will your data center be able to handle the additional power and infrastructure requirements? Is your existing data center high-performing?
"We looked at high power consumption and AI as a growing market and now as it is starting to really take hold, we are in a position to help support customers who are interested in buying the equipment, but maybe have an old corporate data center that they own and operate themselves..." said Jason Carolan, chief innovation officer at Flexential.
If you have an older in-house data center, you have to evaluate or update the center in order to meet various power demands of new technology. If your data center was built 15 years ago and you put an AI deployment server like the DGX-Ready Data Center by NVIDIA -- Flexential's recent partner -- in, the data center would literally melt due to increased power consumption and inadequate cooling measures, Carolan said.
Performance. Data centers consume an immense amount of power. Does your system have adequate cooling capabilities? Can you ensure streamlined performance -- and have you put in the appropriate metrics to ensure continuous service? The higher the performance, the higher the risk, Carolan said.
"A lot of newer industries [powered by AI] are looking for really high-performance computing capabilities. One of the byproducts of these machines being so high-performance is that they require a tremendous amount of power and a commensurate amount of cooling," he said.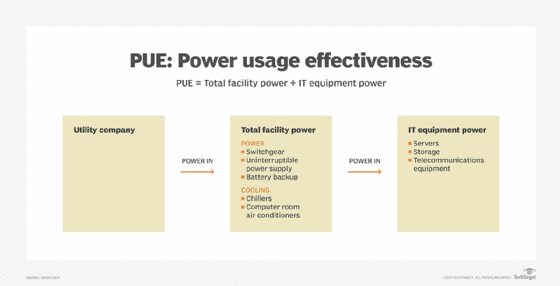 Security. Does your in-house data center provide security? AI-defined infrastructure needs physical security and external protections like protected entry, cameras and security monitors, Carolan and Cory said. Then, consider internal network security that will protect against unwarranted access, misuse of data or data privacy threats.
Cost. What is the difference in cost between in house and out of house? Do you want to own your own equipment and outsource location to a colocation service, like Flexential, or rent equipment and a location? In any case, minimizing technology and container consolidation is most cost-effective.
"One of these DGX servers... at 3 inches high... has six GPU processors in it. Depending on the configuration, that single server may replace 100 other servers of equal capabilities. It helps reduce the footprint and the cost for a company that is trying to do machine learning and AI," Carolan said.