gosphotodesign - Fotolia
Dalsin Industries returns to on premises with Epicor ERP system
Dalsin Industries implemented a Plex cloud ERP system to replace an old Epicor system but moved back to on-premises Epicor when the cloud proved to be inadequate for its needs.
When Dalsin Industries needed to upgrade an outdated Epicor ERP system, moving to the cloud seemed like an ideal option. However, in a plot twist out of a romance novel, the cloud relationship didn't quite work out, and Dalsin headed back into the on-premises arms of Epicor.
Dalsin Industries thought that moving to the cloud would take some of the stress off of managing the ERP system, because updates can be done remotely and automatically. However, according to Jeff Dalsin, IT business analyst for Dalsin Industries, being in the cloud created unforeseen problems, and the return to an on-premises Epicor ERP system enabled the company to regain control of the system.
Dalsin Industries, a sheet metal fabrication contract manufacturer based in Bloomington, Minn., was a longtime user of the Epicor Vantage ERP system. But, in 2012, the company decided that an upgrade to a new version was needed when it opened a new plant in Phoenix, according to Dalsin.
"When we opened the facility in Phoenix, we were still on [Epicor] Vantage, and we had not upgraded to version 8 because it was doing everything we needed it to do," Dalsin said. "But because we were opening another facility, we decided we better look at upgrading our system so they were both running the same system. We were running a little bit behind and knew we were going to have to do it even though [Vantage] was doing everything we needed it to do at the time."
Automatic remote updates made cloud appealing
Dalsin brought in consultants who recommended upgrading to the latest version of Epicor or moving to a cloud-based ERP system.
"We thought it would be nice to have our stuff [in the cloud]. We wouldn't have to do our updates ourselves because it's maintained off-site, and because we had the two facilities, it would make it easier that way," Dalsin said.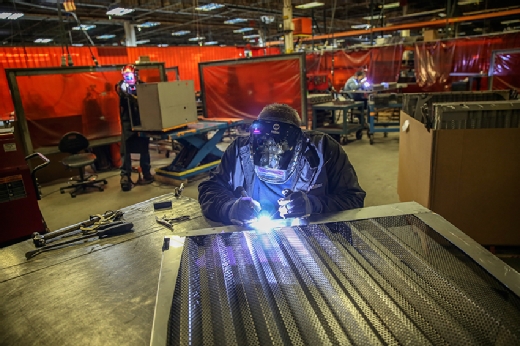 Dalsin decided to go with the Plex cloud-based ERP system and began an aggressive implementation project that started in January 2012 and was completed by July. Dalsin explained that the accelerated implementation project may have led to some flaws in the Plex cloud ERP system that were not obvious when the system was first evaluated.
"When we started to implement it, there were different departments that brought up some concerns about it -- about what they couldn't do. The pricing was very cumbersome, and you could quote multiple quantities in the old system," he said.
Although the Plex ERP system did some things as well as or better than the Epicor ERP system -- for example, Dalsin liked Plex's inventory system better than Epicor's -- there were significant issues where it was decidedly inferior, Dalsin said. The longer it ran Plex, the more apparent these flaws became, and it was the nature of the cloud system itself that was one of the main reasons Dalsin began to think about a move back to an on-premises ERP system.
Automatic updates not an advantage once implemented
One of the things that we didn't like about the cloud was, when they would do updates automatically, they wouldn't tell you until they actually did it, and you didn't know how it would act.

Jeff DalsinDalsin Industries
Typically, an advantage of the cloud, particularly for a midsize operation like Dalsin Industries, is that a company no longer has to manage the system, and tasks like upgrades are handled automatically. This feature did not benefit Dalsin, however.
"One of the things that we didn't like about the cloud was, when they would do updates automatically, they wouldn't tell you until they actually did it, and you didn't know how it would act," Dalsin said. "There were a couple times when we had to get them on the phone right away and get things fixed because there were things we couldn't do because something was broken on our end from what they did. You could never test it out ahead of time."
Because of previous familiarity with the Vantage system, it appeared that a move to a newer version of an Epicor ERP system was a natural fit.
"We were on Plex for about two years, and then, we started implementing Epicor E10," Dalsin said. "We started working with Epicor and had consultants come in because we knew the Vantage world and had a good understanding of the menu scheme."
Even though the Epicor E10 ERP system was similar to the old Vantage system, there were challenges in moving from one system to another and then to another within a short space of a few years. For example, Dalsin trained all the users in Plex and then had to retrain them in the new on-premises Epicor E10 system.
"It still had the same feel as the old system, but some of the people here had never used Vantage before," Dalsin said. "So, there were a lot of people on the floor who were new to using the MES [manufacturing execution system] screens for data collection. We just used the data collection terminals on the floor rather than a full-blown client because the floor doesn't need the whole system."
Back in control of system updates
Dalsin said that going back to on premises gives him better control over system updates, and he can test processes before they go live.
"Now, with Epicor, before we do an update, we load the version that we want to go to on a virtual test site, and then, we test it out from quote to cash and get different people in the room to do their processes," Dalsin said. "We'll just walk through the whole process to make sure that everything works, and if it does, then we just have to test out our BPMs [business process management tools and code] and the customizations that we have in the system to make sure those all work. Finally, we print out reports that we use to make sure they all look the same and everything's working right."
Some of the functionality of the Epicor E10 system is a big improvement as well.
"We really like the [Business Activity Queries] in dashboards that you can run on Epicor," Dalsin said. "You can extract your data however you like it and get the fields you need, and then, you can add that to one of the menus or multiple menus on Epicor. So, if sales needs it and shipping needs it, they can't always get to each other's menus, but if you can put it on the different menus that they can get to, they both can see those dashboards. That just gives them more information tailored to their function, and that helps them do their job better."
Dig Deeper on ERP administration and management