Introduction to supply chain management software of 2020
Discover the functions of supply chain management software and learn how SCM software helps companies manage the complex demands of today's customers.
Orchestrating the supply chain is like conducting a complex symphony. Suppliers, manufacturers, transportation...
Continue Reading This Article
Enjoy this article as well as all of our content, including E-Guides, news, tips and more.
providers, retailers and other stakeholders all need direction. Synchronizing processes and operations so the final customer receives their order when, where and how they want it is no easy feat. That's why software is so critical.
Supply chain management (SCM) software is the broad category of tools and modules that helps organizations manage transactions, business processes and relationships along the entire chain, from the procurement of raw materials to the delivery of the final product to its destination.
Supply management software simplifies processes in these general categories:
product flow -- the movement of goods from suppliers to customers, including customer returns and service needs;
information flow -- the transmission of orders and the updating of delivery status; and
financial flow -- the movement of money from customers to suppliers, or the flow from suppliers to customers in the form of debits.
Many ERP vendors include modules for supply chain management as part of their ERP software offering. Other vendors offer tools that focus on one aspect of supply chain management, such as stand-alone inventory management software or dedicated warehouse management systems.
To understand the types of features and tools that can help with supply chain management, it's important to know what supply management software does.
What does supply chain management software do?
Put simply, the top supply chain management software helps companies improve their entire supply chain networks by migrating manual businesses processes to automated, digital platforms.
Supply chain management software includes functionality such as companywide order processing, warehouse management, transportation, forecasting and planning.
The top supply chain management software helps companies keep overhead costs low, reduce waste, decrease the number of shipping delays and get visibility across the entire supply chain. In addition, managers can track the status of events across plants, suppliers, storage facilities and distribution centers.
The ability to track and manage these related processes and key activities helps the appropriate stakeholders recognize potential issues and inefficiencies and fix them before they get any worse.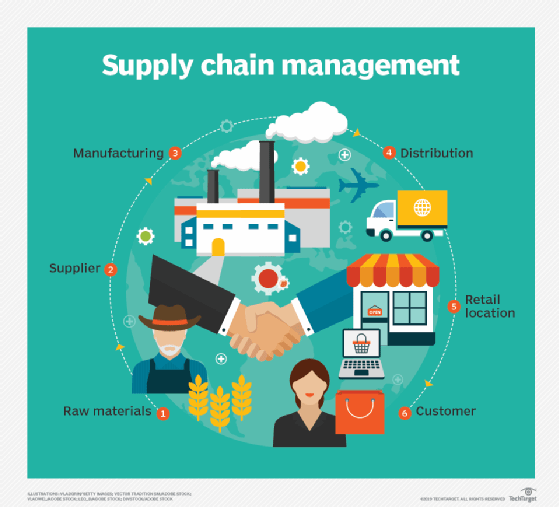 Types of supply chain management software
Supply chain management software covers a range of functional areas, whether as part of an ERP system or as a stand-alone tool. Here are some of the most common.
Inventory management
Inventory management software tracks the flow of goods from manufacturers to warehouses and to the point of sale, offering inventory control. In other words, it ensures a company has the right stock, at the right levels, in the right place, at the right time and at the right cost.
This feature also calculates the costs -- often in multiple currencies -- so accounting systems always have an accurate assessment of the value of the goods. With inventory management, a company can also maintain a record of every new or returned product as it comes into or leaves the warehouse or point of sale.
Using software to organize these activities enables companies to glean more insight into how they work with suppliers, as well as where their inventories are at every stage of the supply chain. Consequently, supply chain management software needs a way to get inventory data. Generally, organizations use bar codes, serial numbers or RFID tags to track inventory, although next-generation technologies such as IoT sensors are increasingly being used. Some companies are even experimenting with blockchain to increase their supply chain visibility.
Warehouse management
Warehouse management software enables organizations to control and administer warehouse operations from the time goods or materials enter a warehouse until they leave it. Warehouse management software includes inventory management, stock picking and shelving, auditing, and shipping and receiving.
Warehouse management helps organizations cut labor costs, improve inventory accuracy, enhance flexibility and responsiveness, reduce errors in picking and shipping goods, and improve customer satisfaction.
Demand forecasting
Put simply, the top supply chain management software helps companies improve their entire supply chain networks by migrating manual businesses processes to automated, digital platforms.
Demand forecasting software enables companies to estimate future customer demand for their products using sales history data. This helps organizations more effectively schedule production, ensuring they won't have a surplus of inventory or not enough to fill customer demand.
Order management
Order management software automates and streamlines order processing for businesses, enabling organizations to track orders from the time they're placed until they're delivered. Order management provides constantly updated inventory information, a database of vendors, as well as a database of customers, along with information regarding billing and payments, customer returns and general ledger information.
Supplier relationship management
Supplier relationship management software helps companies streamline and improve processes with their suppliers. The goal of supplier relationship management is to enable organizations to develop mutually beneficial relationships with suppliers, especially those that are most strategic to the business, as well as promote quality, efficiency and innovation.
Supplier relationship management software helps improve sourcing and raw materials and supplies procurement, in part, through better insight around contract management, costs and supplier quality. It also evaluates the technical aspects of the relationships between enterprises and their suppliers.
Transportation management
Transportation management software deals with the , execution and optimization of the physical movements of goods. As a logistics platform, it lets organizations manage and optimize the daily operations of their transportation fleets. This functionality helps organizations move inbound and outbound freight using such tools as route and optimization, load building, operations execution, freight audit and payment, yard management, order visibility and carrier management.
Transportation management helps companies improve shipment efficiency, reduce costs, gain real-time supply chain visibility and enhance customer service.
Supply chain management software vendors and products
A number of supply chain tools have a specialized focus, and many vendors offer multiple tools. Here is just a small sample of top SCM software and the vendors who offer them.
Blue Yonder

Blue Yonder (formerly JDA Software) offers a wide range of SCM product suites, including warehouse management, transportation management, supply chain planning, merchandising, workforce management and retail planning. Blue Yonder's Luminate platform taps artificial intelligence and machine learning technologies to boost functionality. With the AI-powered SCM platform, customers, developers and technology partners can build applications on top of Blue Yonder's offerings.
Epicor
Supply Chain Management for Epicor ERP offers a number of features, including purchase management, sourcing and procurement, inventory management, advanced material management, shipping and receiving, and warehouse management. It also provides forecasting, order management and analytics capabilities.
With its SCM functionality, Epicor's goal is to help customers cut costs and improve profitability by effectively coordinating all parts of the supply chain, from the sourcing of raw materials to the delivery of finished goods.
Infor
Infor Supply Chain Management offers a suite of products designed for enterprise-level companies. Key applications include sales and operations planning, supply chain planning, demand planning, manufacturing planning and scheduling, strategic sourcing, procurement and supplier management.
Infor SCM provides access to critical data to help companies with resource management, inventory and shipping operations, and it provides the ability to respond to fluctuations in the market. In addition, Infor SCM connects thousands of suppliers, buyers, banks, carriers and third-party logistics on a single, cloud-based platform.
Jaggaer
Jaggaer Direct Supply Chain Management software aims to help organizations reduce costs and accelerate lead times. The software covers the full supply chain, including ordering, goods receipt and invoicing. It is meant to help organizations comply with industry standards and connect with suppliers over web electronic data interchange.
Direct Supply Chain Management offers purchase order management, delivery schedule and call-off, advance shipping notification, handling unit management to manage deliveries, automated process to communicate with vendors in real time, long-term supplier declaration, document approval exchange and invoice management.
Kinaxis
Kinaxis RapidResponse offers large enterprises supply chain planning and analytics capabilities to enable them to manage multiple interconnected supply chain planning processes. The software connects data, processes and people in a single environment to boost efficiency and improve financial performance. RapidResponse applications include demand planning, supply planning, inventory management, order fulfillment, capacity planning, master scheduling, supplier collaboration and material requirements planning.
Manhattan Associates
The Manhattan Active Supply Chain suite of products is meant to help enterprises to improve increasingly complex operations and adapt to changes in the market, as well as changes in customer demand. Active Supply Chain includes Manhattan Active Distribution, which focuses on warehouse and labor management, and Manhattan Active Transportation, which provides logistics management and shipment visibility.
Other features of Active Supply Chain include demand forecasting, sales and operations planning, procurement planning and execution, fleet management audit, payment and claims, and carrier management.
Oracle
Oracle Cloud SCM is meant to provide the security, innovation and agility that today's markets demand. It offers myriad features, such as demand management, sales and operations planning, supply and distribution planning, supply chain collaboration and visibility, global order promising, and promotions planning.
SAP
SAP Integrated Business Planning (IBP) is intended to help companies manage today's complex supply chains with their more dynamic inventory requirements. An SAP HANA-based cloud platform, IBP combines capabilities for sales and operations; demand, response and supply planning; and inventory optimization.
Dig Deeper on Supply chain and manufacturing