Definition
video interview
What is a video interview?
A video interview is a job interview that takes place remotely and uses video technology as the communication medium.
Video interviews are a popular tool for talent acquisition because they can save an organization time and money compared to traditional, in-person or face-to-face interviews. Video interviews also remove geographic constraints, can automate candidate screening and improve the quality of data in recruitment management systems.
Organizations use video interviews in various stages of the hiring process. For example, in the early stages, a hiring manager might pose a set of questions and ask job seekers to record their responses in a video. Also known as a one-way interview, this enables the employer to screen candidates quickly and select which ones will proceed to the next stage.
Why are video interviews so popular?
Video interviews are less expensive and time-consuming than in-person interviews, as employers can schedule and hold multiple meetings. If the position the company is hiring for is remote, video interviews also make it easier for candidates who live farther away geographically or where the cost of travel may be an issue. Because individuals from all over can now participate in interviews, it widens the talent pool for a position. Video interviews can also help reduce stress, since the added pressure of travel is no longer on the interviewee.
Video interviews became more popular during the COVID-19 pandemic. According to a study conducted by Indeed, 82% of employers say they implemented virtual interviews because of the pandemic, and 93% of employers plan to continue using virtual interviews. In addition, 77% also believe that hiring employees virtually improves their candidate's experience.
Live vs. pre-recorded interviews
There are two main types of video interviews -- live, or synchronous, and pre-recorded, or asynchronous.
Live interviews are conducted over the internet with both the interviewer and the candidate in attendance. They're often used as an alternative to an in-person interview. The employer asks questions, and the candidate answers in real time.
A live interview may be conducted on an application, like Zoom or other video conferencing programs, or a dedicated application for professional video interviews. A dedicated video interview application provides employers with more candidate tracking tools.
In contrast, pre-recorded video interviews are recorded by the hiring organization ahead of time. The hiring manager isn't present for the interview, and the applicant responds to questions displayed on the video interview platform. Questions can be delivered as audio, video or text. Applicants might have to answer questions within a set time limit or may have a longer time period to prepare a response. Candidates must record and then send their answers back to the interviewer for review.
How to prepare for a video interview
Preparing for a video interview has many of the same steps as in-person interviews. For example, job candidates should do the following before their interview:
Thoroughly research the hiring organization, the specifics of the job posting, job objectives, work culture, values and the general industry the job is in.
Rehearse answers to potential and common interview questions.
Prepare examples ahead of time to highlight skills and experience.
Join the interview early, wait in the waiting room for the interviewer to start the interview and review any notes.
Write down questions ahead of time to ask during the interview.
Choose appropriate attire, and dress as if this were an in-person interview.
Candidates should also take the following steps, which are specific to video interviews:
Log on early to ensure they know how the video interviewing software works. Users should know how to start and end the session, how to mute their microphone, how to turn their camera on and off, how to share their screen, and, optionally, how to blur or change their background.
Ensure their microphone and camera are working properly, while also making sure they have a strong internet connection and that their device is charged or plugged in.
Prepare the interview location, as a video interview should be conducted in a quiet setting with little chance of interruption. The background shouldn't have any distractions, and the lighting shouldn't be over- or underexposed -- natural light helps. The camera should be positioned at or just above eye level.
Use headphones or external microphones to improve sound quality. Additionally, an external webcam, phone or tablet camera can be used in place of an integrated laptop camera to improve video quality. For example, iOS 16 enables iPhone users to use their phone camera in place of a webcam.
Best practices for video interviews
When in the video interview, candidates should stay calm and conduct themselves as if they were in an in-person interview. Video interview tips include the following:
Instead of looking the interviewer in the eyes, the candidate should look at the webcam, as that provides more direct eye contact than looking slightly down at the screen.
Establish a warm and positive atmosphere to seem more welcoming.
Be mindful of the time spent on each question.
Write down relevant information as it is said.
Maintain good posture.
For pre-recorded interviews, individuals should ensure they're well prepared to answer relevant and pointed questions on the position they're interviewing for. Pre-recorded interviews normally open at a set time and stay open for a few days. During this time, candidates record their answers and send them back to the interviewer. These interviews require more preparation if the time between each question is limited.

Advantages of video interviews
Benefits of video interviews include the following:
Cheaper and easier to set up. It's generally less effort for the hiring organization to set up video interviews, as opposed to scheduling and setting aside an area for in-person interviews.
Geographically widens the talent pool. Video interviews enable candidates who live further away from the hiring organization to participate in the interview process.
No travel expenses. Candidates don't have to pay for public transportation, gas or tolls to participate in an interview, and the hiring organization doesn't incur any travel expenses either.
Recorded interviews can be re-watched. This enables the hiring team to play back the interviews so it can narrow down its list of candidates.
Can make the interview process more comfortable. Candidates can interview from the comfort of their home.
Narrows down candidates for a second, in-person interview. If an organization still wants to hold an in-person interview, video interviews can be used in the first phase of interviewing in place of a phone call.
Gives more visual cues than a phone interview. Compared to a phone call, hiring organizations can pick up on a candidate's body language and more accurately gauge if they should move on to the next step of the hiring process.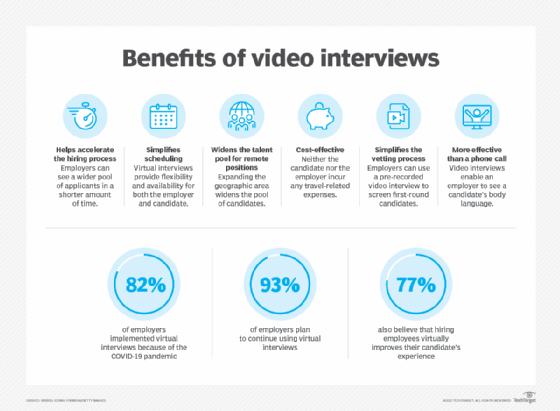 Challenges of video interviews
There are some disadvantages to video interviews, however. These include the following:
Candidates must have access to a computer and the internet. This may be impractical if the candidate's home internet is unreliable.
Potential for technical difficulties. There's always the potential for either side to have something not working properly. And, if that's the case, the candidate won't have an IT department to go to.
Being on camera may make some candidates more nervous. Some candidates may feel more comfortable with a phone call or an in-person interview.
Lighting. Both sides must take lighting and framing into account. Poor lighting can create a bad first impression.
Audio and picture. Poor audio and picture quality may affect how clearly each party understands the other.
Video interview vendors and software
To participate in the interview process, the job applicant usually needs only a webcam and video software, both of which have become standard equipment on most notebook computers, smartphones and desktop PCs.
The hiring manager has the following two options:
Some organizations conduct online interviews using popular, consumer-grade video platforms, like Zoom. This is the least expensive approach and is generally easy to set up. However, one drawback is that general applications like this can only establish a connection, record, store and categorize the videos.
The interviewer can use specialized video interviewing software from vendors such as Outmatch, Talview and Spark Hire. These platforms offer data capture and analytics capabilities that consumer video software lacks and have more controls for scheduling video interviews and sharing the videos with hiring managers and HR.
Video interview platforms also are often integrated with talent management software, which enables the online interview and associated candidate data to be incorporated into the software's recruiting module and used elsewhere in the human capital management system. The following are examples of some of these platforms:
Outmatch, which was recently rebranded as Harver, is a video interview platform that provides assessment, reference-checking and cultural analytics, in addition to on-demand and live interviews. A built-in point-scoring system helps the employer's team judge each candidate according to a common set of rules, and HR teams can ask standardized questions to ensure everyone interviewing a candidate covers the same material.
Talview's Talent Measurement Platform can host live and on-demand interviews and has AI capabilities to help assess candidates' soft skills, motivations, proficiencies and expertise. The system handles invitations, scheduling and reminders before an interview and shares recordings to aid feedback.
Spark Hire offers video interviews, scheduling tools and the ability to share recordings with others within the organization. Live interviews can also be recorded. The evaluation tools provide feedback and document the reasons a job candidate was rejected. The software can tag interview files to simplify searching and send rejection emails directly from the platform. Analytics provide information based on categories such as interview type.
See more additional tips on how to prepare for video conferences.
This was last updated in
August 2022
Continue Reading About video interview
Dig Deeper on Core HR administration technology