Comparing the best HR software and HCM system options
Get the right HCM system for your needs by examining the best HR software tools. The HCM system market is large and vibrant, catering to companies large, small and in between.
Companies will always need and want the best HR software possible. Bedrock HR functions, like administration, benefits and payroll, serve as the foundation of, and are necessary to run, any business, while newer HCM system functionality, like talent management software and employee collaboration tools, come more into play as companies grow and thrive.
As such, HR software vendors rely on core HR software sales, and virtually all of the best HR software vendors offer talent management and collaboration functionality. The vendors know companies see the value in these features. So, with nearly all vendors offering similar products, companies have many options.
And these options aren't just limited to vendors. Modularization is the game, with vendors offering pick-and-choose options to customers. It's no longer required that a company accept a preconfigured bundle of HR software that the company might not fully use. This gives companies more freedom to choose what they want and to only pay for what they choose.
But -- and this is key -- companies also have to know their business requirements and how the HR software will address those requirements. With the increased flexibility of software bundling and configuration, HR software vendors are reluctant to provide firm upfront pricing. A majority of vendors will claim they charge per user over a set time period or for a license. But companies will likely not gain a firm sense of vendor pricing until the company and vendor actually settle on the final HR software package.
This puts companies at a disadvantage during the request for proposal process and negotiations, and going in unprepared could result in companies overspending on unnecessary features and modules. Once again, it's vital companies clearly and completely understand their business needs and how the HR software will address those business needs.
Editor's note
Using extensive research into the HR software market, TechTarget editors focused on the vendors that lead in market share, plus those that offer traditional and advanced functionality. Our research included data from TechTarget surveys, as well as reports from other respected research firms, including Gartner and Forrester.
Other key factors to consider include the following.
Is there a human capital management (HCM) system already in place? Large enterprises often have in-house and highly customized HR systems. Investments into these customized systems might be too great for a company to discard for a new or 100% cloud-based system. In this case, the ability to integrate any new HR software modules with the existing HR system code base is vital.
Does the company need help running HR? Even the smallest of small companies must still provide paychecks and possibly benefits. These companies should consider an HR software vendor that can price software to accommodate bare-bones needs and also assume many or all of the HR functions as an outsourcer.
Does the company have a global workforce? For global companies, the best HR software must support multiple compliance, regulatory and currency requirements, as well as localize in different languages. Thankfully, some vendors specialize in this.
How important are employee training and collaboration? The company might require advanced HR mobile and social media-based applications that enable employees to collaborate on work or instantaneously contact each other as needed. Companies in engineering, technology, medicine and other knowledge-based fields might also want libraries of online training courses and even live interactions between employees and mentors. Some HR software vendors excel in delivering training and learning management software that can address these needs.
Are recruiting and talent management top priorities? Competition for talent is intense in many industries. This has prompted almost every HR software vendor to offer talent management software that can address employee recruiting, performance and development. Some vendors also offer work-life balance software, which contributes to employee engagement and satisfaction. As with other specialty areas, some vendors excel in talent management more than others.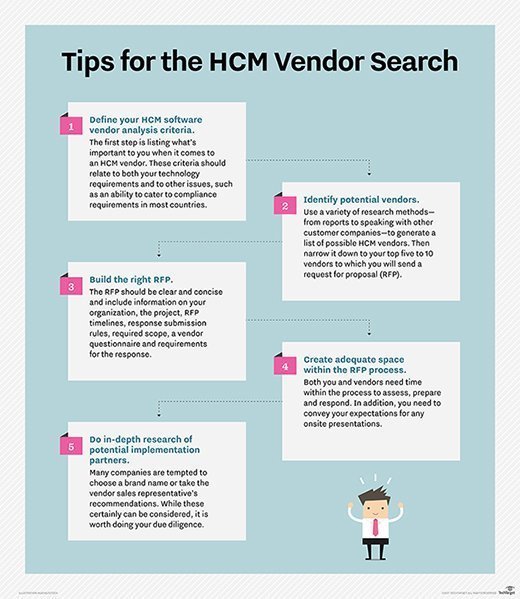 Here is a list of some of the leading players in HR software and HCM systems as of this writing, along with thumbnail descriptions of their products.
SAP SuccessFactors
SAP SuccessFactors is a complete HCM suite for organizations. The SAP SuccessFactors HCM suite includes core HR and compensation software; talent management software for recruiting, onboarding, performance and goals management, and succession and development ; and engagement software, including learning, workforce analytics andplanning, and collaboration tools.
Both SMBs and large enterprises use SuccessFactors. For companies doing business internationally, the software features localization for 89 countries, and SAP immediately updates it when local laws and regulations change.
The core HR software includes SAP SuccessFactors Employee Central, which provides core functionality that supports all relevant HR processes, including organizational management, time management and global benefits, as well as a compensation system that supports 41 different payroll and accounting systems around the world.
Employee engagement software includes training and learning modules and SAP Jam Collaboration, which connects customers, partners and employees with key information and processes in the cloud. SuccessFactors also features software for workforce planning and analytics, which enables HR and business managers to assess whether the company is meeting its workforce goals.
The SuccessFactors HCM system enables customers to pick and choose modules based on business needs. They do not need to purchase the entire suite.

SAP updates SuccessFactors with releases quarterly. Recent updates include:
complete redesign of the SAP SuccessFactors mobile app for Apple iOS that extends mobile access capabilities;
increased country coverage to 10 countries in Europe and Africa;
enhanced health and well-being resources for employees, such as well-being tips, guidance and best practices from experts;
preconfigured HR processes, position management, total workforce management, integration and localized content for time off and time management;
anytime, anywhere feedback as part of continuous performance management; and
learning software that enables users to set learning goals and further professional development.
SAP claims future updates will center on localized security and governance practices and regulations, core HR software functionality and talent management.
SAP SuccessFactors is a cloud-based SaaS, although SAP also has on-premises ERP HCM systems. SuccessFactors supports Internet Explorer, Microsoft Edge, Mozilla Firefox, Apple Safari and Google Chrome browsers.
SAP Enterprise Support is available to all direct SuccessFactors customers and provides multiple channels and resources. SAP offers preferred support for customers interested in personalized engagement and gives them access to SAP product contacts.
SAP has a worldwide network of more than 600 professional services consultants. There are additional resources within SAP's broader services organization that support customers with complementary services, including program and change management, business transformation services, executive advisory and adoption services.
SAP assists SuccessFactors customers with implementation and provides training and support via SAP SuccessFactors Community, where users can exchange ideas and information.
Professional services and expanded training are charged on a per-usage basis.
SAP also sponsors SuccessConnect, an annual SuccessFactors user conference.
SAP does not outwardly reveal specific SuccessFactors pricing, only offering that SuccessFactors is priced based on the number of users, with a typical license term of three to five years.
SAP does not offer free demos or trials.
Ultimate Software
Ultimate Software's UltiPro targets global HR. This includes core HR software covering payroll and benefits; talent management software that includes recruiting, onboarding, workforce management, performance, compensation and succession; and engagement software that addresses learning, employee surveys and sentiment analysis. Business intelligence reporting is available across all software.
Ultimate Software does not update UltiPro on a per-release schedule. Instead, it delivers updates continuously via the cloud, including more than 550 updates in 2017. These updates included Ultimate's AI platform, Xander, and UltiPro Connect, which the company claims is a centralized integration hub designed to simplify and standardize integrations to the HCM system.
Ultimate Software claims future updates will target workforce management, benefits, talent acquisition, workforce insights and features for the UltiPro mobile app.
UltiPro is best suited for companies based in the United States or Canada with 100 or more employees working globally. UltiPro supports more than a dozen languages and can work with global payroll providers and compliance standards in more than 35 countries. Companies in various industries, including retail, restaurants, sports, healthcare, manufacturing and nonprofits, use UltiPro HR.
UltiPro is a SaaS HR offering. The software functions with any web browser and works with the Android and iOS mobile platforms.
Ultimate offers a fixed-fee rollout of UltiPro, which includes initial training. Ultimate also offers online, in-person and on-demand training, in addition to an educational resources library and an online user community. These resources are available at no additional cost.
Customers can also partner with Ultimate's industry experts for personalized services for payroll, benefits, compliance, strategic consulting for HCM process optimization, change management and employee engagement.

The Ultimate Software Connections user conference takes place every spring in Las Vegas.
Ultimate Software does not offer free trials of UltiPro but does do live demos biweekly. Potential customers can schedule product tours and in-depth demos via Ultimate's website.
Ultimate Software does not reveal UltiPro pricing outwardly, only stating the software is priced per employee, per month.
Workday HCM
For large and midsize companies, Workday HCM is in the best HR software conversation. The core software delivers the following functionality:
HR management for managing and modeling workforces;
compensation for designing, adjusting and managing compensation and rewards programs for different employee teams and geographic locations;
benefits management for health insurance, spending accounts, health savings accounts, retirement savings plans, flex plans and additional benefits;
talent management for employee onboarding, goal management, performance management, succession and career and development ; and
people analytics for identifying employee risks, uncovering opportunities, monitoring trends and drilling down into the data to examine contributing factors.
The Workday add-on modules include:
payroll, which supports payroll processing for the U.S., Canada, U.K. and France and also provides integration with third-party payroll providers;
time tracking, which enables workers to check in and out or enter hours, from any mobile device or web browser;
recruiting, which supports hiring decisions, working with candidates, hiring managers, the interview team and recruiters; and
learning, which provides employees shareable learning experiences accessible on any device.
Companies can also purchase Workday Financial Management to unify with Workday HCM, providing real-time financials that relate to workforce management.
Workday releases a major update to its software twice a year. Recent products include Workday Prism Analytics for probing financial and people analytics and Workday Benchmarking, which provides key metrics to companies seeking a better understanding of their company's relative HCM system performance in comparison to peers.
In 2018, Workday plans to deliver a redesigned Workday homepage that will serve as a single UI for all Workday applications and third-party systems.
For global companies, Workday supports multicurrency management and more than 30 languages.
The software is cloud-based and supports Internet Explorer, Microsoft Edge, Mozilla Firefox, Google Chrome, Apple Safari, Opera and Blackberry Browser. Workday also runs on iOS and Android handsets.
Workday customers have access to Workday Community, with its resources, training and partner and peer interactions.
The company also has a global network of consultants and consulting partners.
Workday holds an annual user conference called Workday Rising.
Workday is available via subscription, and the vendor does not disclose pricing information. Subscription terms are based on the size of the organization and the functions used.
Workday does not have a free trial version, but existing customers are able to test and preview new features in Workday's preview tenant.
Oracle HCM Cloud
Oracle offers a cloud-based HCM system package that could be the best HR software for large enterprises, as well as a scaled-down version of the software designed for midsize companies. Oracle is one of the few vendors that reveal pricing upfront.
The enterprise Oracle HCM suite features:
Global Human Resources Cloud, the base product, is required for any of the modules and module suites. It includes core HR processes, master employee information and local compliance requirements across multiple countries. The basic module is $13 per employee per month. The HR Help Desk module is an additional $4. And the Workforce Health and Safety Incidents module is $2.
Talent Management Cloud provides software for the end-to-end talent management lifecycle, from recruiting candidates, to managing performance, developing careers, providing learning, performing talent reviews and successions. The Talent Acquisition module is $5 per employee per month. The Learning module is $2. And the Talent Management module is $8.

Oracle HCM Cloud UI

Workforce Rewards Cloud includes compensation, benefits, payroll management, sales compensation and other rewards-based programs.
Workforce Management Cloud records and tracks employee time and labor and also addresses the compensation needs of a contingent (contractor) workforce. The Workforce Compensation module is $3 per employee per month, and the Payroll module is $7.
Work Life Solutions Cloud enables employees to set and track lifestyle and well-being goals that contribute to work-life balance.
HCM Analytics provides a series of dashboards, reports and queries that enable organizations to better understand their workforces.
Oracle also offers HCM cloud software for midsize companies, scaled down from its larger enterprise HCM version. The midsize company HCM system bundle includes core HR software that manages the employee lifecycle, from hiring, managing and terminating employees to maintaining compliance, job descriptions and employee information. This core offering also supports localization for more than 200 countries and jurisdictions and includes rules-driven processing for unique industry, union, collective labor and worker agreements. Pricing begins at $8 per employee per month.
The following add-on modules are also available for midsize companies:
Talent acquisition for $3 per employee per month;
Talent review and succession for $1;
Workforce compensation for $3;
Learning for $2;
Wellness for $2; and
Time and labor for $3.
Oracle issues software releases and upgrades throughout the year. Oracle claims its service-level commitment is 99% or better for its cloud-based services, and Oracle has a published set of service-level agreements.
Finally, Oracle University also offers digital subscriptions, courses and certifications for its software.
Oracle offers HCM system demos upon request.
Cornerstone OnDemand
Cornerstone offers a core HR suite that includes HR management tools, and benchmarking. But Cornerstone's sweet spot is talent management, which consists of three areas:
Recruiting Suite, which addresses recruiting, onboarding and campus recruiting processes;
Learning Suite, which delivers functionality for learning management, networking, analytics and collaborative learning; and
Performance Suite, which provides performance monitoring, succession , compensation management and employee engagement functionality and platforms, including mobile apps.
Cornerstone claims its goal is to help organizations realize the potential of their workforces, beginning with recruitment, onboarding, training and collaboration, and extending to performance management, compensation, succession , people administration and analytics.
Cornerstone OnDemand is suitable for companies ranging from SMBs to large enterprises.
Cornerstone OnDemand is SaaS. It's updated with features and functionality quarterly.
Cornerstone focuses on user friendliness, employing single sign-on for its system and offering a simple interface.
Cornerstone charges for its implementation and consultative services, with pricing varying depending on the needs of the individual customer. The HCM system is sold directly by the company and through third-party business partners. Cornerstone does not reveal pricing upfront but offers demos upon request.
ADP Vantage HCM
ADP's HCM system suite addresses core HR, talent management and employee engagement, and it's scalable, with features and price points to match any company size. Additionally, ADP is an ideal option for companies outsourcing many of their HR functions, beginning with payroll, where ADP has been an outsourcer for decades.
The software models that ADP Vantage offers are:
HCM, which focuses on core HR functions and offers automation options for day-to-day HR administrative work;
Payroll, which ADP offers as both an in-house and an outsourced option;
Talent Management, which assists organizations with management and development, including recruitment, workforce analytics and succession ;
HR Management tools for governmental compliance and regulatory issues, which ADP also offers as an outsourced option;
ACA, which manages Affordable Care Act compliance;
Benefits, which provides software support for employee benefits administration and management; and
Time and Labor, which provides time and labor tracking and also supports time reporting by mobile device.
As an established HR outsourcing vendor, ADP also offers a spate of services that complement its HR software. ADP's outsource options include:
Retirement Services, which administers employee 401(k) and individual retirement account plans;
Insurance Services, which helps organizations select the right workers' compensation and health insurance options;
Tax and Compliance Services, which administers tax and compliance for companies and provides optional consulting;
Business Payment Solutions, which facilitates electronic payroll and payroll automation;
HR Outsourcing, which is a total offering for those looking to outsource all HR functions and is especially attractive for very small companies that want to focus on the business and not on HR or payroll administration; and
Professional Employer Organization, which provides software that enables companies to select a third-party HR provider other than ADP to administer HR.
ADP's HCM system and services are cloud-based and pick-and-choose, so organizations only pay for what they use. Companies can also add functionality as they need it. ADP does not reveal pricing outside the sales process.
ADP offers telephone support for its clients and also an assortment of paid training options. These are available through Learn@ADP and include classroom-based courses, instructor-led virtual classes and online tutorials. ADP is also an approved provider of recertification credit hours by the American Payroll Association and continuing professional education credits by the National Association of State Boards of Accountancy.