Maksim Samasiuk - Fotolia
Choose the implementation order of SAP SuccessFactors modules
Once you have your core HR and talent management priorities straight, you can figure out which SuccessFactors modules will deliver on those goals. Here are some common scenarios.
The flexibility of SAP SuccessFactors means that you can implement any module at any time, without being forced...
Continue Reading This Article
Enjoy this article as well as all of our content, including E-Guides, news, tips and more.
to implement any other SuccessFactors modules. However, when implementing the full SuccessFactors HCM suite, the question raised is always "How do we decide which SuccessFactors modules we should implement, and in which order?"
Having worked with numerous customers to define their implementation roadmaps, I have found that there is a clear need to understand how each module interacts with other SuccessFactors modules, and how end-to-end processes benefit from specific decisions and configurations made during implementation.
Choosing an implementation philosophy
There are a number of ways to approach the implementation order. Consider the following.
Implement Employee Central to set the data foundation for your HR processes.
Fix your burning talent needs.
Deploy SuccessFactors Workforce Analytics to generate the analytics needed to identify your HR priorities.
Although the third step is popular with analytics purists, it is not widely used, and it has technical ramifications when implementing the rest of the SuccessFactors modules in the HCM suite due to the need to regenerate the analytics data cube if the HRIS data model is different, which is often the case.
Common groupings of SuccessFactors modules
There are groups of modules that make sense to implement together, as summarized in the figure.

These groups of SuccessFactors modules typically have touch points with each module that influence the overall process or features available to end users. For example, the Career Development module can be influenced by the performance rating from Performance & Goals, and can be linked with development goals that include courses in Learning.
The recruiting process often starts with a vacant position, from which a requisition can be created. The candidate who is ultimately selected is then assimilated and hired into the position. Using Employee Central with Recruiting Marketing, Recruiting Management and Onboarding provides a holistic, end-to-end recruiting and hiring process. You can then manage the position budget in Employee Central Position Management.
When it comes to payroll, the Employee Central data model and the specific Employee Central Payroll integration feature that is being used require the two to be implemented together.
Things to watch out for
Implementing SuccessFactors modules, such as Compensation before Employee Central or Onboarding before Recruiting Management, can sometimes leave you with rework later. Having a compensation template built based on your human resource information system (HRIS) could mean rebuilding the template when switching over to Employee Central, particularly if the pay component structure differs between the previous HRIS and Employee Central.
Essentially, going down any path that might require a process or user interface change within 12 to 18 months is not always going to sit well with employees. For example, having a hiring process that requires a number of manual steps, instead of implementing SuccessFactors Onboarding as part of the Employee Central implementation, will not make employees feel like the system is really benefitting them. Future proofing your implementation with the right solution roadmap can be critical to overall adoption by employees.
Building a roadmap of SuccessFactors modules
Once you have defined a philosophy, figured out your key challenges and determined the right process grouping, then you can build your roadmap.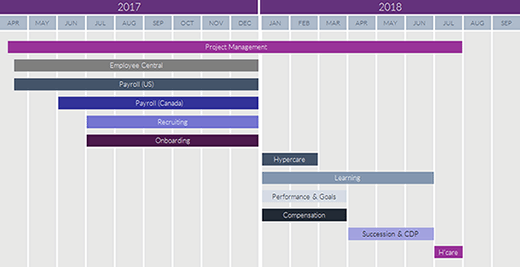 The roadmap from a recent customer of mine (see screenshot) shows a core HR, recruiting and payroll scenario in phase 1 and a talent development scenario in phase 2.
This customer wanted to create a system of record and solve its North American payroll challenges, while ramping up recruiting ahead of a four-year expansion that would involve hiring 10,000 employees. As part of its talent development initiative, the customer wanted to build out talent development capabilities once the foundation was in place.
It is important to understand where you want to go as an HR organization, but also what the technology offering is, and how you can implement it without creating more work or user dissatisfaction later. Identifying the key challenges and overall strategy will allow your roadmap to practically build itself.
Next Steps
Read more HCM implementation tips
Manage SuccessFactors support
Learn how to extend SuccessFactors Employee Central
Dig Deeper on SAP ERP software and modules