Definition
partner program
A partner program is a business strategy vendors use to encourage channel partners to recommend or sell the vendor's products and associated services.
Channel partners can span multiple business model types, such as value-added resellers (VARs), managed service providers (MSPs), cloud computing consultants, systems integrators (SIs), original equipment manufacturers (OEMs), independent software vendors (ISVs) and distributors.
Most major IT vendors have partner programs, including Cisco, Citrix, Dell EMC, Hewlett Packard Enterprise (HPE), IBM, Microsoft, Oracle, Salesforce, SAP, Apple and VMware. But numerous smaller vendors also operate such programs, as channel partners give them more feet on the street.
How partner programs work
Channel partners expect a number of resources and benefits from their vendors' partner programs. Typical features of partner programs include the following:
Technical training and sales enablement. Vendors provide technical training in various formats, such as online courses via learning management systems or in-person sessions conducted at a vendor or partner location. Sales enablement content can include white papers, sales scripts, competitor comparisons and presentations -- all of which is aimed at preparing a partner's sales teams for customer engagements.
Incentives and discounts. Partners will usually be incentivized to resell a vendor's products and services. Rewards can range from discounts and back-end rebates to sales performance incentive funds. Other program incentives can include awards and industry recognition at vendor events. Partner programs may develop incentives around specific sales initiatives, like acquiring new customers.
Deal registration. Partners use deal registration systems to register sales leads and request exclusive rights for pursuing the deal. Deal registration helps partners protect their investment in sales opportunities. But the systems that manage deal registration may offer limited visibility into deal status. Vendors, however, may deploy partner relationship management systems, a channel-oriented take on customer relationship management, to improve their interaction with channel companies.
Marketing assets. Partner programs generally offer a range of marketing materials, tools and resources that partners can use to launch campaigns. As digital marketing became the dominant method for connecting with customers, many vendors began offering web-based marketing materials, such as social media content. Programs such as the HPE Partner Ready Program offer formalized digital marketing programs.
Partner portals. Much of a vendor's interactions with its channel partners are conducted through a web-based partner portal. Using the portal, partners can access the vendor's deal registration system, online training, and sales and marketing information and content. Additionally, some portals let partners track and manage their sales leads.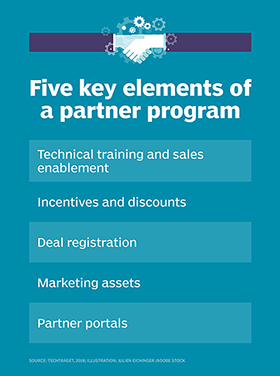 Vendors may also provide qualifying partners with benefits such as sales and technical support, not-for-resale demo equipment, beta versions of products, and access to a dedicated partner account manager and joint business planning sessions.
Many partner programs use a tier-based structure for differentiating channel partners. A tiered program will use designations that partners can achieve to unlock incremental benefits. To go up the tiers, partners must meet specific requirements, usually by hitting revenue targets, earning certifications or a combination of the two. Examples of tiered programs include the Dell EMC Partner Program, which uses Authorized, Gold, Platinum, Titanium and Titanium Black tiers, and the Nutanix partner program, which uses Pioneer, Master and Scaler tiers.
Types of partnerships
Partner programs may be segmented to accommodate the specific needs of particular types of channel companies. Thus, the vendor will deploy multiple engagement models.
A vendor's VAR outreach effort, for example, may focus on offering volume-based product discounts and market development funds. The latter lets resellers accrue dollars to invest in demand-generation activities based on a percentage of product sales.
Consultants, however, may recommend products, but not resell them. For those partners, a vendor may offer a consultant liaison program, which may provide access to technical documentation, product training and dedicated support.
The MSP aspect of a partner program, meanwhile, may offer products specifically geared toward service providers. In many cases, a vendor sells to the MSP, as well as through the MSP. A vendor of remote monitoring and management software, for instance, will sell directly to the MSP, which, in turn, installs the software to provide services to its end customers.
Partner programs may also contain tracks for technology partners and OEM partners. These tracks formalize business alliances with third-party companies that integrate with and optimize the vendor's technologies. For example, an OEM program may offer incentives, training, tools and support for developing a joint IT solution.
This was last updated in
August 2018
Continue Reading About partner program