photobank.kiev.ua - Fotolia
IBM Planning Analytics opens partner opportunities in retail vertical
Channel firms in the retail sector are uncovering opportunities to modernize customers' analytics processes. Read about eCapital Advisors'work with retailer Allen Edmonds.
American footwear company Allen Edmonds' recent adoption of IBM Planning Analytics addressed a technical struggle...
Continue Reading This Article
Enjoy this article as well as all of our content, including E-Guides, news, tips and more.
common among multichannel retail organizations: outmoded approaches to performance management and business analytics.
Allen Edmonds was grappling with its reporting and analysis processes in 2016 when IBM initially pitched its IBM Planning Analytics platform, a tool that automates a range of financial and operational performance management processes. IBM referred the company to consultancy eCapital Advisors to design and implement a solution. Focused on IT operational analytics, eCapital Advisors works with customers to integrate and enhance their siloed analytics processes.
ECapital Advisors is "one of our most knowledgeable partners" of the IBM Planning Analytics platform, said Dorothy Copeland, vice president of global business partners for North America at IBM.
ECapital targets its service offerings at several vertical markets, but organizations like Allen Edmonds that manufacture and sell products have a lot to gain from IT operational analytics in particular, said Lisa David, partner at eCapital Advisors, based in Bloomington, Minn.
As a multichannel retailer, Allen Edmonds derives revenue through stores, e-commerce and a wholesale business. "You have a lot of different channels of revenue, so those all have unique planning and forecasting needs," David said. Additionally, because Allen Edmonds manufactures its products, "the better that accuracy is of what color of shoe is selling the highest, at what size and what width, then you can tell your production team ... 'Bump up this category at this color that is flying out of the store.'"
"If you are able to add that operational capability, it drives increases in revenue, increases in profitability [and] decreases in inventory costs that are not needed. You know exactly what is selling," she added.
"Analytics is needed at the basic segments of a business, and typically today those people that are in charge of these processes ... are trying to do this type of analysis" in desktop software like Excel, David said.
Allen Edmonds implementation
Analytics is needed at the basic segments of a business.

Lisa Davidpartner, eCapital Advisors
ECapital Advisors aimed to implement IBM Planning Analytics within a short time frame. At the time the work began, Allen Edmonds was "putting all of [its analytic capabilities] together by Band-Aids and Scotch tape in Excel," David said. "It was taking tremendous amounts of time and they weren't getting that integration."
The current state of its processes, however, didn't hinder the implementation. IBM Planning Analytics was up and running in about four months.
The only challenges of the implementation stemmed from typical change management issues, which are to be expected in any business transformation project, David noted. But since Allen Edmonds' employees understood the strategic benefits of IBM Planning Analytics, she said there was little resistance.
"If they can see that vision, then that resistance is pretty well mitigated. ... That was a very good project team that was very committed to making that deadline work," she said.
Copeland cited three reasons why the implementation stood out to IBM. "One is that [eCapital Advisors] took the time ... to understand the client at a deep level, how their company works, the challenges they were trying to solve and their current reporting," she said. ECapital Advisors then delivered "a full solution to answer that need and [did] it in the time frame and the budget that the client needed," she said. Finally, she pointed to the firm's exceptional skills with the IBM Planning Analytics technology.
"All of those things set [eCapital Advisors] apart," Copeland said.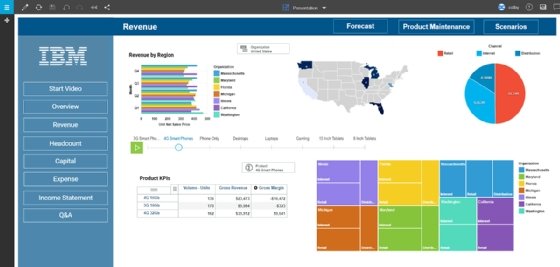 IT operational analytics market poised for growth
David said eCapital Advisors continues to work with Allen Edmonds, which has since been acquired by a larger footwear holding company, Caleres. The consultancy continues to invest in its business transformation team as well.
"When you are taking on transformation projects, further visioning and alignment on [the customer's] current state versus their desired improvement state, making sure helping them through that process, is really critical," she said.
IBM Planning Analytics differentiators
According to Ronnie Rich, senior offering manager of IBM hybrid cloud, planning analytics, IBM Planning Analytics is differentiated in the market for its ability to meet the scope of customers' planning and forecasting requirements regardless of complexity.
David agreed that IBM Planning Analytics can handle a range of requirements, noting its effectiveness in the complex processes used in multichannel situations like Allen Edmonds'.
"There is a lot in that product," she said.
Rich added that other differentiators include the platform's customer-friendly interface and the close relationship between the IBM Planning Analytics team with other teams within the vendor's business analytics organization.
Partners are usually involved in IBM Planning Analytics implementations, he said. "While we have an exceptionally strong portfolio and ... a group of knowledgeable people to work with customers, we can't be everything to everybody all the time. Our partners really offer that customization and expertise, which helps extend what we offer."
Looking ahead, she said the market for IT operational analytics projects offers plenty of opportunities, in retail and beyond.
"Unfortunately, you still see every month teams that aren't aware there are solutions to help them in this process," she said. "It's 2018, and every week I am on the phone with customers [that do] these types of processes in Excel and [struggle] with the difficulty and not knowing that there [are] offerings out there to help."