Sergey Nivens - Fotolia
New service lets partners research MSP technology stack
MSP Navigator offers managed service providers a product and service catalog, updates on integrations and access to peer groups, among other features.
Building and maintaining an MSP technology stack is a common preoccupation for channel partners.
Products and services are plentiful and new offerings seem to arrive on a weekly basis. To complicate matters, managed service provider tools seldom operate in isolation. Monitoring, management, ticketing and billing systems must work together to maximize efficiency. Vendors, responding to the need for coordinated systems, cultivate relationships with numerous technology partners, creating a web of frequently changing integrations.
Against that backdrop, MSP Navigator, based in Amsterdam, offers an online service that lets MSPs browse a catalog of about 750 tools from 430 vendors. Partners can use MSP Navigator to search for products, compare offerings and discover available integrations. They can also use a software-as-a-service tool to manage and track their technology stacks. In addition, an upcoming partner-finder feature will let IT buyers search for MSPs by location, services offered, vertical market specialty and supported technologies.
To use MSP Navigator, partners sign up for an account and create a profile. The service operates under a freemium model. An MSP can search the catalog and have its profile listed in the partner-finder at no cost. For a fee, an MSP can upgrade to a premium profile, which includes the ability to upload video and company brochures, a smart button that links to an MSP's calendar/planner of choice, and built-in messaging.
A lingering problem
MSP Navigator is the brainchild of Victor Raessen, who owned his own MSP company and later joined MSP software vendor Autotask, which was subsequently acquired by Datto in 2017. Raessen was responsible for Datto's Benelux region before leaving the company to launch MSP Navigator. Work on building the service began in August 2019 and the site was launched in its current form two months ago.
The idea for MSP Navigator germinated from Raessen's frustrations with building an MSP technology stack and encountering that same concern when speaking with other service providers. "The landscape of available options has been growing enormously over the last 10 years," he said. "But the landscape is very fragmented."
Raessen's aim with MSP Navigator is to provide a single, vendor-neutral location where MSPs can see what's available in the market. About 100 MSPs have signed up for MSP Navigator thus far. Users come from several regions, including the Benelux countries, the United Kingdom, North America, Australia and New Zealand, and Saudi Arabia.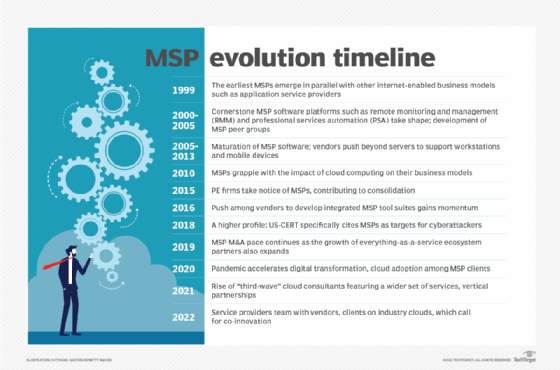 Early users said they find the tool catalog particularly useful. "You can find, pretty much, the whole tool stack," said Wayne Wilson, general director and CEO at Wanbound, an MSP based in Woerden, Netherlands.
About a month ago, he was looking for a new quoting tool but had trouble finding one that would work with Autotask, the company's professional services automation (PSA) system. An internet search didn't yield a match, but an MSP Navigator query quickly identified a quoting tool with Autotask integration. Wanbound has since implemented that product.
Diederik Twickler, director at Campai, an MSP in Zoetermeer, Netherlands, said his company highlights its ability to "find the tools that matter" as a selling point. In the past, the company traveled to numerous vendor events and talked to a lot of people to locate promising tools. The approach can be time-intensive, he noted. MSP Navigator, however, has simplified the process.
"It is definitely making it a lot easier to find interesting new tools," Twickler said.
He said MSP Navigator's listing of integrations is particularly important for his company.
"That is the feature I love the most because integration is a core to our business," Twickler said. He said tools need to integrate with the company's PSA system from a ticketing standpoint, adding that billing integration is also critical. Reducing the amount of time Compai spends on billing affects the profitability of its services, he noted.
MSP Navigator, he added, lets the MSP create a short list of tools that offer its preferred integrations.
Other features
The partner finder, the second phase of MSP Navigator, will provide a separate landing page for businesses seeking IT partners. Raessen said that feature will launch once MSP Navigator has achieved critical mass with respect to the number of MSPs on board.
The landscape of available options has been growing enormously over the last 10 years. But the landscape is very fragmented.

Victor RaessenFounder and CEO, MSP Navigator
Twickler said he is curious to see how the partner finder develops. In the meantime, he is using MSP Navigator's tracking feature, which lets Campai keep tabs on interesting tools that the company isn't quite ready to purchase and offer to customers. For example, Twickler said he uses MSP Navigator to get news and updates on next-generation endpoint security products.
In addition, Twickler said he is testing MSP Navigator's community feature, which provides a forum for MSP peer groups. He said this feature helps service providers discover peer groups and compare MSP technology stacks with each other.
"Other companies can see what kind of tech stack you have," Wayne noted, adding MSPs can share tool knowledge and experience. He said he sees potential in the peer group feature but hasn't started using it yet.
The ability to research vendors and share insights with peers helps service providers traverse the varied landscape of MSP tools, Raessen said.
"Most companies have a tech stack of mission-critical applications from multiple vendors," Raessen said. "Not a lot of companies have one single vendor in the tech stack."