Sergey Nivens - Fotolia
White-label cloud marketplaces become valuable tool for MSPs
MSPs are tapping cloud-based commerce platforms to bolster sales and marketing. Find out about using white-label cloud marketplaces and popular online shops run by AWS and Google.
The emergence of cloud marketplaces in the last several years has given partners the ability to incorporate these platforms into their portfolios and extend their service offerings as cloud adoption grows.
These one-stop shops for cloud-based products and services range from vendor-specific marketplaces, such as Salesforce AppExchange, to independent platforms offered by distributors like Ingram Micro and Tech Data.
Customers are turning to cloud computing and cloud marketplaces because "an effort to cost optimize and bring forth the path to transformation holds strong promise and results for IT outsourcing buyers," said Sid Nag, research director at Gartner. He added that buyers are going "cloud first" in their decisions because of a "time-to-value impact via speed of implementation."
Using a mix of e-commerce platforms
Dace IT, a managed service provider (MSP) based in Duluth, Ga., is using Tech Data's StreamOne Cloud Marketplace, which lets partners implement a customizable e-commerce platform connected to the Tech Data Cloud Solutions store. The firm "understood the value of needing a cloud marketplace, [so] we partnered with Tech Data for the last two years after our search for a white-label cloud marketplace had become exhausting and we didn't want to create our own," CEO Louis Dace explained.
The MSP is providing its customers with self-provisioning cloud services, as well as a menu of available services, terms and pricing that customers can ask Dace IT to order or provision on their behalf. "Customers can perform self-provisioning cloud services for our Intelligent Video Analytics (IVA) solutions and next-generational IoT solutions," he said. In addition to using StreamOne's white-label cloud marketplace platform, Dace IT offers products and services on AWS Marketplace and Google Cloud Launcher, he added. While Dace IT recognizes the value of having its own marketplace, Dace said his company believes the AWS Marketplace and Google Cloud Platform bring in more traffic from customers that are interested in exploring their offerings.
Dace IT also offers add-on services and reaches out proactively to customers to see if they need support, he said. Options include the MSP's next generation of IoT services, which are available through the Tech Data and Google Cloud marketplaces, he said. "When we signed on to Tech Data's [StreamOne Enterprise Solutions] SES Platform, we selected the premium option, which allows us to add custom product solutions listings."
We ... believe that the customer cloud journey should be on-demand and available to the customer without IT intervention.

Louis DaceCEO, Dace IT
Dace said he has found many benefits to having white-label cloud marketplaces, including speed to market in deploying one without the headaches associated with building one from scratch. StreamOne was developed with e-commerce platform provider Orbitera and is powered by the Orbitera platform. Google acquired Orbitera in 2016.There has also been the "pride of knowing that the Orbitera marketplace was of such quality that Google purchased the company's platform and features that allow customers and partners to deploy our solutions on multiple vendors' clouds" such as AWS, Azure, IBM Cloud and Google.
Most of Dace IT's customers start with self-provisioning, he said. "We encourage this practice and believe that the customer cloud journey should be on demand and available to the customer without IT intervention."
One of the features of Dace IT's cloud marketplace integrates customers into the MSP's Salesforce CRM as leads so staff can reach out to see if they are interested in having the firm deploy IT services. A typical cloud service would be integration of Dace IT's IVA offering with video files moved into cloud storage and archived, he said. Dace IT also offers Intelligent Virtual Assistant service for AI, machine learning, deep learning, network security and integration services.
The one issue Dace said they have encountered is with Orbitera's customer service because of different time zones. When technical issues need to be escalated, resolution can take a few days. He said they have had no issues with Tech Data.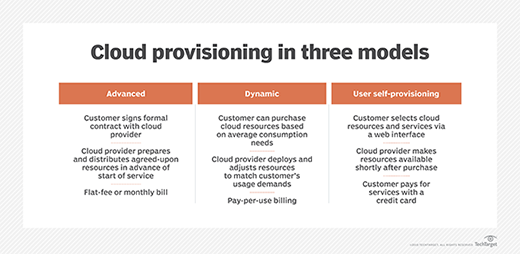 White-label cloud marketplaces offer flexibility
AppDirect offers the AppMarket white-label cloud marketplace, which lets companies sell "everything from Microsoft Office to Google Apps to Intuit QuickBooks and security products like Norton -- anything sold on the internet," said Andy Sen, CTO of AppDirect. He added that the trend today is to sell software subscriptions and software as a service.
This means that MSPs now have to think not just about the initial sale but extending the relationship with upselling and Cross-selling, Sen said.
AppMarket provides a platform not only for customers to self-provision products but have their MSPs or cloud providers take certain actions on their behalf, like adding Microsoft Office users.
The first sale to a customer is generally an MSP-assisted sale, he said, "but then the self-service part kicks in and they add more seats themselves." It all depends on how an MSP has configured the AppMarket platform, Sen said.
He noted that the platform features a quoting tool so larger customers can request a quote if an MSP wants to bundle two products together.
AppDirect's contracts with MSPs are generally multiyear. Once an MSP signs up for AppMarket, the process is completely automated, and they can procure a white-label cloud marketplace in real time, he said. The MSP will see a catalog of apps that they can choose to include in their marketplace.
"They're free to have their own products from vendors directly," he noted. "There's extensive ways they can customize the look and feel of the marketplace, from ... colors, banners, what product they want to promote" as well having certain business rules such as currency change if an MSP has a customer located in Europe. The MSP will be notified when someone buys one of their products, Sen said.
Distributors provide cloud marketplaces
Some partners have tapped distributors to white-label cloud marketplaces, customizing them to offer services in combination with the distributors' services.
For example, Ingram Micro has a Cloud Private Label Program for partners that have already invested in building a cloud practice, as well as for born-in-the-cloud partners that focus exclusively on cloud services. Ingram Micro Cloud Marketplace is itself a white-labeled platform of CloudBlue, an independent cloud division within Ingram Micro, noted Richard Dufty, senior vice president of CloudBlue.
While there aren't specific criteria partners need to meet to private-label CloudBlue services, Dufty said they recommend channel partners utilize CloudBlue when they want to have a customized platform to bring their own licensed contracts or their own services, such as managed services, to market.