Fotolia
AppExchange in Salesforce a slam-dunk for Detroit Pistons' workflow
The Detroit Pistons needed help getting the most out of Salesforce, so they turned to AppExchange -- although the abundance of choices is sometimes a challenge.
The NBA season recently ended, and teams are already preparing for next year, with the draft done and free agency...
Continue Reading This Article
Enjoy this article as well as all of our content, including E-Guides, news, tips and more.
about to begin. While most in the league are awaiting the latest decision of superstar LeBron James, all 30 NBA teams are trying to get better for next season.
The same is true for team business departments, which work behind the scenes to better market and sell to NBA fans. Accomplishing that requires a flexible workflow and software that can help departments run smoother and solve problems that arise.
It's with that in mind that the Detroit Pistons -- one of the more successful franchises in NBA history -- uses Salesforce and the AppExchange in Salesforce to better run its business.
Angie Hight is CRM director for the Pistons, working with other business departments in the organization to use Salesforce to solve workflow and efficiency problems.
"I started here five-and-a-half years ago, and I was doing outreach to let others know we have this tool that we can help with," Hight said. "Somewhere along the line, that has shifted to where they are coming to us now."
'It was an old-school process'
Professional sports leagues were among the first industries to adopt the use of analytics and intelligent software to look for difference makers on the field or court, and that same mindset is continuing to flood into the business side of sports.
"We use business intelligence tools to do analysis for data that comes into different systems in the organization," Hight said. "The biggest area that data is coming from is Salesforce. It's not just the sales team; it's in finance and community relations and other departments."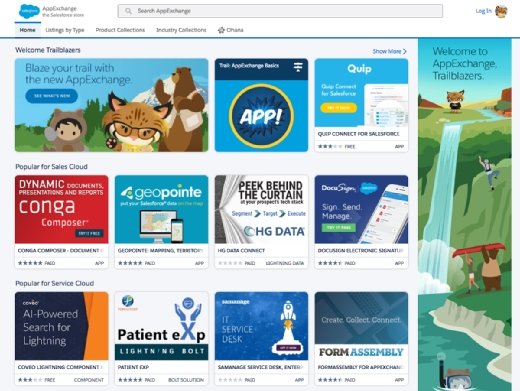 With most departments plugging into Salesforce, Hight said she is often inundated with questions from department heads on how to get more out of Salesforce or solve a processes challenge. That's when Hight turns to the AppExchange in Salesforce.
"We have no internal developer here," Hight said. "There are times we'll get a request to build something out that we can't do, and that's when we'll go to the AppExchange in Salesforce."
One such problem that Hight and the Pistons solved using the Salesforce AppExchange revolved around group night promotions for ticket sales. Previously, the sales department would print out paper flyers, delivering them to various local businesses to distribute or to companies to allocate to their employees.
"It was an inefficient way to get to the customer, and the customers had to fill out that paper sheet with their name and credit card information and send it back," Hight said. "It was an old-school process. They knew they could sell more tickets with a more automated process, but they didn't know how to do it."
Hight perused the AppExchange in Salesforce and ultimately found a form-creation tool that not only attacked the sales department group ticket problem, but it also found uses in other departments.
A multitude of applications
Evaluating the tools to find the best one is challenging, but it's easier and more accessible to find.

Angie HightCRM director, Detroit Pistons
While Hight and the Pistons have had good luck finding tools in the Salesforce AppExchange, the experience isn't seamless -- mainly due to the explosion of third-party applications that are built on the exchange.
"The only thing that takes me some time is the sheer quantity of applications out there and available," Hight said. "It's growing. Five years ago, I'd type in 'Forms' and get three tools back. Now, I get pages."
The trial and error of finding a specific tool can also be frustrating, but with the capability of using the tool in a sandbox in Salesforce AppExchange before licensing, it eases the concern of costs somewhat.
And Salesforce has worked to address the quantity and search difficulties on its AppExchange with better curation and stronger ranking of trusted applications.
"Evaluating the tools to find the best one is challenging, but it's easier and more accessible to find," Hight said. "But it's a longer shopping excursion than it was. They've done a good job sorting it -- if you're looking for help within HR or finance, it's easy to get that. But sometimes what you're looking for doesn't fit into a bubble like that."
The AppExchange in Salesforce is integral to the idea of a Salesforce ecosystem. Salesforce and its partners will generate $859 billion in revenue by 2022.