Guido Vrola - Fotolia
Salesforce consultants get bigger AppExchange spotlight
Changes to AppExchange will highlight consulting firms within the Salesforce partner ecosystem. Additions include a consultant finder and new analytics tools.
Salesforce consultants, a large and expanding partner ecosystem, may become easier for customers to locate in light of new additions to the AppExchange marketplace.
The cloud software company this week unveiled Consultants on AppExchange, a feature that lets customers search for consultants by location, company size, product expertise and industry specialization. Customers narrowing their search can browse individual consultant listings that provide such data as the number of Salesforce projects competed and the number of certified professionals. Each listing's expertise tab breaks down the number of certifications by type -- architect certifications versus developer certifications, for example. The consultant finder, consultant listings and expertise tab are live on AppExchange.
Salesforce said it will also make two analytics tools available to partners under the AppExchange Partner Intelligence banner. AppExchange Marketplace Analytics offers Salesforce consultants insight into how customers interact with their AppExchange listings, according to Salesforce. AppExchange App Analytics lets partners keep tabs on app adoption and usage.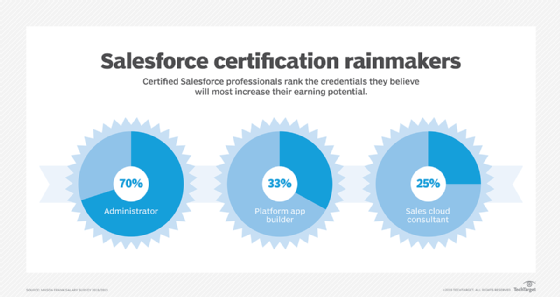 Uniting Salesforce consultants, customers
We are bringing together ... partners and customers and all the data about those relationships.

Woodson Martin General manager, Salesforce AppExchange
"We are bringing together ... partners and customers and all the data about those relationships," said Woodson Martin, general manager of Salesforce AppExchange. "This allows customers to gain much greater insight into the capabilities and expertise of the consultants who can help them on their digital transformation journeys."
Martin said Consultants on AppExchange makes it easier for customers to identify consultants out of a population of some 64,000 Salesforce-certified professionals. Salesforce said the population is expected to grow to more than 250,000 by 2022.
Salesforce consultants view the AppExchange additions as a positive development.
Dave Falconer, senior vice president, EMEA, at PolSource, a Salesforce platinum consulting partner, said Consultants on AppExchange provides another channel for his company. In addition, the ability to have consulting resources available on AppExchange alongside core Salesforce capabilities and add-ins from AppExchange partners and ISVs will help customers create holistic solutions, he noted.
"This development will support Salesforce customers to connect with critical expertise to drive their digital reinvention," added Corrine Sklar, CMO at Bluewolf, an IBM company and Salesforce strategic global partner.
Falconer, meanwhile, said the new analytics tools could provide a better understanding of what customers are looking for and help the company refine its offerings.
"We can hone what we put on the AppExchange and maybe even hone how we operate and communicate with our clients," he said.
Navigating the partner ecosystem
Online marketplaces are poised to become the primary way customers will locate partners in enormous cloud ecosystems.
"Our research shows that 73% of B2B buyers prefer online e-commerce and marketplaces to make their purchases," McBain noted. "This will accelerate the decline of resell over the next 10 years."
The growth of what McBain refers to as the shadow channel -- a group that includes XaaS partners and ISVs -- contrasts with the shrinking of the traditional reseller channel.
Other mechanisms, in addition to marketplaces, will also emerge as partner locators. McBain said communities built around similarly focused partners will attract and/or influence buyers. Those communities will be organized around industry, geographic area, line of business, sector or size, and technology, he noted.
Marketplaces to grow in importance
Other cloud vendors face the same challenges as Salesforce when it comes to boosting partner visibility. Jay McBain, principal analyst of global channels at Forrester Research, said online marketplaces such as AppExchange will grow in importance as the everything as a service (XaaS) partner ecosystem continues to expand.
"With hundreds of thousands of partners covering millions of specific customer opportunities, marketplaces will be the hub of the ecosystem allowing for partner-to-customer and partner-to-partner matching," McBain said.
As for the latter, Saleforce's Martin noted Consultants on AppExchange will indeed play a role in bringing partners together. For example, an ISV offering a product on AppExchange will be able to find relevant consulting partners, Martin said.
"ISVs are always looking for consulting partners they can introduce to their customers for their projects," he said.