darren whittingham - Fotolia
Lenovo partners to seek more SMB data center deals
Lenovo partners will see the vendor increase focus on SMB customers, which Lenovo said can present business problems just as complex as those belonging to larger organizations.
Lenovo's Data Center Group is gearing up partners to capture more share in the small and medium-sized business market, the vendor said.
Lenovo this week held its annual partner conference, Lenovo Accelerate, in Las Vegas. Among the various strategies the Lenovo Data Center Group looked to impress upon partner attendees was a fresh focus on the SMB space. The SMB strategy builds off the momentum of Lenovo Data Center Program, a global partner program established during Lenovo's fiscal year 2017, which ended March 31.
"We now have a fairly standardized program around the world in which we engage with our data center-focused partners to bring them advanced solutions … to their data center customers," said Stefan Bockhop, executive director, Lenovo Data Center Group channel, North America.
The Data Center Program lets Lenovo partners differentiate themselves through three tiers -- Silver, Platinum and Gold -- based on the volume of business they do with the vendor as well as the number of certifications they complete. Program benefits include access to deal registration, incentives, demand generation resources, formal training programs and an online educational portal.
As it stands today, Bockhop said the program has about 200 partners in the program's tiers and an additional 4,000 partners that are authorized to sell Lenovo data center offerings. Lenovo partners range in size and business models.
"The partners themselves are as diverse as the customers they service. So, we don't … require somebody to be specialized in their approach to their revenue with us, as long as it is a good business model and we can go serve customers together," he noted.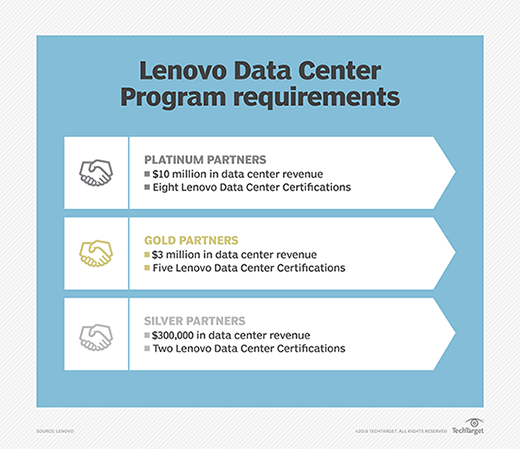 Upping investment in SMB customers
Lenovo recently ramped up its internal resources to pursue SMB opportunities -- a strategic decision that was largely driven by partner feedback, Bockhop said.
"We put in a dedicated team specifically focused on SMBs, specifically focused on enabling our partners and working with partners to go after that space," he said. The SMB team is fully staffed and "ready to go."
As Lenovo targets the market segment, however, Bockhop said there are certain traps the vendor wants to avoid. For example, he noted Lenovo recognizes that SMB customers' business problems can be as complex as those of larger business environments. Like enterprises, SMBs are subject to regulatory and legal requirements. SMBs are also trying to deal with torrents of new data. "I think as we approach this market, we are cognizant and careful not to … [offer] a 'lite' solution. … That is not what an SMB customer wants. They want the same business outcome that everyone else is looking for regardless of size," he said.
"That is one of the traps we can fall into, and we are trying hard not to have that happen and try to be active listeners in the market," he added.
Lenovo portfolio: Breadth is strength
Lenovo's strength in the market rests on the breadth of its portfolio of products and services, Bockhop contended.
"One of the benefits that Lenovo brings to the market is the broad approach we take to solving the business problems out there. If you think about how Lenovo is set up and how we are structured to implement our portfolio in the marketplace, we have a number of different alliance partnerships and … different solutions that are based on either software-defined models or … the new model of data center design," he said. "Everything that presents itself doesn't look like a nail to us, because we don't just have a hammer, we have many, many tools in our toolbox."
He added that the portfolio's breadth is appealing to certain data center-focused Lenovo partners. With Lenovo, he said, partners can invest in just one vendor partnership rather than partnerships with a multitude of vendors that offer only pieces to the overall data center solution.
Lenovo's PCSD strategy goes corporate
Meanwhile, on the PC and smart device (PCSD) side of the business, Lenovo is taking a slightly different tack.
"We certainly are coming off a tough year last year, but we have gotten ourselves in a very healthy position going forward," said Rob Cato, executive director, PCs and smart devices, at Lenovo. Cato, who joined Lenovo in 2005, was named a Lenovo channel chief in April.
Matt Zielinski, recently appointed president North America and senior vice president, PCSD, at Lenovo, said the company has "spent a lot of time dissecting" 2017 and discussing "both our channel strategy and our overall recipe going forward."
In addition to launching new products and end-to-end solutions, Lenovo's PCSD business is upping its investment in the corporate space. "I can tell you SMB is extraordinary important to us, but we are opening up the aperture of our investment model to go well beyond SMB into corporate … in the public sector … as well as various verticals throughout the space as well," Zielinski said.
"Any vector of our business that we are going to be investing in, the channel represents a significant if not critical portion and element to pulling that off," he added.