Sergey Nivens - Fotolia
Green House Data merger boosts Microsoft consulting skills
The Green House Data merger with Infront Consulting Group lets the combined entity offer a range of offerings, from upfront consulting to ongoing managed services.
Green House Data, a managed service provider based in Cheyenne, Wyo., has added Microsoft consulting capabilities, automation skills and greater geographic reach in its merger with Infront Consulting Group Ltd.
The deal, announced May 31, combines Green House Data's cloud hosting, managed IaaS and hybrid IT services with Infront Consulting Group's consulting services for Microsoft infrastructure and Azure cloud. Infront Consulting Group, based in Toronto, is a Gold Managed Microsoft Partner. The Microsoft managed partner designation means that the partner is field-managed by Microsoft and reflects a deeper level of engagement with the company.
The Green House Data merger comes amid a flurry of mergers and acquisitions in the IT services and cloud consulting space. Reliam and Converge Technology Partners, for example, have been snapping up managed public cloud providers and regional IT infrastructure companies, respectively. Fusion Agiletech Partners Inc. earlier this year kicked off a strategy of acquiring Microsoft-oriented partners, acquiring digital consulting firm Quisitive.
Shawn Mills, CEO at Green House Data, said the Infront Consulting Group merger stems from the company's decision last year to target Microsoft Azure as a hyperscale provider in light of the cloud platform's rapid growth. The company started looking for a Microsoft partner to join forces with and was attracted to Infront Consulting Group and its Fortune 250 customer base, Mills noted. He said Green House Data generally plays in the midmarket.
"It makes a tremendous amount of sense for us to combine," Mills said.
Infront Consulting Group offers consulting services in areas such as Office 365 advanced threat prevention, Microsoft System Center Operations Manager and Configuration Manager deployment, and blockchain. The company also provides Azure migration services and offers a cloud governance and automation tool called the Azure Automation Framework.
"We are not looking for a rollout strategy," Mills said regarding his company's acquisition approach. "We are looking for capabilities."
Green House Data merger seeks MS skills
Infront Consulting Group's Microsoft consulting and Azure experience were the main capabilities behind Green House Data's interest. But as a secondary benefit, the Toronto company offers the ability to deploy Green House Data's suite of services in the Canadian market, Mills added.
It makes a tremendous amount of sense for us to combine.

Shawn MillsCEO, Green House Data
Green House Data and Infront Consulting Group will operate under their respective brands going forward.
"Both entities have a pretty strong brand presence in their own individual respective capabilities," Mills explained. "We want to continue to capitalize on that."
As for back-office infrastructure, the combined companies have near-term plans to merge sales, marketing, accounting and other operations. The go-to-market strategy calls for Green House Data to deliver managed services to Infront Consulting Group customers that require them, while Infront Consulting Group will deliver consulting services to Green House Data customers.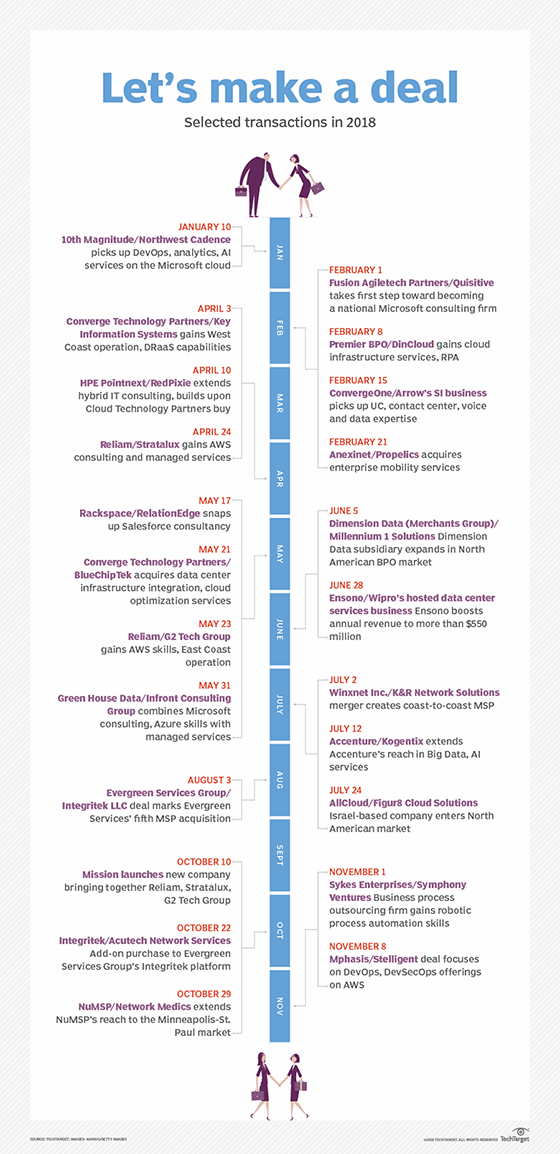 Automation a plus
The consulting firm will also lend its automation and DevOps capabilities to the merger. Mills said Green House Data will use that expertise internally to build out its automated tools for delivering services. In addition, Infront Consulting Group's governance tools can help the organization more efficiently use software licensing to minimize costs, he added.
While the Green House Data merger expands the range of services the company can offer, the company will continue to partner with managed service providers (MSPs) in the small business market -- companies with 500 employees or fewer. Green House Data launched a channel program in 2016 to partner with MSPs and VARs.
Mills said its channel partners will continue to cover the small business market, while Green House Data focuses on the midmarket and Infront Consulting Group pursues large enterprises.