Fusion Agiletech-Quisitive eye private blockchain expansion
Quisitive is on course for becoming a Microsoft consulting partner with national reach, according to investment group Fusion Agiletech; other news from the week.
An investment group has acquired Quisitive LLC as the first step toward creating a Microsoft consulting partner with national scale and expertise in such fields as private blockchain and agile development.
Fusion Agiletech Partners Inc., based in Toronto, is now the parent company of Quisitive, which will maintain its current headquarters in Dallas. Mike Reinhart, president and CEO at Quisitive, will remain as that company's president and take on the additional role of CEO at Fusion Agiletech.
Quisitive, a digital technology consulting firm, pursues digital transformation projects, offering a range of services, including cloud migration and development services around Microsoft Azure, user experience design, custom application development and Sitecore implementation. Microsoft and Sitecore have been the company's main technology partners. Quisitive is one of a handful of digital consultants participating in the Microsoft Customer Engagement Alliance program, a sounding board for Microsoft's digital transformation initiatives.
Fusion Agiletech's strategy is to purchase Microsoft-focused partners, a market that Rinehart views as ripe for consolidation. Just in the cloud space, Microsoft recently tallied up more than 68,000 partners -- a 33% year-over-year increase.
National scale
"The game plan, as we look at it, is to grow a national-scale partner across the U.S. that is Microsoft-focused, leveraging their technologies," Reinhart said.
The game plan, as we look at it, is to grow a national-scale partner across the U.S. that is Microsoft-focused, leveraging their technologies.

Mike ReinhartCEO and president, Quisitive
Reinhart noted while there's a need for smaller niche partners, Microsoft currently lacks partners with a national footprint. "They [Microsoft] don't have a strong ecosystem of scale partners," he said.
For Microsoft, the number of channel partners the company sells through in a given region can be overwhelming, Reinhart said. The ability to work with partners with broader reach will make for more efficient selling and reduce the amount of time Microsoft spends managing channel partners in a particular region, he added.
Reinhart said the Fusion Agiletech growth plan addresses Microsoft's field sales reorganization and greater focus on vertical markets, two initiatives the vendor kicked off in 2017. He said the shift aims to create a much more industry-centric go-to-market strategy, noting the Fusion Agiletech investment strategy will take verticals into account. Initially, the company will focus on financial services and the oil and gas sector, Reinhart said. The retail industry is next on the list after those verticals, he added.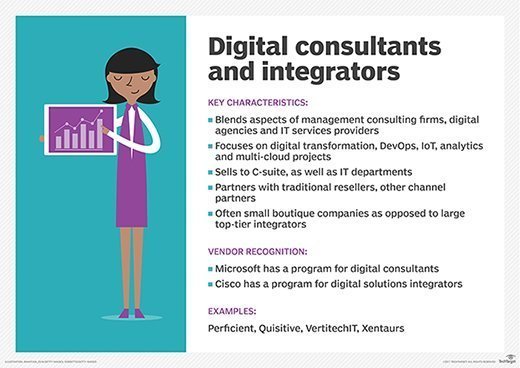 Private blockchain and other technologies
From a technology standpoint, Fusion Agiletech and its Quisitive portfolio company will seek to expand its business in blockchain technology, an area in which Quisitive already provides services. The emphasis will be on Microsoft technology and private blockchain deployments for enterprise customers.
While a public blockchain is open to anyone, an organization or consortium running a private blockchain controls access.
Reinhart said Fusion Agiletech and Quisitive will pursue private blockchain use cases such as smart contracts, supply chain management and payments in financial services. Quisitive currently has blockchain proof-of-concept initiatives underway in the financial services and oil and gas industries. Those efforts are based on Azure-enabled blockchain services.
Agile is another area slated for investment. Here, Agile techniques will be used to modernize applications migrating to the cloud or building new applications.
To help spur technology and geographic expansion, Fusion Agiletech plans to go public in Canada in 2018, a move that will provide additional investment funds, Reinhart said.
Xerox updates partner program
Xerox has made IT solution providers the focal point of its latest partner program updates.
Xerox said it distinguishes the needs of solution provider partners from other company types, such as document technology partners, in its channel ecosystem. For example, Xerox solution provider partners sell multiple brands but are not "print centric," selling instead a range of IT technology, noted Amy Belcher, vice president of global channel enablement at Xerox. "Print is typically not how they lead on opportunities," she added.
The revamped Xerox Channel Partner Program now features simplified tier requirements based solely on a partner's revenue achievements -- one of several changes that Belcher said was driven by Xerox partner feedback. Additionally, Xerox built out its tier levels -- Silver, Gold and Platinum -- to include an entry-level tier for partners new to Xerox. The entry-level tier provides access to the Xerox partner portal but "doesn't obligate them to be in the partner program and meet certain revenue requirements," she noted.
In terms of financial incentives, Belcher said the program updates have removed previous complexities around the hardware and supplies rebates. Rather than being required to meet certain sales targets, partners will get paid "for every dollar that a partner sells of hardware and supplies," she said, adding that partners can also earn bonuses for exceeding Xerox-specified sales targets.
On top of these updates, Xerox rolled out a few operational enhancements, including tweaks to the partner portal and a new online dashboard that partners can use to track their status against tier requirements.
Throughout 2018, Xerox plans to introduce program enhancements that target a variety of channel business models, Belcher said. "We will look at the document technology partners, the agents and the distributors and enhancing the global partner program for different types of partners." She referred to this week's updates as Phase One in a "dynamic process as we tackle each type of partner."
Xerox made headlines this week when it announced that Fujifilm Holdings Corp. will acquire the company in a $6.1 billion transaction. Fuji Xerox will emerge in the second half of 2018 as an $18 billion company, if Fujifilm Holdings' takeover of the print technology company closes as expected. Fujifilm Holdings and Xerox Corp. agreed to combine Xerox and a previously existing joint venture. The companies said Fuji Xerox will look to grow such businesses as high-speed inkjet and industrial and workplace automation. As of late last year, Xerox continued to invest in channel partners to promote managed print services.
Fortanix launches first partner program
Encryption company Fortanix is targeting resellers and managed services providers (MSPs) with its inaugural partner program.
Launched last week, the Fortanix Partner Program offers deal registration, joint marketing, sales enablement and product training. Fortanix said it provides a referral program in addition to contract options for resellers and MSPs.
The program launch came alongside the release of the FX2200 appliance node, which Fortanix described as a "channel-friendly self-defending key management service" product. According to Ketan Shah, vice president of products at Fortanix, partners will find the FX2200 simple to install and maintain. He added that MSPs can incorporate the appliance into their managed services.
Fortanix has signed up about half a dozen channel partners and is initially focused on working with firms with security and encryption expertise, Shah noted.
Five steps for GDPR compliance
FileCloud, an enterprise file sync-and-share platform, has outlined five steps for managed service providers seeking to comply with the General Data Protection Regulation (GDPR), which goes into effect in May 2018.
Those steps are:
Pursue a defensive and offensive strategy: Assuming the role of GDPR advisor holds existing customers and wins new business.
Know what services will be affected: MSPs can then help customers understand how to comply and also explain how their offerings can contribute to compliance.
Identify customers handling the personal data of European Union citizens.
Acquire and document consent: Assess customers' current processes for collecting data to help them formulate a plan to acquire and document consent.
Provide demos: MSPs should show customers how their offerings will ensure GDPR compliance.
Other news
CompTIA is forecasting 5% growth this year across the global technology sector with U.S. market expansion expected to track with that projection. This prediction comes from the organization's IT Industry Outlook 2018. CompTIA said the industry in 2018 can expect to see the cloud enter a new phase of maturity, an expansion of internet of things technology footprints and the addition of AI as a new layer to solution stacks.
Kaseya, a vendor of IT management software for MSPs, entered a partnership with Xero, a small business accounting software provider. The linkup provides direct integration between Kaseya BMS, the company's professional services automation offering, and Xero.
Sage Payment Solutions Inc. will now operate under the Paya brand and invest to "expand and grow" its channel partner program, according to the company. The partner program aims to work with technology providers, referral organizations and independent sales organizations.
Jask, a security operations center (SOC) platform provider, unwrapped its Jask Answers partner program. The program has three tiers and provides partners with access to deal registration and subscription renewals; sales support; training; and support for demand generation.
Corsa Technology, a network security vendor, has inked a systems integration partnership with SynerSolutions Technologies Inc. The arrangement will let Corsa extend its reach to new partners and customers in North America, according to Corsa. SynerSolutions, based in Ottawa, focuses on information security, storage technology, consulting and emerging technologies.
File storage vendor Qumulo named Leonard Iventosch as its chief channel evangelist to help develop the company's partner initiatives. Iventosch will focus on building partnerships with value-added resellers, promote Qumulo's Partner 1st Program and grow its worldwide channel community, the vendor. Qumulo also revealed that more than 100 partners are selling Qumulo File Fabric.
VertitechIT, a healthcare consulting firm in Holyoke, Mass., has appointed Dr. Neil Kudler, the former chief medical information officer at Baystate Health, to the post of chief medical officer.
CompassMSP has acquired Design Red Inc., a South Florida MSP that does business as Rediant.
Market Share is a news roundup published every Friday.