peshkova - Fotolia
Microsoft Inspire 2018: Industry focus, co-selling among top trends
At Microsoft Inspire 2018, the software giant emphasized its industry focus and asked partners to develop solutions that build on its Microsoft Azure platform and other core offerings.
Microsoft aims to double down its focus on specific industries, a year-old initiative that company executives said is already bearing fruit in customer response and new business.
The continued emphasis on such vertical markets as financial services, manufacturing, retail, healthcare and government ranks among the top developments at Microsoft Inspire 2018, the company's annual partner conference that runs through July 19 in Las Vegas. Microsoft's industry focus was a key theme at Inspire in 2017, when the company said it would reorganize around industry lines to better understand its customers' businesses. That shift affected a range of areas at Microsoft, from engineering to sales.
But the industry approach has already helped land such customers as Starbucks, Unilever, Dun & Bradstreet, and Komatsu, noted Judson Althoff, executive vice president of worldwide commercial business at Microsoft. He said partners are a crucial element of its industry campaign.
"Partners are the beginning and the end, the first and the last mile of our industry strategy," Althoff said, speaking at Microsoft Inspire 2018. "[Partners] bring forward the differentiation we need to make our customers' digital transformations come to life.
While last year's focus was on launching a new go-to-market strategy and structure, Microsoft is now looking to execute on that industry-oriented foundation. Althoff said the industry approach would remain a consistent part of the company's strategy moving into Microsoft's 2019 fiscal year, which began July 1.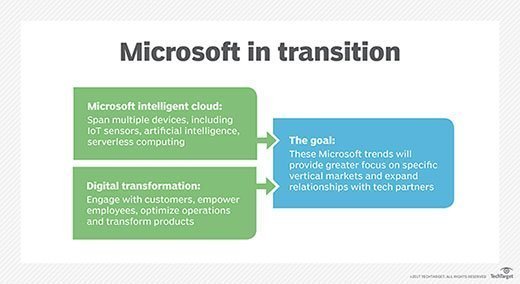 Industry partnering
Microsoft is tapping partners for their industry experience and knowledge -- important qualities to have on hand as the Redmond company shifts from selling licenses to delivering digital transformation, which the company has identified as a $4.5 trillion opportunity.
But Microsoft is also looking to partners to develop solutions that build upon core offerings such as the Microsoft Azure platform, Microsoft Office and Dynamics 365. Althoff said Microsoft's commercial marketplace has five times as many solutions available today than a year ago, noting partners are "building code" and "investing in IP."
I really love the fact that we can build onto Microsoft core product.

Richard Marrisonnational leader of technology advisory, KPMG Australia
A Microsoft partner venture in the financial services vertical provides one case in point. KPMG Australia, Microsoft and the Commonwealth Bank of Australia are collaborating on a software platform called Wiise, which is slated to launch in August 2018. The system, which targets small and medium-sized businesses, integrates online banking functionality into a business management platform. Wiise also integrates with other offerings such as Office 365.
Richard Marrison, national leader of technology advisory at KPMG Australia, cited the ability to develop solutions on Microsoft infrastructure.
"I ... really love the fact that we can build onto Microsoft core product," he said during a panel discussion at Microsoft Inspire 2018. "There are very few technologies where you can actually do that in a structured and systemic way."
In the healthcare vertical, ClearData, a healthcare cloud security and compliance company based in Austin, Texas, this week unveiled an offering for Microsoft Azure. The company said the product lets healthcare organizations using Azure maintain compliance with laws relating to protected health information.
Matt Ferrari, CTO at ClearData, said the company views industry verticalization inside of Microsoft as a driver for customer adoption of the Microsoft Azure platform.
"Microsoft has spent significant time building up their capabilities on the security, compliance and privacy side of Azure, and this has helped lead to healthcare organizations feeling more comfortable with moving their data to Azure-based services," he explained.
Ferrari said ClearData is seeing significant demand in the healthcare vertical for the Microsoft Azure platform.
"Healthcare providers and payers are often familiar with Microsoft services -- whether it be Office 365, SQL or other services -- and often have a level of ease when adopting Azure-based services," he said.
In addition to familiarity, other factors driving Azure demand include an overall increase in cloud adoption in the healthcare space and a Capex-to-Opex shift as healthcare organizations look to move away from traditional data center and IT infrastructure expansion, Ferrari said.
Co-selling offerings
Another important theme at Microsoft Inspire 2018 is the co-sell concept, in which partners sell their offerings in conjunction with the Microsoft salesforce.
"The biggest theme that we have coming from this conference is the term 'co-sell,'" said Dana Berg, COO at SADA Systems Inc., a business and technology consulting firm in Los Angeles. "It is not necessarily new, but it's being more emphasized this year."
Microsoft's One Commercial Partner (OCP) applications catalog is an important co-sell component. Once Microsoft approves partner applications for inclusion in the catalog, Microsoft's sales people are incented to start selling those solutions, Berg noted.
The rationale: Partner offerings help boost the consumption of Microsoft's cloud platforms and also provide solutions that fill the gaps where those platforms don't address industry-specific needs.
Berg said SADA Systems has packaged a number of offerings the company has developed for customers over the years and has worked with Microsoft to get those applications approved and featured in the OCP catalog.
Vertical developments at Microsoft Inspire 2018
Microsoft executives, meanwhile, discussed specific partner opportunities within vertical markets at Inspire.
Rita Tenan, senior director of government industry EMEA at Microsoft, listed a set of fiscal year 2019 priority solutions for the public sector. At the national level, those solutions include systems supporting digital tax, social programs and labor, digital justice, and transportation. Local and regional government priorities include coordinated first response, urban mobility, smart building and citizen services solution. And in the defense and intelligence sector, the priority solutions include command and control, border security, cybersecurity training, and wargaming andsimulation.
In Microsoft's manufacturing and resources segment, the company is placing "big bets" on smart energy, industrial IoT and precision agriculture, according to Çağlayan Arkan, general manager of manufacturing at Microsoft.
"All of this will require partner capacity to deliver," he said.