Jakub Jirsk - Fotolia
Public sector technology: New FY brings IT uncertainties
State government IT could run into shifting priorities with 36 governorships in play this fall, but areas such as cloud are expected to see public sector technology investment.
IT solution providers that are pursuing state government IT contracts could see significant changes to the policies, priorities and funding of state government programs during the next fiscal year, which began for most states on July 1st.
With the exception of four states -- Alabama, Michigan, New York and Texas -- all states' fiscal years end on June 30th. The new fiscal year will also be significant because 36 states will hold gubernatorial elections in November, and the results could change public policy priorities, as well as shift budgets, which in turn would impact spending on public sector technology.
"In those states that will have elections in November this is a quieter time for investment," said Josh Nisbet, director of the public sector practice at Deloitte, a multinational consulting and professional services firm. "Once the elections occur and a new administration takes office in these states in January, new priorities are set, a new vision is undertaken and the commensurate budgeting and planning for projects to support the new administration's agenda takes place."
While state governments come and go, what will remain is a large market for technology spending that is projected to grow over the next three years, according to IDC. The Framingham, Mass., market research firm said state governments spent $27.8 billion on IT in 2017 and are expected to spend $29.7 billion in 2021.
Breaking down the analysis further, Shawn McCarthy, research director, IDC Government Insights, said digital transformation is a top priority for state governments.
"Basically, government agencies now have the ability to integrate digital technology into multiple facets of their business, with data coming from many systems, including sensors, citizen input and other government jurisdictions," McCarthy said. "This is radically changing how governments operate and deliver services and value to citizens."
McCarthy added that allocating funds to maintain older systems and data center consolidation are also top funding priorities.
"Most state governments spend too much money nursing along older legacy systems," McCarthy said. "Also, the cost of operating multiple data centers is becoming too steep for many governments. Some are looking to close up to half of their existing data centers."
Consolidation, which will cause more data to travel to centralized data centers, will require a network capacity boost. The arrival of more systems in the cloud will also place more demands on state agency networks, creating opportunities for IT solutions providers.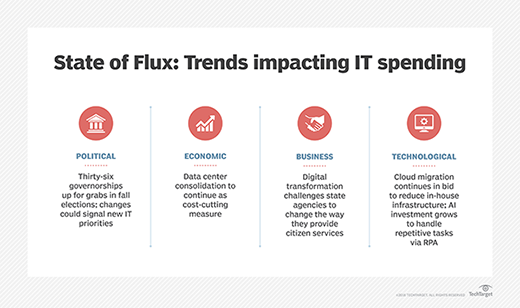 Public sector technology: Cloud to drive IT spending
Along with network capacity projects, cloud migration ranks among the areas expected to receive large amounts of state government IT spending, McCarthy said.
"We suggest that agencies do a detailed return on investment analysis when they are thinking of moving to cloud, and make the decision to go if it makes sense," McCarthy said. "For any new systems development, cloud is usually the best choice."
Jennifer Saha, national director of CompTIA's Public Sector Councils, said IT service providers can expand their business opportunities as state CIOs evaluate their as-a-service options such as infrastructure as a service, platform as a service, or software as a service.
"There's a shift taking place: State governments used to house all of their IT internally, and now they are turning to the vendor community for help to run their government operations, as opposed to scaling up their own infrastructure or staffing levels," Saha explained.
McCarthy said state government adoption of cloud computing will offer IT service providers several opportunities to work on various areas associated with cloud migration projects.
"Few governments can just unplug and migrate to the cloud," he said. "Systems need to be reconfigured and changes need to be made to systems, databases and middleware. Knowledgeable systems integrators are key."
A field associated with cloud computing, the internet of things, is also expected to fuel public sector technology spending.
"One of the largest opportunities will be helping state governments tap into the wealth of the internet of things data that is collected by local governments," McCarthy noted.
Security and state government IT
CompTIA's Saha said state government legacy systems are vulnerable to security risks. She added that states are being forced to replace or upgrade their IT systems simply to sustain operations.
Today, about two thirds of government IT spending goes to systems integrators or some other type of IT service.

Shawn McCarthyresearch director, IDC Government Insights
Nisbet said security is still at the top of each state CIO's priorities -- everything from governance over their cyber framework to protecting their data.
"We've seen a rise in contracts around insider threats and intrusion detection," Nisbet said. "The interesting thing about cybersecurity is, as with any priority, despite the fact that it's still at the top of the list in terms of a state's technology priorities, the budget behind it still lags. Most organizations will tell you that the funding at this point does not match the priority level."
After security and cloud computing projects, Nisbet said shared services, consolidation of systems and IT optimization are high on the list of IT priorities across state governments.
Emerging public sector technology: AI and blockchain
With regard to trends in adopting newer technologies, Nisbet said the adoption of AI is growing.
"For example, bots and other AI-driven technologies are augmenting the state government workforce because AI is handling tasks that can be done with a lot of repetition and little human involvement," Nisbet said. "In Ohio and Texas at the state level the Internal Revenue Service is looking at robotic process automation to develop the ability to respond to citizen requests that they get repeatedly and that they can hand off to an AI system."
In his assessment of technology trends across state governments, McCarthy said AI will receive huge investments, and blockchain will grow over time.
"Blockchain eventually will be huge, but I don't see the massive growth happening in the next 12 months," McCarthy said. "I tell our government clients to be ready for it, and to get one or two pilot projects up and running so that you can see the potential, and how it can be used. It's very likely that blockchain will be integrated into electronic voting in the future."
These developments are good news for IT service providers focusing on public sector technology.
"Today, about two thirds of government IT spending goes to systems integrators or some other type of IT service," McCarthy said. "These opportunities are ongoing."