VMware Cloud on AWS migrations continue to pose challenges
Cloud solutions provider Unitas Global highlights VMware Cloud on AWS opportunities and challenges in the enterprise space; other channel news from the week.
Hybrid cloud solutions provider Unitas Global said it is expecting an uptick in VMware Cloud on AWS migrations ahead, but noted migrations continue to pose problems.
According to the Los Angeles-based company, which provides cloud infrastructure, managed services and connectivity services, VMware Cloud on AWS has gained traction among enterprise clients with extensive VMware-based legacy infrastructure. Those legacy environments in the past have proved difficult to migrate, but VMware Cloud on AWS has smoothed the journey.
"[VMware Cloud on AWS] has given us a path to migrating legacy environments to cloud with less friction," said Grant Kirkwood, CTO at Unitas Global.
VMware Cloud on AWS has also drummed up customer interest for its disaster recovery capabilities, which can provide significant cost reductions compared with traditional enterprise DR infrastructure. "We are seeing a lot of interest in this particular use case," he said.
Despite its benefits, however, Kirkwood has found that VMware Cloud on AWS migrations can be problematic for some customers. The biggest challenge usually stems from enterprises' often complexly interwoven environments. As enterprise environments evolve, they tend to amass lots of hidden dependencies, which can break during cloud migrations, he said. "So no matter how much planning you seem to do, you pick up a database or middleware application and migrate it to the cloud, and [then] five other downstream [apps] break because they were dependent on that and it wasn't known," Kirkwood said.
A report from Faction, a Denver-based multi-cloud managed service provider, cited cost management (51%) as the top VMware Cloud on AWS usage challenge, followed by network complexity (37%) and AWS prerequisites (27%). Faction's report, published in August, was based on a survey of 1,156 IT and business professionals.
VMware poised for multi-cloud opportunities
While enterprise multi-cloud adoption remains in its early stages, Kirkwood said VMware has been successfully redeveloping its portfolio for when it matures.
Each of the leading public cloud providers are trying to differentiate themselves based on their unique capabilities and services, he said. For the most part, enterprise customers today haven't even scratched the surface of Google, AWS and Microsoft's rapidly expanding menus of services. As enterprises gradually embrace more public cloud services, "being able to leverage all of them across a common data set [will be valuable] for companies that are sophisticated enough to take advantage of that," he said.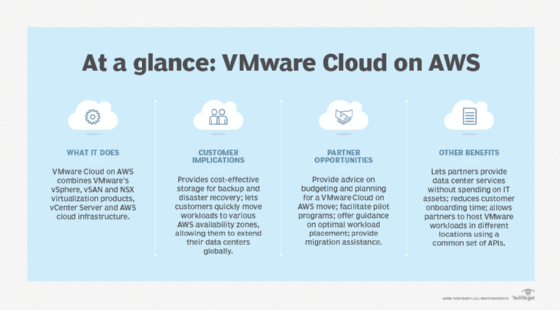 According to Kirkwood, Google Cloud Platform (GCP) excels in AI and machine learning tooling that can be applied to large data sets. GCP is also "very competitive in large-scale storage," he noted. Meanwhile, AWS has developed powerful analytics and behavioral tooling. Microsoft, though it "has probably the least sophisticated offerings," provides "the path of least resistance for Microsoft-centric workloads."
"What I think is going to be interesting to watch is how VMware adapts what they are doing to provide value across that much broader spectrum of [public cloud] services as they gain popularity," he said.
Other news
Insight Enterprises, a technology solutions and services provider based in Tempe, Ariz., has completed its acquisition of PCM Inc., a provider of IT products and services. The deal expands Insight's reach into the mid-market, especially in North America, and adds more than 2,700 salespeople, technical architects, engineers, consultants and service delivery personnel, according to the company.
Iland, a hosted cloud, backup and disaster recovery services provider, said it is reaching "a broader audience of enterprise customers" through a growing network of resellers and managed services providers. SMBs had been the traditional customer set for the company's VMware-based offerings. The Houston-based company also said it has expanded its channel program. The program provides a partner portal for training, certification and sales management; a new data center in Canada for regional partners in North America; and an updated Catalyst cloud assessment tool.
MSP software vendor ConnectWise launched an organization that aims to boost cybersecurity among channel partners. The Technology Solution Provider Information Sharing and Analysis Organization, or TSP-ISAO, offers its members access to threat intelligence, cybersecurity best practices, and other tools and resources.
Accenture disclosed two acquisitions this week. The company acquired Northstream, a consulting firm in Stockholm that works with communications service providers and networking services vendors, and Fairway Technologies, an engineering services provider with offices in San Diego; Irvine, Calif.; and Austin, Texas.
Ensono, a hybrid IT services provider, launched a managed services offering for VMware Cloud on AWS and said it has achieved a VMware Cloud on AWS Solution Competency.
Sparkhound, a digital solutions firm, said its digital transformation project at paving company Pavecon involved Microsoft Office 365, SharePoint, Azure SQL Database and Active Directory. The project also drew upon Power BI for business analytics and PowerApps for creating mobile apps on Android, iOS and Windows, according to the company.
US Signal, a data center services provider based in Grand Rapids, Mich., unveiled its managed Website and Application Security Solution. The offering builds upon the company's partnership with Cloudflare, an internet security company, according to US Signal. The managed website and application security offering provides protection against DDoS, ransomware, malicious bots and application layer attacks, the company said.
Cloud communications vendor CoreDial rolled out its CoreNexa Contact Center Certification Program. The program offers free sales and technical training on the vendor's contact center platform.
Security vendor Kaspersky revealed that more than 2,000 companies have joined its global MSP program. Kaspersky launched its MSP program in 2017.
Service Express, a third-party maintenance provider based in Grand Rapids, Mich., has opened an office in the Washington, D.C., area. The company specializes in post-warranty server, storage and network support.
Market Share is a news roundup published every Friday.
Dig Deeper on MSP technology services