Reports: Accelerating digital transformation a top priority
Studies from Forrester Research, Centrify and AppDirect substantiate the trend of enterprises ramping up their digital transformation initiatives; other IT channel news.
A flurry of market research reports points to accelerating digital transformation efforts among enterprises, with activity ranging from cloud computing to digital commerce.
The studies underscore what channel partners have known for some time: Customers must adopt digital technology and adaptive strategies to deal with the economic aftershocks of the COVID-19 pandemic, and they need to do so as quickly as possible.
In the new batch of research findings, Centrify, a privileged access management vendor, reported that almost half of the 215 IT decision-makers it polled said their companies were compelled to accelerate cloud migration plans and IT modernization amid the pandemic.
Respondents identified maintaining flexibility and security for remote work and digitizing more processes via cloud-native services as their leading modernization priorities over the next 12 months. Other top agenda items included evaluating and updating security stacks and introducing more automation and AI-based tools to handle mundane activities, the Centrify report said.
Forrester Research, a market research firm based in Cambridge, Mass., also showed that accelerating digital transformation is a top priority in the current economic environment. "Business-savvy CIOs who deploy highly adaptive strategies and technology to rapidly respond to the impact on their firm's operations and customers will lead from the front," according to Forrester's Predictions 2021 report release this week. "Those who struggle to meet the demands of the altered economy will fall further, if not entirely, behind in 2021."
Forrester predicted U.S. tech investment to drop 1.5% in 2021. The company said that decline represents a $135 billion drop compared with tech spending in 2019.
The increase in speed has also surfaced in digital commerce as businesses have had to quickly find alternative sales channels for their goods and services.
A study from San Francisco-based AppDirect, which offers a subscription commerce platform, said 69% of companies are accelerating digital plans or launching new products, citing "an enterprise-wide shift to digital commerce." The survey, which polled 500 senior executives who have launched a new digital product, noted 83% of respondents are worried about sustaining the pace of digital transformation.
Partners, however, are playing an important role in helping customers speed up digitalization. Ninety-seven percent of the AppDirect survey respondents said they rely on ecosystems to take digital products to market "and to do so faster than they could accomplish on their own."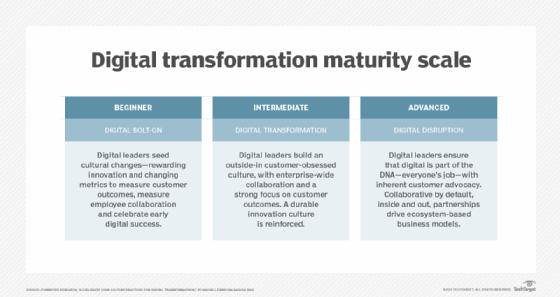 MSPs grapple with building security practices
MSPs seeking to build security practices should first shore up their own protective measures, determine customers' risk profiles, develop a security services stack and consider partnering with external experts.
Speakers at IT Nation Secure, a virtual event this week hosted by ConnectWise, discussed the steps MSPs can take to enter the security market.
MSPs have been under pressure from their customers to enter the security sector but have often found the security business a struggle to navigate. Against that backdrop, Perch Security senior vice president of sales David Powell suggested MSPs must get their own security house in order before offering services to clients. Perch Security provides a co-managed threat detection and response platform, as well as security operations center (SOC) as a service.
The MSPs that are really good at selling cybersecurity really practice it well themselves.

Wes SpencerCISO, Perch Security
"You can't sell what you can't do," he said. "Most MSPs don't do security for themselves very well, so they are going out to talk to their clients about security and they kind of lack credibility."
"The MSPs that are really good at selling cybersecurity really practice it well themselves," Perch Security CISO Wes Spencer said.
MSPs confident in their own security should next examine their customers' risk profiles. This task is best accomplished on an industry-by-industry basis, so service providers will need to determine their active vertical markets. Spencer said MSPs should start with one or two verticals and move on from there. He suggested "starting small, understanding and mastering that industry, mastering the risk profile, and using that to build a solution offering."
Spencer cited the example of the Department of Defense (DoD) manufacturers that must adhere to the Cybersecurity Maturity Model Certification (CMMC), a cybersecurity standard for the defense industrial base. MSPs with DoD manufacturing clients must understand and account for CMMC in their security offerings or else risk having clients going elsewhere.
MSPs that understand customers' risk profiles and specific security needs can move on to assembling a security stack. Spencer recommended MSPs follow a framework when doing so. Spencer and Powell outlined a stack that offers patch management, data backups, firewall and antivirus/antispam as foundational elements. More advanced security offerings MSP can add to their catalog include mobile device management, multifactor authentication, DNS filtering with analytics and behavioral monitoring, security incident and event management, and SOC, among other services.
As MSPs pursue more advanced security, the question becomes whether they should build or buy such offerings. Matt Lee, director of technology and security at Iconic IT, an MSP based in Bedford, Texas, cited the difficulty of vetting security personnel. He said a common challenge is being unsure if a job candidate has the right level of expertise.
Iconic IT's strategy is to work with security services providers such as ConnectWise's SOC team, Lee said. He discussed his company's security stance during a build versus buy panel discussion at IT Nation Secure.
"We lean very heavily on partnering with experts," Lee said, noting the approach lets Iconic IT continue to scale. He said partnering also allows him to focus on learning how to build incident response plans and how to deal with customers' systems' security plans.
Karl Bickmore, CEO of Snap Tech IT, an MSP based in Gilbert, Ariz., said his company tends to go the DIY route when it comes to traditional managed IT services. Bickmore, who also participated in the build versus buy panel discussion, said he expected to follow the DIY path with security.
"Early on, I thought I was going to make this journey from being an MSP to an MSSP and I thought there was going to be this evolution," Bickmore recalled. "And as I really dug into it, I just realized there are things that I don't want to get involved with that I still need to deliver to my customers."
Snap Tech IT uses Perch Security as an outsourced SOC and threat detection capability. Bickmore said his company is following a hybrid approach that taps outside experts, as well as full-time, security-focused in-house staff.
The outsourced piece of the company's strategy offers cost benefits and the ability to have an outside party deal with the noise of security alerts. The company's SOC-as-a-service partner "only sends to my team what we need to react to," Bickmore noted.
"That's such a big deal to offload ... the grunt work side of security," he said.
Other news
Accenture and AWS signed a five-year pact with Takeda Pharmaceutical Company Ltd. to accelerate the company's digital transformation. Takeda, based in Osaka, Japan, aims to move 80% of its applications to the cloud.
Wipro Ltd., an IT, consulting and business process services company, said it has agreed to acquire Eximius Design, an engineering services company. Eximius provides offerings and services for building connected products for use in areas such as IoT, Industry 4.0, edge computing, cloud, 5G and AI.
ClearScale, a cloud systems integrator based in San Francisco, launched ClearScale Managed Services, formerly known as CloudNoc, to provide monitoring, remediation and infrastructure management for AWS customers. "The need to improve the cloud adoption experience and help companies realize the cloud benefits are two important factors that drove the rollout of our next-gen managed services offering," ClearScale CEO Pavel Pragin said. The company is seeing interest in AWS services within industries such as healthcare and life sciences, software, financial services, media and entertainment, and manufacturing.
SADA, a business and technology consultancy based in Los Angeles, completed a rebranding effort. The 20-year-old company worked with digital agency Siegel+Gale on the 12-month project. SADA said it is on track to hit the $1 billion mark as a Google Cloud partner and plans to become IPO-ready within three years.
Crayon, a digital transformation company based in Oslo, Norway, is expanding its reseller partnership with Workplace from Facebook. The company said it has been offering Workplace in the Nordic countries since 2018 and will resell that technology in 20 more countries over the next year.
Peak-Ryzex Inc., a digital supply chain and mobile workforce solutions provider based in Columbia, Md., said it is offering a new suite of IT staff augmentation and project services in an expansion of its field service portfolio.
Anexinet Corp., a digital business transformation solutions provider based in Philadelphia, is partnering with iland, a DRaaS provider.
Axcient, a business availability software vendor that targets MSPs, introduced Direct-to-Cloud (D2C), a new cloud-based backup and disaster recovery offering.
Absolute, a cybersecurity vendor based in Vancouver, B.C., unveiled a partner program for its ecosystem of channel partners, resellers, distributors, MSPs and systems integrators. Program features include deal registration, marketing resources and market development funds.
VMRay, an automated malware analysis and detection solutions provider based in Germany, entered a partnership with Ingram Micro. The distribution deal extends VMRay's reach in Europe.
Market Share is a news roundup that publishes every Friday.