Fotolia
5 steps to build partnerships with IT distribution companies
Channel partners' relationships with IT distribution companies should be about more than ordering tech parts. Find out how to get the most value out of distributor relationships.
Editor's note: IT distributors are an important segment of the IT channel ecosystem that act as intermediaries between vendors and channel partners. In this article, Scott Ford outlines five steps for channel partners to build successful partnerships with IT distribution companies.
1. Evaluate distributors
There are plenty of distributors in the IT industry. This is a good thing, because as a channel partner, it gives you choices and keeps prices competitive. But if you don't choose your distributor partnerships strategically, you could be missing out on benefits.
Rather than engage with IT distribution companies at random, make a list of what is most important to your company, then begin researching current or potential distributors and see how they stack up against your list.
Some elements you might consider include the following:
Price
Free shipping threshold
Location of warehouses
Inventory availability
Cutoff times for ordering
Customer reps or teams
Return policies
Credit terms
Presales support
Availability of platforms such as Microsoft 365
Whatever your list ends up including, compare distributors and determine where your energies and dollars are best spent.
2. Select a primary distributor
Once you've held tryouts, it's time to pick your team. Your company should register with a few distributors, because doing so guarantees some will offer things that others don't and some will have inventory in stock when others don't. Nonetheless, you will need to pick a primary.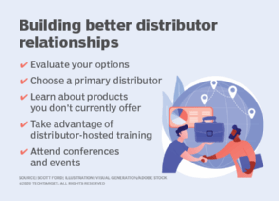 The reason you should select a primary distributor is because the more love you show them, the more love they show you. When you increase the frequency of business and number of interactions you do with your distributor, they might lower your pricing or free shipping threshold and invite you to events, for example. They may even show more of a willingness to make exceptions or concessions when you need them most. How you engage your primary distributor truly has an impact on the type of relationship you have.
3. Explore offerings that are not top priority
Distributors do a pretty good job of marketing goods and services to their clients. Most of the time, however, if those marketing emails are unrelated to something your company already does or is thinking about doing, they get deleted.
It's not a bad idea to look at those emails from your distributor. They might highlight products or services you don't currently offer. While you might not want to offer every possible solution out there, you might be surprised at what's available. Reading up on those offerings might spark an idea.
It is also important to note that, although you may think you will never offer whatever it is the distributor is marketing to you, you should at least be aware of it. Even if you won't offer it, some of your competitors will, so it's important to stay up to date on what's going on in the technology ecosphere.
So, the next time you log into your distributor's website, don't just click the same buttons you always do. Check out new areas of the website -- even areas that don't apply to you at this moment -- and read about things your company hasn't yet considered doing. Regardless of whether you sign up for anything new, at least you'll be better aware of what is available.
Everyone gets something different out of distributor relationships, but if all you are doing is ordering parts, you are missing out on a lot.
4. Take advantage of distributor-hosted training
IT distribution companies will regularly offer training sessions and demos for various products and services. This is a great opportunity for you, your sales team and, in some cases, your engineers to learn more about your company's current and future offerings.
If you see a training event that is relevant, attend it. Furthermore, keep in mind you can be proactive about this: You can always contact your reps at the distributor and ask them if they have upcoming trainings on specific solutions. The reps will be more than happy to share the training schedules. If no training is planned, they can potentially connect you with that vendor's presales or engineering team and schedule a Q&A session for you.
Bottom line: Most distributors want you to be successful. If you are successful, they are successful. They are usually willing to help you and your team get up to speed or increase already-existing knowledge on the products and services they offer.
5. Attend conferences
Whether you have not been to a distributor conference or have but didn't care for it, consider attending these events. It doesn't mean you should go to every event the distributor offers (I don't think anyone has the time for that), but consider selecting few. Conferences usually feature great speakers providing worthwhile content.
Additionally, there is a great deal of value in the personal interactions you can have at distributor conferences. Some have opportunities for small groups of MSPs to talk about existing problems they face and solutions for overcoming them.
I've been to conferences where MSPs did "speed dating" with vendors, where you can speak with senior-level reps from more than a dozen vendors, such as HP Inc., Dell Technologies, Microsoft and Cisco. Every 15 minutes, a bell rings and you move on to a different vendor's table to have the reps' undivided attention for a quarter-hour. Remember all those times you've thought to yourself, "Why did the vendor do it that way? Why did they have to change this?" Events like these are a great way to voice your concerns, ask questions, give feedback and get a sneak peek at vendors' roadmaps for future releases.
Everyone gets something different out of distributor relationships, but if all you are doing is ordering parts, you are missing out on a lot. Take some time out of the next few weeks and months to dig into some areas and concepts you would normally skip over. Do a little research to uncover opportunities you haven't considered before, and then engage with your distributor reps to see what other ways they can help you be successful.
About the author
Scott Ford is a member of The ASCII Group, a North American IT community for MSPs, solution providers and systems integrators.