GCP security: Google taps Rackspace, other partners
Hosting and cloud services firm Rackspace emerges as managed security services provider for the Google Cloud Platform; other channel partner business news from the week.
Google this week unveiled a variety of security measures for its cloud platform, including new partnerships with companies such as Rackspace.
The security announcements, made during the CEO Security Forum in New York, aim to help organizations secure data housed on the Google Cloud Platform (GCP) and its associated services. New additions include an alpha release of VCP Service Controls, which the company said secures data located in Google's cloud storage and big data services. Other GCP security offerings include a Cloud Security Command Center, also in alpha, for monitoring cloud assets and Cloud Armor, a distributed denial of service and application defense service.
From the Google Cloud partnering perspective, the company's recent spate of security moves include naming Rackspace, a manage hosting and cloud provider based in San Antonio, as a managed security services provider for GCP. Rackspace's Managed Security and Compliance Assistance for GCP is available for preview, according to Rackspace. The company said the preview is open to new and existing customers of its Rackspace Managed Services for GCP offering.
According to Google, Managed Security and Compliance Assistance "provides additional active security on GCP to detect and respond to advanced cyber threats."
A Rackspace spokesperson said the company offers managed security services on all the major public cloud platforms. Rackspace Managed Security, the spokesperson said, helps customers secure their Rackspace-supported cloud environments "across AWS [Amazon Web Services], VMware, Microsoft Azure, Microsoft Hyper-V, traditional dedicated environments, and now Google Cloud."
The managed security services arrangement expands upon Rackspace's earlier work with Google. In March 2017, Rackspace became the first managed services partner for GCP.
Customers can purchase Rackspace Managed Security and Compliance Assistance on top of its Managed GCP product. Customers would see the GCP security offering bundled in their monthly fees as a separate line item, the spokesperson said.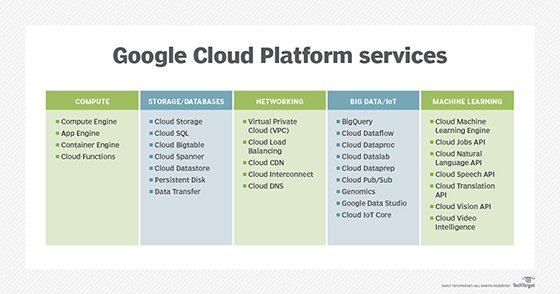 GCP security: Partnering with RedLock
In another partnering move, Google disclosed a GCP security linkup with RedLock, a Menlo Park, Calif., company that is integrating its cloud threat defense platform with GCP's Cloud Security Command Center. RedLock's Cloud 360 platform connects to a customer's Google Cloud environment via APIs.
Varun Badhwar, CEO and co-founder at RedLock, said the arrangement has implications for the company's channel partner business allies.
Cloud security is becoming a major practice area for RedLock channel partners, as more and more enterprises migrate to the cloud.

Varun BadhwarCEO and co-founder, RedLock
"Cloud security is becoming a major practice area for RedLock channel partners, as more and more enterprises migrate to the cloud," Badhwar said.
RedLock's Google Cloud and Cloud Security Command Center integration stimulates "demand for channel partner presales risk, security and compliance assessments, as well as post-sales implementation and management services," he added.
Google unveiled alliances with 11 companies in total.
Google, meanwhile, said it has received Federal Risk and Authorization Management Program (FedRAMP) authorization with regard to GCP and its "underlying common infrastructure," according to a Google blog post.
FedRAMP is a federal government initiative for assessing and certifying the securing of cloud products and services. Google said its certification covers data centers in a number of countries and multiple Google Cloud regions.
Google works with a number of government-oriented partners, including Deloitte Consulting and Onix.
IBM targets developers with new sales tools
At its PartnerWorld 2018 conference this week, IBM revealed new sales and marketing initiatives to target developers.
According to Bob Lord, chief digital officer at IBM, 95% of the world's developers make or influence IT buying decisions. With roughly 22 million developers in the world, sales and marketing requires new strategies. "That is a major change for us as an organization. We can no longer only focus on the core buyer or go in the front door. We know that we have to influence the developer, the architect and data scientist. They are becoming the modern-day builders of business," Lord told PartnerWorld attendees.
Business-to-business (B2B) buyers often want the same sales motion that they get in the business-to-commercial (B2C) transactions, he added. He said as his team moves forward, it will take principles from the B2C world, such as self-service enablement, and apply them to IBM's B2B strategies.
"All of this requires a different set of sales motions for us, and we have in the last year built tools [that IBM business partners] should be able to use in their new selling motions," he said.
Among these selling tools are about 100 code patterns that IBM has made available online. Lord said partners should include these code patterns in their selling motions, since developers often demand quick access to code or will look for offerings elsewhere. He added that IBM is also focused on introducing a number of "try and buy" offerings that developers and buyers can sample before acquiring an entire solution.
IBM partners can also expect the vendor to update its website to make it easier for potential buyers to navigate and research IBM offerings, Lord said. He noted that IBM is using Watson technology to support the website navigation process.
Additionally, Lord said IBM is working to make its digitally enabled products available on third-party marketplaces, such as those from Tech Data, Ingram Micro, AppDirect and Verizon. IBM recently started distributing MaaS360 and other select products on third-party marketplaces, he said.
Other news
Talend, a cloud and big data integration solution provider, said it will boost its investment in the company's global partner program, which spans channel partner business types, including big data, cloud ISV, value-added reseller and systems integration companies. The investment includes presales and sales enablement support initiatives such as updated on-demand training content and quarterly regional presales training on Talend cloud and big data integration offerings.
Cognizant, a technology and business services provider, launched a digital engineering education program in partnership with General Assembly, a training and assessment company. The program focuses on web and software education and is offered free of charge at multiple General Assembly campuses in the U.S.
CompTIA launched an updated version of its CompTIA Network+ The revised networking certification includes new content in areas such as cloud computing best practices, hardware and virtualization techniques, and disaster recovery.
Kaseya, which provides IT management technology for managed services providers (MSPs), entered a strategic reseller agreement and integration partnership with IT Glue, an IT documentation platform vendor. Kaseya said the new partnership will offer MSPs new IT operations and documentation capabilities within the Kaseya IT Complete Unified MSP Growth Platform.
DataBank Ltd., a data center and managed services provider, has opened its third Dallas data center, a 145,000-square-foot facility. DataBank's channel partner business lineup includes data center strategy, data center migration and software development companies.
Hornetsecurity, a cloud security provider based in Hannover, Germany, has closed a value-added distribution deal with Contronex, its first such arrangement in the U.S. Hornetsecurity said its partnership with the Naples, Fla., distributor will "significantly expand its reach" into the U.S. and Canadian markets.
Streakwave Wireless Inc., a value-added distributor based in San Jose, Calif., has joined KP Performance Antennas' roster of authorized resellers. KP Performance Antennas manufactures wireless internet service provider antennas and accessories.
Kenna Security, a predictive cyber risk company, named Rick Kramer as its vice president of worldwide channel sales and alliances. In his new role, Kramer will oversee Kenna's growing channel investments and partner programs for offering Kenna Security Platform, the company said. Kramer's previous roles included vice president of worldwide channel sales and alliances at Tanium, an endpoint security and systems management vendor.
Market Share is a news roundup published every Friday.
Dig Deeper on Channel partner programs