agcreativelab - stock.adobe.com
Salesforce updates Sales Cloud for remote work
Salesforce created CRM tools for its own sales team's pandemic shift to remote work -- and is rolling out the ones it found most effective to all the platform's users.
Salesforce Sales Cloud users whose sales teams are still working remotely because of pandemic guidelines are getting some new features to make onboarding new reps, management from afar and quick video meetings easier.
Salesforce previewed two new features Wednesday that it plans for summer release. The first, In-App Learning for MyTrailhead, is currently in open beta. It gives Salesforce users a means to customize remote training for new reps with materials such as competitor analyses and process outline documents. Before, these typically were acquired person-to-person in offices.
The second, Pipeline Inspection, is in a closed, internal pilot at Salesforce. It offers AI-powered sales projections and insights on how a Salesforce user's pipeline changes week to week during a time when year-over-year comparisons aren't relevant because of how the pandemic disrupted the flow of business. Salesforce built that feature for its internal sales team's use and found it effective enough to generalize it for all users, said Taksina Eammano, senior vice president of product at Salesforce Sales Cloud.
"You can't make good decisions if you don't have good information," said Nicole France, an analyst at Constellation Research. "That has been the glaring gap for organizations over the last year. Clearly, [the feature] has had a positive impact on their business, and they recognize it can do so for a whole lot of other companies -- and help them make it through the year successfully, too."
After the pandemic, Salesforce at first focused on Sales Cloud features that earned quick productivity wins for suddenly remote salespeople. This year, Eammano said, Salesforce is shoring up sales manager workflows and attempting to solve issues posed by remote hiring and training.
Remote work new for sales
France said Salesforce and its CRM competitors had to quickly automate some sales processes that users hadn't previously asked for but suddenly needed after offices closed. One that Salesforce rolled out, Einstein Call Insights, is available now. It uses AI to analyze the content of a user's video call transcript from customer conversations; managers can examine them and coach sales reps to improve their pitch.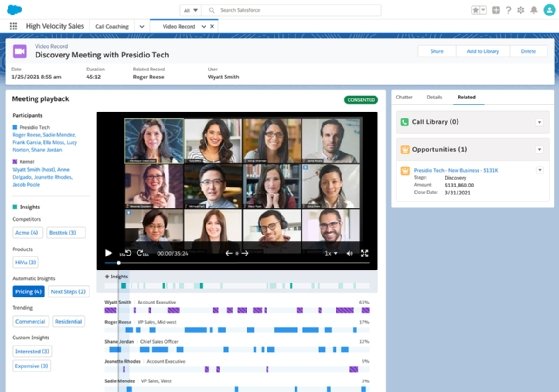 While call analytics is popular on the customer service side, it wasn't necessarily needed in sales. Prior to the COVID-19 pandemic, managers could monitor a bullpen of sales reps in person, listen in live to sales calls and offer immediate one-on-one feedback to help the rep close a sale.
Other tools CRM companies found they needed to build quickly included contract builders and improvements to configure-price-quote tools, she said. Salesforce users can plug into Salesforce workflows or outside systems to automate sales processes with another feature available today, MuleSoft Composer.
"Think about the approval process on a deal, for example," France said. "When you've got people sitting in an office, it's like, 'I've found this person who's going to do this part of the work for me.' That happened in sales organizations all the time. It doesn't really work that way anymore."
Salesforce Meetings goes GA
Another tool Salesforce built for itself last year amid the pandemic that is available now to all users is Salesforce Meetings. The feature integrates video conferencing and connects sales teams within the platform to share documents and data on a client in preparation for sales calls.
You can't make good decisions if you don't have good information.

Nicole FranceAnalyst, Constellation Research
Salesforce can connect to most video conferencing systems, Eammano said, but the majority of users so far choose Zoom. Others opt for Microsoft Teams or Google Meet. Customers in regulated industries lean toward Webex because of certain features it offers that the others don't, she said.
Having meetings embedded in Salesforce Sales Cloud enables sales teams to study a customer's history and lets managers assign tasks to reps within the Salesforce platform. AI tools monitor the meetings to recommend post-call action items for individual reps -- such as scheduling the next meeting -- that may help keep deals on track.
Next up on the Sales Cloud roadmap is likely to be more automation to "get back time" for sales reps, as well as more AI-assisted sales intelligence gathering, Eammano said.
"With Einstein Call Insights today [for example], we've only scratched the surface of listening to calls," said Eammano, who offered a peek into potential future features. "You'll see the ability to listen for mentions of timeline, access to [decision-makers], have they talked about budget? Listening to those conversations is also available for customer service. We will be connecting even more of the sales and service side together so they can listen to those calls."
The Salesforce Sales Cloud features were introduced at the Salesforce Success Anywhere virtual conference.