Funtap - stock.adobe.com
Salesforce unveils new tools for field service workers
The CRM vendor's new tools for service workers include a virtual appointment scheduler and a platform to view details about customers' purchased products and service history.
Salesforce on Thursday unveiled new tools to simplify communication between customers and field service workers.
The tools are currently in pilot and will be included in Salesforce's Field Service Unlimited Edition software offering in the future, according to Salesforce. The vendor did not specify a date.
These tools, which include a field service scheduler and a place for field service workers to view customers' purchased product details and service history, demonstrate how Salesforce wants to serve customers onsite in addition to through the contact center, according to Dan Miller, Opus Research analyst.
"With all the talk of revolutionizing customer experience or agent productivity in contact centers, the use cases that drive efficiency of front-line workers and the field service force tends to be forgotten," Miller said.
Scheduling service over SMS
With the new AI-supported scheduling bot called Appointment Assistant, customers can book and reschedule appointments with field service workers over SMS, online chat or the Apple Messages for Business app.
This new capability shows how online platforms and mobile devices are becoming key resources for customer service interactions, according to Miller.
"The fact that Salesforce has made it so easy for crew chiefs to schedule crews or to answer questions via SMS responds to organic demand they are seeing from their customers," Miller said.
Having a familiar, accessible place to view and schedule service appointments makes it easier for the customer to keep track of the appointment status and history as well, according to Taksina Eammano, Salesforce Field Service executive vice president.
"You're not going to miss a call again," Eammano said. "The speed at which we can now create that self-serve opportunity is really important and valuable."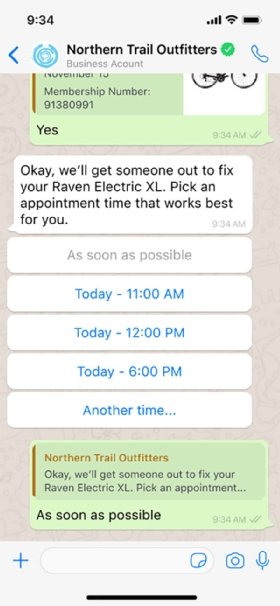 Keeping track of customers' purchases
Another new tool called proactive service with Data Cloud gives field service workers a central location to view details about customers' purchases and services as well as updates on machine health through IoT signals. These details are updated in real time and at scale.
Having the ability to monitor machine health in real time, also known as predictive maintenance, gives field serves workers the opportunity to maintain the condition of devices rather than waiting until a major problem occurs, according to Eammano.
"It's more important to fix something in a preventative manner," she said.
Using this data, Einstein, Salesforce's AI platform, can automatically schedule service appointments and include the length of time required to complete the job, the required tools and the appropriate technician.
"That proactive service mode with data cloud really allows us to take that IoT signal … and be able to trigger an automatic work order that gets you out into the field," Eammano said.
Mary Reines is a news writer covering customer experience and unified communications for TechTarget Editorial. Before TechTarget, Reines was arts editor at the Marblehead Reporter.