Why configuration management is important for networks
Configuration management is essential to keep accurate network configuration records and to help organizations avoid potential challenges or problems within their networks.
IT teams can't manage a network if they lose track of connected devices, device configurations and an accurate picture of the device connections. Without an up-to-date record of their configurations, teams will be lost when the inevitable problem occurs. This is why configuration management is important for IT teams.
The following tips and guidelines can help IT teams avoid problematic situations and enhance their configuration management.
3 reasons why configuration management is important
Maintains accurate configuration records. Unless a team has a small network, its original configuration likely used one of many available network management software packages. If the team continues to make updates with such a package, it can ensure its configuration record remains accurate.
Accurate and up-to-date configuration management is important for teams to maintain, but it's equally important to ensure the configuration record is regularly backed up. In the event of a major failure where the organization loses both the server that stores the configuration and network devices, it's vital to access the configuration file quickly.
Enables efficient network scans. Network scans are another reason why configuration management is important. Sometimes, when a serious problem occurs, IT teams make quick changes manually. They can log in to a device and type in a configuration command or quickly switch a connection to a different port with the intention to record changes later. Yet, sometimes, the team doesn't update the record because it's easy to forget.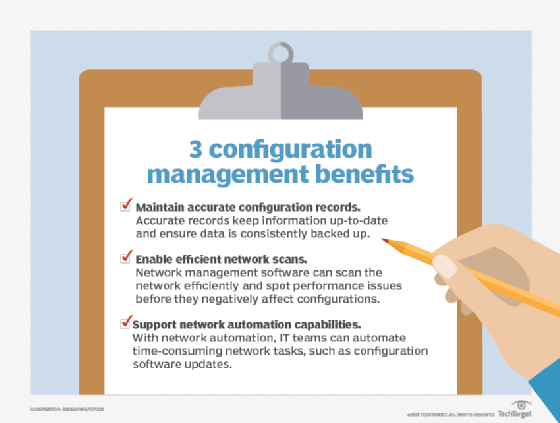 To solve this, IT teams may choose to implement one of many available configuration software packages integrated with other network management tasks. The benefits include the following:
The service can scan the network and compare it to the configuration record.
If a team scans the network regularly, it can find changes made to individual devices or discover when a device fails and a new unit is quickly swapped in.
The scan detects if end users connect a personal laptop to the office network or connect a router to create their own Wi-Fi network, which creates major network security vulnerabilities for the organization.
Enables network automation capabilities. Configuration software packages can also automate other network tasks. Software updates come regularly from network vendors, and protection against hackers depends on up-to-date devices. Software updates usually require IT teams to shut down each device and then restart them -- typically, late at night when no users are signed on. The same software package used for the initial configuration and network scans can help automate this process.
Many of these packages can also integrate with network monitors. This software signals network performance problems, as well as traffic levels on links, maintains records that show traffic load trends and signals when a link's traffic nears a maximum.
So, why is configuration management important? Configuration management improves network maintenance, which requires all three features: up-to-date and accurate configuration records, efficient network scans and automation of time-consuming network tasks.
If a network started small, was configured manually but has grown or the software doesn't include these features, it's time to switch to a more complete package. Teams should carefully evaluate available products and choose one that best suits their enterprise requirements.
This was last published in
April 2020
Dig Deeper on Network management and monitoring