Argus - Fotolia
SAP reimagines Sapphire Now 2020 as a virtual event
SAP Sapphire Now will go online with virtual content and interactive sessions, but it remains to be seen if the conference will be able to match the audience engagement of in-person events.
It's safe to say that due to the ongoing COVID-19 pandemic, SAP Sapphire Now 2020 will be like none that has come before it.
SAP Sapphire Now is an annual event where SAP customers, partners and company executives can hear about SAP's newest technology and latest strategy, learn skills and pursue certifications, and -- perhaps most importantly -- network and hobnob with denizens of the SAP ecosystem.
But the days of in-person hobnobbing are gone, at least for now, and, like many other enterprise conferences and trade shows, SAP Sapphire Now will be held virtually this year, with streaming keynotes, online sessions and demos from SAP and partners.
The virtual version of SAP Sapphire Now will attempt to provide the same kind of content and messaging from the top levels of SAP, but in a different way, said Alicia Tillman, global chief marketing officer at SAP.
"The objective here, over the course of a very short period of time, was to stand up something as new and as different as this," Tillman said. "How do we get the content right? How do we make it global? And how do we create an exceptional experience, as all three of those components need to come together?"
3 virtual programs
This year's SAP Sapphire Now consists of three programs: Sapphire Now Unplugged, Sapphire Now Vision and Sapphire Now Converge, Tillman said.
Sapphire Now Unplugged is a series of videos of SAP executives speaking with external thought leaders and innovators, such as Ian Bremmer, Malcolm Gladwell and NBA commissioner Adam Silver. The last episode of the series will be made available June 11.
SAP Sapphire Now Vision begins June 15 with new SAP CEO Christian Klein's keynote address. He is expected to set the strategy for SAP's vision of the intelligent enterprise, which uses advanced enterprise systems to enable companies to transform old business processes or develop new business models. SAP Sapphire Now Converge begins after the keynote, Tillman said, and consists of 11 online channels that will have live content from SAP, partners and customers. The channels will cover a range of SAP technology, platform and industry areas, including ERP, finance, HR, procurement, supply chain, platforms, customer experience and experience management. Presentations will be made available for on-demand viewing.
The goal is to provide content that's informative but in a format that keeps attendees engaged, according to Tillman. Sessions will be short or will be laced with entertainment breaks to keep things interesting. In one high-profile example, rock legend Sting will perform live at breaks in Klein's keynote.
Tillman argues that the virtual SAP Sapphire Now could present an advantage for a global audience that may not have always been able to travel to Orlando.
"SAP Sapphire Now will use a 'follow the sun' model, where the sessions will air at the regionally relevant time," she said. "All the content is going to be translated with subtitles into 14 different local languages. And the regions are also going to layer into that short segments hosted by each regional president, who will have local customers and localized content to make it relevant for their particular market."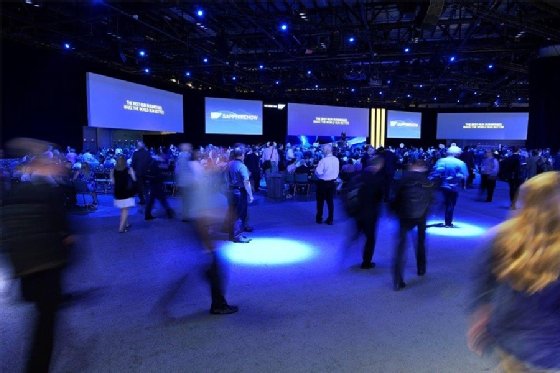 Missing the human touch
The online version of SAP Sapphire Now will be a significant change from an event that annually drew thousands of attendees to the sprawling Orange County Convention Center in Orlando.
There will likely be something lost with the lack of human interaction, but it is difficult to judge what those losses will be, said Shaun Syvertsen, managing partner and CEO of ConvergentIS, an SAP business partner based in Calgary, Alta.
ConvergentIS provides services for SAP implementation and migrations, with a particular focus on UX design and building SAP Fiori apps. The company has been a part of several recent SAP Sapphire events as a sponsor and exhibitor, and this year will present the first session in the Sapphire Converge UX channel, Syvertsen said.
"The ad hoc meetings that happened during Sapphire are a little bit more difficult to schedule this year," he said. "Although you'll avoid getting all those steps in when you're trying to get from one end of the floor to the other to go meet someone on time for that meeting."
Syvertsen described SAP Sapphire Now as a valuable event to attend because of the opportunities to meet with SAP professionals he may not have otherwise connected with, including one who provided marketing expertise for ConvergentIS.
"I never really would have gotten to know him if we hadn't attended events like Sapphire and SAP TechEd in person," he said. "That's probably the secret sauce for Sapphire that made it worth investing money and sponsoring, traveling, and that's really hard to do from the virtual remote limited interaction perspective."
Dawn of a new Sapphire era
SAP Sapphire Now veterans said that the virtual event could represent an opportunity to introduce a new look for SAP, spearheaded by its young, new CEO Klein. But there will also be something lost without the human interaction that characterized the live events.
One major question is whether the online format will be able to match the dynamism of live keynotes, demos and breakout sessions that characterizes traditional conferences.
"We will see the usual number of tracks and keynotes, but can SAP take advantage of the new format successfully or will it deliver a boring digital event with too much canned content, lack of interaction and little engagement," said Holger Mueller, vice president and principal analyst at Constellation Research. "This will be an interesting one to see, as vendors are now four months into the new normal for events like this and the bar has been raised steadily. What was a 'B' for an event in April will be a 'D' in June and an 'F' in the fall."
The SAP Sapphire Now Online format, which will present content tailored to a global audience and will support some interaction, may work well, said Jon Reed, co-founder of Diginomica.com, an enterprise computing analysis and news site.
"On paper at least, it seems more interactive than most such events we've seen," Reed said. "It's ambitious in scope, and we'll see if SAP is able to deliver on some of that live interactivity. It's important to note that SAP sees this as a chance to bring in a global audience that couldn't get to Orlando."
Enough Zoom already
Most people have seen enough virtual meetings by now, so SAP must find a compelling way to present content in an online format, agrees Joshua Greenbaum, principal at Enterprise Applications Consulting.
"You can make a compelling online conference -- Celonis and a few others have done a pretty good job -- but there are some that have been absolutely mind-numbingly horrible," Greenbaum said. "It looks like SAP is trying to do the right things to not make it boring and mind-numbing, so I'm cautiously optimistic. It's harder for all of us because of the number of hours we've spent on Zoom, but I know there's going be some compelling content."
SAP Sapphire Now will also be a key moment for Klein to demonstrate that he has SAP under control, Reed said.
"Klein's keynote will be important to watch, as people will use that to gauge whether he is ready for the daunting challenges SAP faces," he said. "I believe he's the right person to lead SAP right now, but you have to prove it out."
It will be worth tuning into SAP Sapphire Now because there have been so many changes with the company's leadership structure in the past year, Greenbaum said.
"This is the showcase and the moment for the 'new SAP,' not only with Klein as new CEO, but everybody's job has changed," he said.
Greenbaum pointed to several SAP executives who have recently assumed positions with major responsibilities and large portfolios, including Thomas Saueressig, president of SAP product engineering, and Adaire Fox-Martin, head of SAP customer success.
"There have been a lot of big changes, not just with Klein," he said.