James Thew - Fotolia
Building data visualization with SAP Fiori tools
Some BI developers will get by fine with features such as the Fiori Launchpad and Overview pages. Here's what's built into Fiori now, and what's on the horizon.
Fiori is SAP's design language for user experience, the set of apps that use that design language, and the launch...
Continue Reading This Article
Enjoy this article as well as all of our content, including E-Guides, news, tips and more.
pad that is used to access those apps. One of the most striking things about this new design language is the extent to which data visualization permeates SAP Fiori. Many different options for data visualization are available in Fiori, from the Launchpad and Overview pages that can serve as dashboards, to visualization embedded in business processes, to options for flexible visualization and analysis. But it's also important to remember that SAP Fiori doesn't offer options that are appropriate to every data visualization and analysis problem.
Using Launchpad as a dashboard
The SAP Fiori Launchpad can serve as a personalized dashboard with limited capabilities, providing snapshots and miniature graphs of particular measures updated on a regular basis (see photo). This is done by using dynamic tiles to display numeric indicators and custom or Smart Business tiles to display charts. You can even use non-SAP data sources for these tiles, as DJ Adams explains in his blog on using Fiori Launchpad as a running tracker.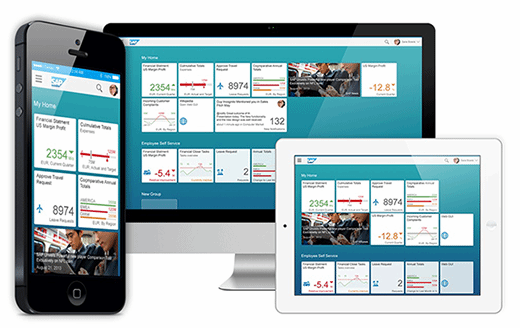 The visualization options available as standard tiles are limited to numeric and color or directional indicators. If you are running the HANA in-memory database with the Smart Business modules, options are provided for comparison, trend, and bullet-chart displays. But it's also possible to create custom tile types on HANA or on the NetWeaver platform, as explained by freelance developer Matt Harding in a post on the SAP Community Network.
Embedded visualization in SAP Fiori
If the Launchpad doesn't give quite the flexibility you need for a dashboard, the new Overview page concept in SAP Fiori might bridge the gap. It is a Smart Template available in the newer versions of the software developer's kit (SDK) for SAPUI5 and does require development of a custom SAPUI5 application, but with Smart Templates in the WebIDE tool, this is not such a daunting task and allows the use of line, donut and bubble-chart visualizations. Delivered apps based on the Overview page concept are expected later this year. You should keep up to date with the current roadmap for the latest details.
Fact sheets, and their Fiori 2.0 incarnation as Object Pages, provide a different type of embedded visualization capability. These informational apps are given an overview of a particular type of business object -- an account, invoice, customer, and more -- and, in the case of Object pages, allow for direct creation and editing of objects. The Object pages currently available in the SAPUI5 SDK only allow text display of information, but the Fiori 2.0 mock-ups shown in screenshot one indicate that SAP is planning data visualization options for these pages.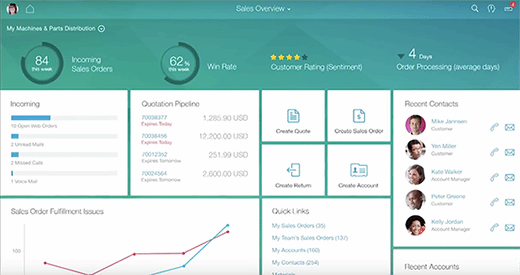 And, of course, SAP Fiori delivers visualizations in apps themselves. The exact visualizations provided differ from app to app, but usually provide some contextual information relevant to a business process.
Several ways to create more flexible visualizations
Embedded visualizations or dashboard-style key performance indicator (KPI) displays tend to be static visualizations. But what if an analyst wants to drill into a problem and compare multiple views of data to try to understand a problem? Fiori-based apps do provide some capabilities here. The Smart Business framework provides limited access to HANA views based on preconfigured sets of dimensions and visualizations called KPIs and Evaluations. End users don't have very much control in these apps, but they can choose to look at a variety of dimensions. You can give power users access to create their own KPIs.
The Analysis Path Framework (APF) is designed to provide more control for knowledgeable analysts, and also provides additional visualization types and more data-source connectivity over the Smart Business apps. Users of APF apps can choose which dimensions to display and how to visualize them as they develop a reusable analysis path (see screenshot two). APF also allows for interactive filtering: dynamically updating the miniature previews of other charts when filters are chosen on the main view.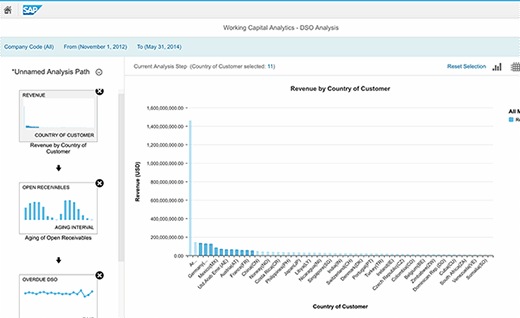 What about full BI and analytics platforms?
Even APF apps are fairly limited when you compare them to what's available in full-fledged business intelligence (BI) and analytics applications. There are only a few visualization types available, filtering and data access options are limited, and there is no capability for self-service data wrangling. Exploratory and analytic use cases will quickly exceed the capabilities of current SAP Fiori apps.
However, the Fiori design concept and some integration with the Fiori Launchpad appears to be on its way to the SAP BusinessObjects BI platform, with Fiori Launchpad integration of Design Studio apps currently available and with roadmaps indicating further integration and "Fiori-zation" of the BusinessObjects platform to come. If you are using the Fiori concept for SAP apps and use a different BI or analytics platform, you should be exploring integration options on your own.
As with all Fiori implementation questions that follow a design thinking-based methodology, the question of data visualization should start with an exploration of real-world business problems. From here the discussion can move to a problem-solving or ideation approach and then to testing and iterative implementation.
It's in these last stages where a good grasp of the tools for data visualization and analysis available in a Fiori context becomes valuable as a guide to the best tool for the job, or to trigger a wider search beyond the Fiori tools in the service of solving the particular business problem.
Next Steps
Get more of Ethan Jewett's Fiori development tips
Read a book chapter on SAP Fiori analytics
See a handbook on SAP BI platforms
Dig Deeper on SAP development and programming languages