Share this item with your network:
Defending the digital infrastructure

alphaspirit - Fotolia
Recent ransomware attacks: Data shows 50% growth in 2016
With high sums paid, ransomware gets all the attention. But malware is not the only way that criminals gained control of enterprise systems, a new report shows.
Ransomware is the fastest growing malware across industries, up 50% in 2016 compared to 2015, according to new data from endpoint security provider Carbon Black. Criminal use of malicious software to encrypt files or hard drives of unsuspecting victims is so widespread that some states are enacting legislation to make recent ransomware attacks easier to prosecute. In September, California became the latest state to offer specific anti-extortion guidelines to prosecute criminals who demand ransoms, usually in bitcoins, to unlock victims' systems. But even with the rise in recent ransomware attacks, these viruses represent only a small percentage of total malware.
Malware continued to target all industries in 2016, with manufacturing companies (21.8%), non-profit organizations (16.4%) and utilities and energy (15.6%) hardest hit, according to Carbon Black, which based its findings on data from more than 1,000 organizations, representing 2.5 million endpoints. Of the dozen or more malware families tracked, Locky, which was used in one of four recent ransomware attacks, accounted for 2.17% of total malware.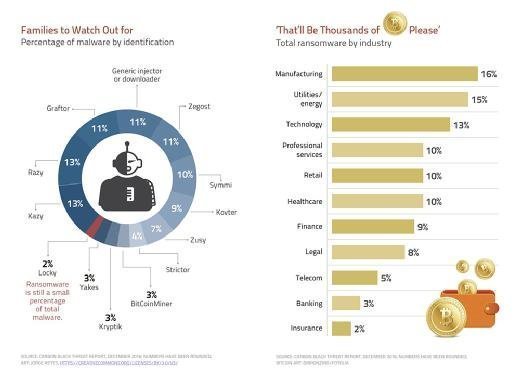 Technology (218%), utilities and energy (112%) and banking (93%) saw the highest year-over-year ransomware growth, the data showed. In addition to Locky variants, other ransom families in the top five included CryptoWall (based on CryptoLocker), CryptXXX, Bitman and Onion, which is also known as CTB-Locker.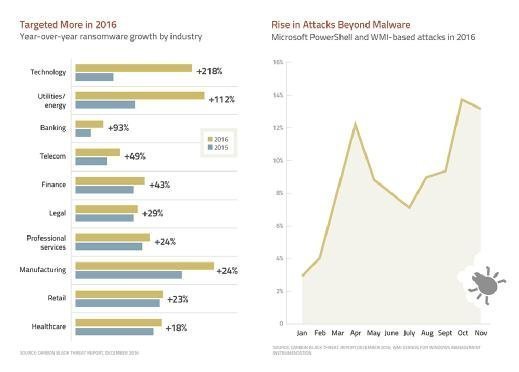 Malware was not the only way that criminals gained control of systems last year. According to Carbon Black, a rise in nonmalware attacks that used Microsoft PowerShell and Windows Management Instrumentation (WMI) increased in Q2 and never really lost momentum.
Next Steps
Ransomware attacks target healthcare data
What you need to know about Ransomware as a service
What to look for in Antimalware tools
This was last published in
February 2017
Dig Deeper on Threats and vulnerabilities