Definition
VoIP caller ID (voice over Internet Protocol caller identification)
What is VoIP caller ID (voice over Internet Protocol caller identification)?
VoIP caller ID (voice over Internet Protocol caller identification) is a caller ID application for VoIP phones that works in the same way as caller ID on a conventional telephone line. However, VoIP systems have enhanced features and flexibility.
When a call comes in, the internet service provider verifies the caller's identity. Users can allowlist or blocklist specific phone numbers or entities. These blocks and allows are done in the same way as are done with email, so unwanted calls do not reach the user.
History of VoIP
VoIP and caller ID evolved slowly, starting in the late 1960s. At the time, telecommunications technology was largely analog. Phone companies provided it, and it was known as the public switched telephone network (PSTN).
Analog communications was good for phone calls but inefficient for digital data transmission. The digital bit stream had to be converted to an analog signal for use over PSTN. At the receiving end, the incoming call had to be converted back to digital form. This process required the use of modems.
Rules and protocols were needed to create networks that transmitted data in native mode and supported the transmission and reception of digital signals. The development of packet switching provided the basis for today's digital networks. The first packet-switched network -- Advanced Research Projects Agency Network, or ARPANET -- was developed in the late 1960s as a secure, long-haul network infrastructure for military applications.
Development of protocols, such as IP and Transmission Control Protocol (TCP), established the foundation of the internet. Over the years, protocols have been added that govern traditional and VoIP phone systems. All that's generally needed today is an internet connection.

How does VoIP work?
Data transmission was an early driver of the internet. Voice communications took more time to emerge as a viable internet application. Improvements in microprocessor speed and memory capabilities made VoIP possible in 1973.
In the ensuing decades, particularly during the mid-1990s, VoIP evolved from phone services that converted analog voice signals into digital bit streams, using codecs. Those bit streams could then be processed and transmitted in packets over the internet. VoIP technology today uses various elements, as shown here.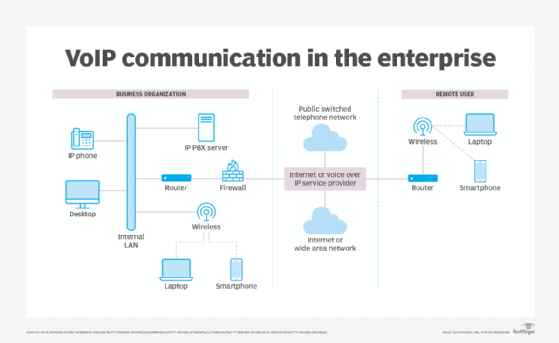 Early VoIP applications ran in separate telephone rooms, with unique switching devices and cabling. Today, VoIP services are an integral part of business communications systems. Applications run in the data center where VoIP servers and related hardware are typically installed.
History of caller ID
Caller ID works by displaying the phone number of an incoming call on a separate display that uses the same phone line and phone number connection as the call to the telephone network. The technology dates back to the late 1960s. Enhancements to the telecommunications signaling process made it possible. Signaling is used for call control, which includes call initiation, connection, completion and disconnection. These activities were traditionally performed as part of the phone call.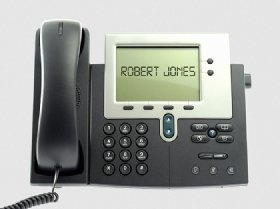 Development of a separate signaling channel, parallel to the user channel, provided the technology to route call details along a separate path from the voice call. Early caller ID information devices captured the incoming call data from the signaling channel and presented it in the caller ID display. Over the decades, the technology has improved. Today, caller ID is ubiquitous and available in every kind of communications system, whether traditional telephones or advanced digital smartphones.
VoIP and caller ID coexist, running on the same digital network infrastructure but using different protocols. They support a vast array of services for business and personal users.
VoIP and caller ID protocols
The need for protocols is essential for voice over IP and caller ID. The following is a list of prominent ones:
Session Initiation Protocol. SIP is used for VoIP call session setup and disconnection.
Session Description Protocol. SDP defines the type of session, such as voice, data or text.
IP. This protocol transmits data and voice packets from source to destination.
User Datagram Protocol. UDP establishes process-to-process communications.
Real-time Transport Protocol. RTP transmits digitized voice and data packets between devices.
TCP. This one converts data streams into packets that are routed over the internet using IP; it is also used for host-to-host communications.
This was last updated in
November 2021
Continue Reading About VoIP caller ID (voice over Internet Protocol caller identification)
Dig Deeper on VoIP and IP telephony