animind - Fotolia
Enterprise Connect 2020 focuses on new UC priorities
Organizations need advice on changing collaboration needs and pandemic-related remote work. A virtual Enterprise Connect 2020 will address a new world of enterprise communications.
The COVID-19 pandemic has changed the enterprise communications landscape. As businesses shut down and state and national governments issued stay-at-home orders, organizations needed to quickly pivot to support remote work and new ways of collaborating.
At Enterprise Connect 2020, taking place from Aug. 3-6, attendees will be seeking advice on how to move forward with the new normal of remote work and how to navigate rapidly changing unified communications (UC) strategies.
In this Q&A about what to expect at the virtual conference, Nemertes Research analyst Irwin Lazar shares his thoughts on the topics, trends and insights at Enterprise Connect 2020 that will drive the future of the UC market.
Editor's note: The following Q&A has been edited for length and clarity.
How have business communications priorities changed since the March pandemic shutdown?
Irwin Lazar: Obviously, the biggest trend is everyone is working from home. It's drastically changed plans in terms of what people are looking at from a collaboration perspective. Video is now ubiquitous. We published a data point that 91% of companies are now using video applications for meetings. That's more than double what it was in 2018.
Almost half of the participants had adopted a new video application since March. There's this realization that everyone who can work from home is likely working from home right now. In order to give them an environment where they're engaged, they're part of a team and still able to have interpersonal relationships with co-workers, they need to be able to see one another.
The two foundational technologies companies need to have if they want to succeed with working from home are team collaboration and video.

Irwin LazarAnalyst, Nemertes Research
The two foundational technologies companies need to have if they want to succeed with work from home are team collaboration and video. Team collaboration gives you informal messaging -- if I have a question and need help, it's all in the context of the workspace. Video is a little bit more formal for meetings and calls.
Cloud has been the other trend. About 68% of companies said they have increased their plans to move to cloud. Some companies had well-designed, scalable platforms that could support a massive shift to home. Others were caught flat-footed. They ran into issues related to everyone in the office sitting in a thin client desktop using a Citrix license, and now, they need to go home. How do they make that work? How do they get a VPN up and running? How do they deal with getting voice and video over poor internet connections?
It hasn't been a smooth transition for every organization. If you can split people off at their residential connection out to the cloud, that's usually a better way to go than pulling them back onto the enterprise network.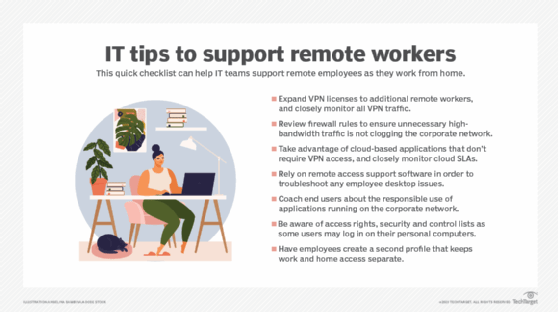 Has COVID-19 accelerated emerging communications trends?
Lazar: If I have a video meeting application that's good for conversation and sharing content, it's not good for working together on something. If we want to ideate, we'd go into a conference room, draw on a whiteboard and come up with a design or plan. So, we're starting to see more interest from clients in virtual whiteboard applications, like Mural, Miro, Bluescape and Microsoft Whiteboard, which are tools virtual, remote workers can use if they're on a touchscreen or tablet. They can draw on it; they can pull content in; they can do more than offer a marker to write with. It's a new area that's started to emerge since the pandemic.
We're also seeing a lot of interest around remote worker security that includes how to secure that environment, how to make sure whatever users are running on is locked down to the organization's requirements, which today is a home PC.
I think the last area we're starting to see really strong potential for growth is what home environments look like. Today, it's cobbled together, whatever you have lying around -- use it. But do companies start investing in better-than-average cameras, better headsets, better screens, lighting and chairs for remote workers?
What does that home office look like from a network management perspective? Do we still go with the approach of 'you're on your own, good luck'? What we found in our research is that companies that are proactive in supporting home workers tend to have much more use of their video applications.
They're helping home workers with Wi-Fi, figuring out where the dead spots are, what network they should be on. All of the different support functions that historically have never been provided to homes, like visibility into application performance, all of that is important now.
What topics will be top of mind going into Enterprise Connect?
Lazar: What the return to work looks like is probably the big one right now. Are people going to head back, and if so, how? What does that office look like; how does it change from a floor plan perspective? Do we go to more of a shared work model? Do we finally get rid of the open workspace?
Secondly, we're past the panic mode where everyone went home. Now, it's more about how we do it right. How do we better support home workers? How do we deal with security? How do we make sure they've got lighting, network performance and the applications they need?
Future planning requires flexibility. When I was having conversations during the research study we did in April and May, I asked participants about budgeting. I heard a lot of 'I've got three different budgets.' There's the good news budget, the so-so budget and the pare down everything you don't need to keep the lights on budget.
No one knows; there is no right answer. We could have a vaccine in January; we might not. We could finally start to see cases dwindle and some advances in treatments, but no one knows. It's a difficult challenge to be in. People have to think short term right now. I don't think anyone can do any kind of long-term planning.