Fotolia
Amazon Alexa for Business adds skill blueprints
Amazon Alexa for Business now provides companies with templates for programming custom voice commands.
Amazon Web Services added to its online library blueprints aimed at programming Alexa for Business to provide responses tailored to a company's specific business. The first enterprise-targeted templates will help businesses set answers to frequently asked questions.
For nearly a year, Amazon Web Services has let businesses create "private skills" -- custom voice commands for internal use -- through Amazon Alexa for Business. However, building those skills may take months and requires expert IT staff.
"Skill blueprints" simplify that process. No coding expertise is required. Instead, users type responses to specific voice commands -- for example, "What are the hours of IT" or "How do I mail a package." Any user within the organization can submit a skill for IT approval.
These skill templates will be essential to the success of Amazon Alexa for Business, because such aids "lower the barrier for adoption," said Werner Goertz, analyst at Gartner. Business customers also have access to dozens of consumer-focused blueprints.
Launched in 2017, Amazon Alexa for Business lets employees perform simple tasks, such as starting a meeting or submitting a help desk ticket, using conversational voice commands. AWS has also developed more specific Alexa for Business tools for hotels and universities.
But many enterprises are worried about the security and privacy of AI voice assistants, including the processing of potentially confidential voice data in the public cloud. Few companies have made adoption of such tools a priority.
In late 2018, Amazon faced a setback when the company WeWork -- once highlighted as a premier early adopter of the product -- reportedly ditched plans to add Amazon Echo devices to the 500 offices it rents to businesses globally.
AWS targets Alexa for Business at partner devices
The expansion of the blueprint catalogue to include business-specific scenarios comes as AWS seeks to add Alexa software to phones and other third-party hardware. Skill blueprints complement that effort, Goertz said.
"As Alexa gets embedded in all sorts of other devices you have in the office, you will need to be able to create custom commands," Goertz said. "These are the ... skills that they are trying to enable [through blueprints]."
Last month, Poly (the brand that resulted from the Plantronics-Polycom merger) announced its flagship conference room phone, the Polycom Trio, would run Alexa for Business, effectively turning the device into an Amazon Echo. Poly's Voyager 4200 headsets for unified communications will support Alexa software later this spring.
The device makers BlackBerry, iHome, Linkplay and Extron are among AWS' other early hardware partners. Many home appliances are now voice-enabled and internet connected, from thermostats to microwaves. Alexa software could bring that same experience to printers and web conferencing equipment.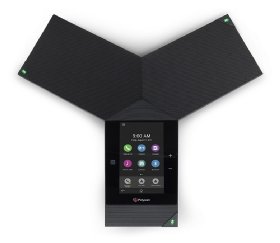 To some extent, AWS will compete with vendors like Microsoft and Cisco that make AI voice assistants, as well as collaboration apps and hardware. But AWS' product has the potential for broader use, and unlike the AI voice assistants from those competitors, gives businesses a platform for managing voice devices.
With Alexa for Business, AWS is not primarily concerned with selling more Echo devices, but rather increasing the number of people plugged into the Amazon ecosystem, Goertz said.
"I don't expect really fundamental and disruptive new devices to come out," Goertz said. "I think the vendors, and especially Amazon, are now emphasizing third-party hardware manufacturers."
Dig Deeper on Team collaboration software