Definition
EV SSL certificate (Extended Validation SSL certificate)
An EV SSL certificate (Extended Validation SSL certificate) is a digital identity authentication solution used by HTTPS websites to provide the highest level of security by verifying the identity of a website owner or operator.
EV SSL certificates assure consumers that they are conducting business through a trusted website and have become the industry standard for e-commerce websites. Confirmation of the website's identity is carried out according to the rigorous industry guidelines established by the CA/Browser Forum and involves a strict vetting process by a qualified certificate authority (CA). An individual requesting an EV certificate must be operationally and physically validated, by confirming the legal identity of the site owner and the applicant's ownership and sole control of the domain.
Once a EV SSL is issued, instead of the plain locked padlock, an EV certificate site displays the name in green text or on a green bar and shows the name and geographic location of the company that owns the certificate, making it much more difficult for a cybercriminal to attempt to spoof a website for a phishing attack.
EV SSL certificates are essential for large businesses or e-commerce sites. They enhance credibility by showing discerning consumers that a prospective transaction is with a legitimate recipient and that the site is serious about protecting the data of its customers.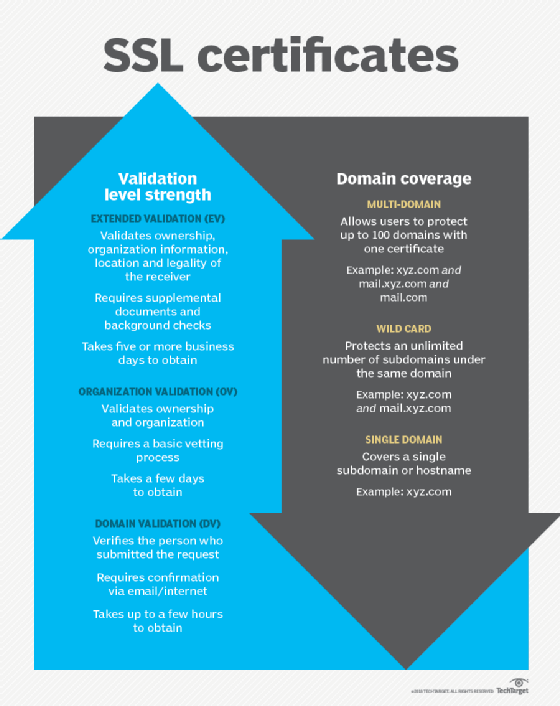 EV SSL certificates are important for many other reasons, including:
Security. EV SSL gives site visitors more information to differentiate real sites from fake ones, which undermines the success of social engineering attacks. After more than a decade of use, there are no known incidents in which a phisher successfully obtained and used an EV SSL certificate.
Compliance. Regulatory and industry standards such as PCI DSS, HIPAA/HITECH and GDPR require that companies protect customers against theft of sensitive information. EV SSL is the most bullet-proof way to ensure successful auditability against these standards.
Online transactions. Users are more inclined to make purchases, share personally identifiable information, sign up for new accounts and engage in other online activities when EV SSL certificates are present.
Average Order Value (AOV). Shoppers on sites with green address bars are more confident purchasing expensive items and are more likely to add recommended items to their carts.
With the constant threat of phishing attacks and identity theft, the presence of an EV certificate improves consumer perception of a company's stability, level of customer service and ability to meet its commitments.
This was last updated in
August 2018
Continue Reading About EV SSL certificate (Extended Validation SSL certificate)