Gajus - Fotolia
Adobe courts small businesses with Acrobat Pro package
As the pandemic disrupts paper workflows, Adobe courts small business users with simple webforms, digital signatures and payments integration with their sites and PDF documents.
Adobe on Thursday added small-business-friendly features to Acrobat Pro that simplify using digital signature technology, as well as ingesting webform data into PDF documents and supporting PayPal and credit card payments via Braintree.
The features represent the latest effort on Adobe's part to reach small business customers. That has happened periodically throughout the 28-year history of Acrobat, which started out as a single application and eventually branched into many editions, including Acrobat Pro in the mid-1990s and a cloud offering, Acrobat DC, or Document Cloud, in 2015. Adobe has also made strides in offering PDF editing and collaboration features to individuals and business users, such as a Chrome plugin that connects to Google Drive.
Traditionally, webforms, e-signature and payment integration haven't always been user-friendly technologies to integrate for small businesses -- but rolling them out as cloud services makes it more straightforward, said Duff Johnson, CEO of the PDF Association, an industry group that manages ISO PDF document standards. Many businesses -- large and small -- still maintain some paper workflows.
"Acrobat is a Swiss Army knife that can do many document-related things," Johnson said. "With this offering, Adobe is placing itself much closer to workflows and is clearly doubling down on the ability of PDF to replace paper -- a clear response to the pandemic and dramatic uptick in remote work."
But the pandemic forced acceleration of digital workflows, as in-person business contact was severed because of social distancing measures and, in some locales, lockdowns. Interest in PDF spiked as businesses of all sizes struggled to set up contactless digital workflows as businesses and offices closed.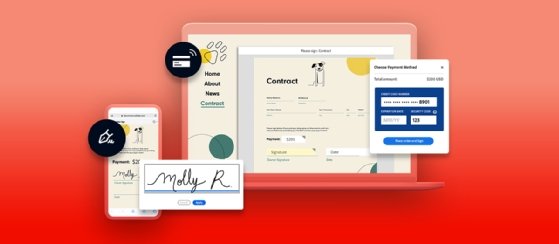 Digital signature tech poorly understood
Digital signature technologies have been around since the 2000s, but they weren't easy for the average small business user to wrap their head around, Johnson said. While a pasted-in scan of a written signature might look like something that could be called a "digital signature," it's not, unless server verification and encryption from Adobe Sign or competitors such as DocuSign render the digital signature tamper-proof and legally prove its authenticity.
"One of the great barriers, historically, with digital signatures has been that it's a non-trivial effort to go from an image on a page to something that transacts with a digital signature authority to encrypt the file -- IT procurement decisions, doing IT work on the back end, and making sure the client software was talking to the right server," Johnson said. "It was all a heavy lift for small business ... now, companies are providing a web-based service that offloads that entire difficulty and IT hassle."
Adobe is placing itself much closer to workflows and is clearly doubling down on the ability of PDF to replace paper.

Duff JohnsonCEO, PDF Association
Businesses are looking to integrate signatures into their digital workflows in order to keep processes moving, even after COVID-19 is in the past. A survey of 500 small-business owners Adobe conducted last month shows that a majority of business owners 18-35 years old either already have or plan to digitize processes such as employee contracts as well as internal and external finance documentation. Older generations will hold on to paper, but many of them also see the value in digitizing and automating documentation.
Overall, survey respondents from small businesses indicated that they plan to spend an average of $10,000 on new software this year -- more than in 2020. More than half still use paper daily in some workflows.
Among Adobe small business customers, sole proprietorships expressed interest in connecting the webforms, payments and digital signatures on one integrated document platform instead of assembling those capabilities piecemeal, said Todd Gerber, vice president of Document Cloud product marketing at Adobe.
"We have a lot of people in construction and professional services that have [shown interest]," Gerber said. "Insurance companies and brick-and-mortars as well."
Adobe Acrobat Pro with enhanced e-sign capabilities is available now. Pricing is $19.99 per month. Adobe offers a free seven-day trial subscription.
Dig Deeper on Content collaboration