Cattlemen group uses Google AI to build a chatbot
Wondering 'where's the beef?' Ask Chuck, a chatbot created by the National Cattlemen's Beef Association -- one of hundreds of bots being deployed thanks to AI tools.
The list of industries deploying virtual assistants has grown far beyond banking and insurance, thanks to easy-to-access tools that allow companies to build a chatbot relatively quickly.
The cattle industry recently launched one that provides answers to all of your burning beef-related quandaries, and Belvedere Vodka's new Facebook Messenger bot serves up healthy brunch recipes, because what vodka aficionado doesn't like cocktails with their quiche?
Chatbots are gaining momentum for business use, but the customer service industry is where bots have taken hold most; 37% of service leaders are either piloting or using virtual customer assistants, and 67% of those leaders consider the technology highly valuable for the contact center, according to a March 2019 Gartner report.
Chuck knows beef
The Cattlemen Association's brand marketing team oversaw the Chuck Knows Beef chatbot development process, launching a bot in October 2018 that answers questions on all things beef.
The organization looked at number of different programs to build a chatbot and ultimately chose a machine learning platform that would allow the bot to be deployed across the web, mobile devices and smart speakers, said Season Solorio, senior executive director of brand marketing and communications, National Cattlemen's Beef Association, based in Centennial, Colo.
The association chose Google's Dialogflow tool because it is highly customizable and ties in to the organization's API platform on the back end. Bot platforms such as Facebook Messenger aren't as customizable and lock in users to one platform, Solorio said.
Chuck is a smart speaker skill that works with Amazon Alexa and Google Assistant. It is a closed system, however, so its responses are within the purview of the beef industry. "It won't answer questions about chicken," Solorio said.
Also, Chuck's answers to questions like, "Is beef bad for the environment?" are biased in favor of the industry -- something consumers should expect when using chatbots built by trade groups or corporations.
If you build it, organizations hope they'll come
Organizations that go through the time and investment to build their own branded chatbot have the tough task of figuring out how to get people to use it; they're likely to find it difficult to compete with household-name bots like Alexa that are able to answer a wider range of questions.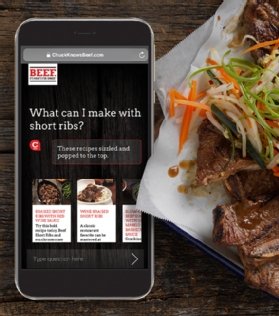 But Solorio views the upside of general-use chatbots as a weakness that may work in Chuck's favor.
"With the way Alexa works, I could just ask how to cook a flank steak, and she will search from the entire web and won't necessarily pull an answer from a reliable source," Solorio said. "Our site recipes are science-based, and our full-time chefs in the culinary center triple check the recipes on our websites to make sure they'll work."
A branded bot also allows organizations to disseminate information that serves a double function as marketing. Chuck is funded by ranchers who see the technology as a way to serve consumers and drive demand, Solorio said.
"We are pivoting into a smart speaker world, and we saw the opportunity to move outside of the website to bring information to consumers the way they search today," she said.
The organization set a goal of reaching 1 million consumers, and Solorio said Chuck has already exceeded that. More users still rely on the organization's website more than the smart speaker, which she attributes to familiarity and comfort.
"We are also finding that people don't know the questions to ask Chuck, so we are trying to figure out what might prevent someone from asking a question and how our retailers might use the speaker skills in their environment," Solorio said.
Chuck's developers are also learning the varied ways people ask questions, in text and voice formats, to improve responses.
"The way we think people phrase a question isn't actually the way people ask it," Solorio said. "We learned in the soft launch, T-bone can be spelled different ways or said different ways. The NLP [natural language processing] is able to determine the intent of the consumer."
As Chuck continues to learn, the association will expand the types of questions it can answer to make it more useful over time. For now, the chatbot's main value to users is its ability to provide cooking tips, nutritional information and facts about different cuts.
Beyond customer service bots, the use of conversational technologies in the workplace is on an upward trajectory. Within just two years, Gartner predicts 25% of digital workers will use a virtual employee assistant every single day -- up from less than 2% this year. Gartner pointed to Amazon's Alexa for Business, which allows employees to delegate tasks such as scheduling meetings, and Nokia's MIKA, which engineers lean on for input about complex tasks or to diagnose problems.
The anatomy of a chatbot
It is still early in the evolution of chatbots, and as the components that drive conversational systems advance, so will their usefulness.
The main parts of a chatbot are data, machine learning and deep neural networks, along with the infrastructure required to support those components: servers, GPUs, storage and networks. The cloud provides the infrastructure, and that's where chatbots are typically developed and launched, explained William Meisel, president of TMA Associates, in a 2018 webinar hosted by AI Trends, titled "Developing a Strategy for Intelligence Assistants and Bots."
The chatbot market includes over 1,000 vendors worldwide, according to Gartner. There are full-service software vendors that can build a chatbot for you, with or without your involvement. Many offer expertise in specific markets and can get a chatbot up and running very quickly. As you'd expect, this is the most costly option, Meisel said.
We are pivoting into a smart speaker world, and we saw the opportunity to move outside of the website to bring information to consumers the way they search today.

Season SolorioSenior executive director of brand marketing and communications, National Cattlemen's Beef Association
There are also a number of templates that allow companies to develop chatbots with very little understanding of the underlying technologies -- much like web design tools that allow small-business owners to create a website with no HTML knowledge, he said.
Bot-building platforms such as Chatfuel offer templates to build a chatbot for specific platforms, such as Messenger, WhatsApp and Instagram. Amazon Alexa Skills allow businesses to build a bot easily. But there are limitations, and using that approach leaves companies at the mercy of Amazon. If you build a skill using Alexa, Amazon has the power over your customer experience, according to Meisel.
"It's a bit like having a website that can only be reached through another company's website, with that company controlling access," Meisel said in the webinar. "You ultimately need an independent digital assistant that you can fully control that can be reached through your website or an app on a mobile device."
Developers with the know-how to build a chatbot can create chatbots in the cloud using NLP, machine learning and massive amounts of data. Also, open source bot platforms such as Botpress allow companies to keep their data on site and run their bots anywhere. In either case, the do-it-yourself approach provides the highest level of control.
Users can create more sophisticated bots with AI technologies from the biggest vendors. IBM Watson is billed as the platform of choice for enterprises that want to create a bot to handle complex conversations. Microsoft's Azure Bot Service is for developers to build a chatbot using Microsoft Bot Builder SDK. Systems such as Amazon Lex and Google's Dialogflow enable organizations to build conversational interfaces into voice and text applications for various industries, from contact centers to cattle.
Dig Deeper on Customer service and contact center