Fotolia
Online scheduling platforms open new channel for customers
New customer-centric tools book demos in Salesforce at a customer's bidding, automating processes that took multiple email messages and forms -- sometimes losing leads in the process.
Just when sales and marketing teams thought they had all the customer communication channels covered with phone, video, email, social media, chat, SMS and web forms, online scheduling platforms opened a new channel.
Salesforce users who add on third-party online scheduling platforms said when their own prospective customers can book a demo or sales call at their convenience, it boosts marketing Conversion rates and, ultimately, revenue. Giving the customer control of the channel is the key; calendaring becomes a customer experience improvement initiative.
"It's sales tech that helps the buyer [and] gets the buyer involved," said Nicolas Vandenberghe, co-founder of online scheduling platform startup Chili Piper, based in New York.
In this way, the calendar -- old tech enjoying a renaissance -- becomes a revenue-driving inbound marketing tool, driving prospective customers from the web directly to sales staff, with marketing monitoring the progress and classifying leads in their systems. More recently, Vandenberghe said, he's also seeing SaaS platform companies on Salesforce use integrated calendars to help enable customer subscription renewals.
Augmenting native Salesforce features
Salesforce calendar features tend to be specific to the salesperson's internal use, according to Chili Piper users who also are on Salesforce. This has given rise to multiple third-party vendor automation and data-mining tools such as Chili Piper and competitors such as Calendly; Acuity Scheduling, which was acquired in late April 2019 by Squarespace; ScheduleOnce; and TimeTrade.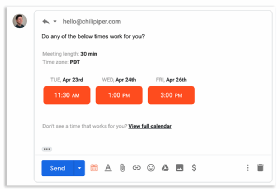 By exposing the salesperson's open times to the customer, these calendar tools speed up the process by eliminating back-and-forth email messages in which the customer and salesperson hunt for a mutually convenient time. The customer picks a good time for both.
"Small businesses, in general, don't always have the time for a call then and there when they're searching online about a product and have a question," said Michael Goss, senior channel marketing manager at Intuit, whose QuickBooks marketing team caters to that market segment. "Giving them another opportunity to chat with us on the phone is a nice-to-have."
It's not just nice, though, Goss said. As a marketer, the act of scheduling an appointment moves a lead down the funnel.
"It makes my job easier," he said. "They're automatically showing intent."
Online scheduling platforms also include analytics tools that examine trends across all appointments and dashboard the results, such as unfulfilled appointments, sales conversions and other outcomes. Those give marketing and sales team leaders more insight on next actions.
Subscriptions range from $6.50 to $200 per user, per month, for the different platforms. The platforms offer a mix of features, typically across multiple plans. The capabilities include integration with meeting platforms, such as Zoom, GoToMeeting and WebEx; forms connected to the calendar; electronic payments; Marketo and Eloqua integrations, in some cases; and even telephony.
Enabling handoffs without losing the lead
It's cheating the funnel.

Justin MurphySales operations specialist, PandaDoc
Online scheduling platforms also can help hand off customers between teams with differing expertise, said Justin Murphy, sales operations specialist at PandaDoc, based in San Francisco. His company, which specializes in streamlining the creation of professional-looking proposals, sales quotes and contract documents, uses Chili Piper to book prospects with the right product specialist to deliver a custom sales demo by use case and company size.
After booking the initial demo, Murphy said the PandaDoc sales team also uses the online scheduling platform to move the prospect from key conversation to conversation. For example, it takes a few clicks to tag in a technical expert to go over the IT requirements of integrating PandaDoc with the prospect's CRM platform.
"It's cheating the funnel," Murphy said. "It goes from zero to 100 right away ... It's saying, 'Let's just skip the back-and-forth emails and get right to the conversation.'"
Early results in
As for outcomes, many of these tools are still in early use, but users said they are examining customer conversion rates, as well as the -- increasing, they hope -- number of sales demo calls to measure the success of online scheduling platforms.
Intuit's Goss said conversion rates on customer-scheduled appointments are higher than chats or unscheduled calls. He suspects that's because it's at the customer's convenience, and they are driving the conversation and feel more in control.
Speed is the key for SaaS companies holding on to leads, said TJ Nokleby, director of marketing at Grow.com, a SaaS business intelligence platform designed to help SMBs use Grow.com's sales, marketing and customer success funnel data to find more sales opportunities.
Installing Chili Piper condensed a seven-step process down to three, Nokleby said, by offering demo appointments directly on website pages. Using Grow.com's previous combination web form and email booking process, 40% to 50% of customers offered a sales booking completed a demo. Now, it's up to about 70%, he said.
Another benefit, Nokleby said, is it keeps prospective customers exploring information about Grow.com.
"If they can book on the site, they stay on the site," Nokleby said. "They still look around after booking a demo, at integration pages, pricing pages and other information to make that demo a little stickier."