Get started
Bring yourself up to speed with our introductory content.
How to improve customer experience with mystery shopping
Mystery shopping -- among other CX management tools -- enables businesses to collect the data necessary to identify customer pain points and improve CX.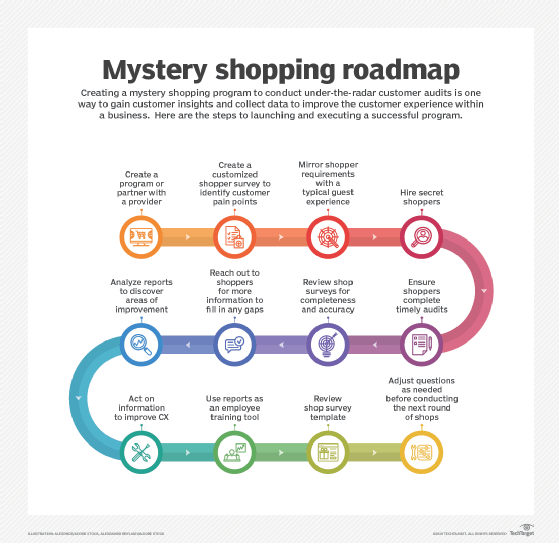 When determining how to improve customer experience, mystery shopping -- customer data collected undercover to improve CX -- can be a powerful tool.
Get started by either creating an in-house program or partnering with a mystery shopping provider (MSP). An MSP can manage shopper programs from start to finish. This includes creating a survey with questions customized to your business, sourcing shoppers, reviewing completed surveys for completeness and analyzing reports to discover areas of improvement.
It is important to note that a successful mystery shopping program should not remain static. Shop surveys should not receive consistently high scores, as no business is 100% perfect 100% of the time. To prevent this from happening, stores should contract a variety of secret shoppers to ensure different viewpoint and adjust survey questions on a regular basis to identify current customer pain points. This enables businesses to determine how to improve customer experience.
There are a number of MSPs in North America available to help businesses on their journeys, and many are members of MSPA Americas, a professional trade association dedicated to improving CX. Organizations across all industries can benefit from a mystery shopping program, including restaurants, retail stores, hotels, casinos, amusement parks, contact centers, medical offices, schools and even churches.
Other CX improvement tools include comment cards, surveys, reputation management, social media, email and phone calls to customer service teams. When used in conjunction with mystery shopping, these tools help to provide a complete overview of consumers' experience with a company.