Rawpixel.com - stock.adobe.com
Target glitch pits e-commerce vs. POS customer experience
Big-box retailer Target's checkout outage showed how e-commerce systems can fill in when POS systems fail. They're not quite ready to supplant POS -- but they're getting there.
Judging from the Target glitches that caused checkout delays and lost the retail chain an estimated $50 million in revenues, e-commerce is still far away from replacing the point-of-sale payment systems. However, that aspect of customer experience is leaping forward, year by year.
Checkouts went offline at all of Target Corp.'s 1,800-plus stores for about two hours June 15 and then were unable to process some electronic payments for another 90 minutes June 16. For enterprising customers, the e-commerce smartphone app provided a way to circumvent long lines the Target glitch caused.
Both Target glitches -- the first caused by an "internal technology issue" and the second by a data center problem at third-party payments vendor NCR, the company said in an emailed statement -- could have caused up to $50 million in lost sales, according to analysts.
Target Technology Services, the company's internal IT development team, developed its POS system, with each store running its own servers. Target.com's e-commerce platform, also run by the internal group, is experiencing explosive growth as sales topped $5 billion for the first time 2018. Online sales grew more than 25% for the fifth consecutive year, accounting for more than 7% of sales revenue according to earnings results released last Feb. 2.
POS failure unusual
From a customer experience perspective, POS outages causing long lines at big-box stores are rare, said Forrester analyst Sucharita Kodali. Most of the time, it's the web site or underlying e-commerce platform that goes down, so it's difficult to gauge the CX implications of a POS failure like the Target glitch.
In the cases where stores fail, such as out-of-stock merchandise or crowds during holidays, the web can save the sale.

Sucharita KodaliForrester analyst
In the past, Kodali said, when the physical "bricks" side of a retailer has a problem, the "clicks" side can sometimes pinch-hit.
"It's very unusual for store infrastructure to go down," Kodali said, but there are other examples where e-commerce fills the breach. "In the cases where stores 'fail,' such as out-of-stock merchandise or crowds during holidays, the web can save the sale."
E-commerce not supplanting POS anytime soon
From the Twitter stream of trending hashtags such as #TargetDown and #Targetgeddon, photos and status updates told the story of long lines and frustration as customers sought to purchase items such as Father's Day gifts advertised in flyers and online promotions.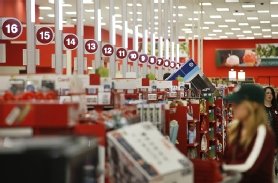 It also showed some positive stories of Target employees helping customers deal with the delays by entertaining children and handing out bottled water. Target employees also coached customers in line who had downloaded the Target app how to purchase their goods, pay for them and choose store pickup as a delivery method, which got some customers out of line and into the parking lot faster.
As long as incidents such as last weekend's Target POS outage and its 2013 data breach are relatively isolated incidents, said Deb Gabor, CX brand consultant and CEO of Sol Marketing, customers are likely to forgive and not go to competitors such as Walmart, which boasts a large e-commerce operation of its own.
E-commerce, Gabor said, will likely remain a secondary customer experience to physical retail for some time because many customers still tend to prefer to interact with another person to make the final decision and complete the sale. The traditional retail experience -- and its POS technology -- will likely be the first option for many consumers for a long time.
"Some could argue with personalization engines and recommendation [algorithms] available -- and all the data about shopping preferences, habits and credit card history of what you've previously bought -- you can get personalized recommendations," Gabor said. "But I don't have a two-way relationship with a recommendation on my screen at an e-commerce site."