kalafoto - Fotolia
Salesforce Vlocity acquisition to aid vertical CRM integrations
As Salesforce co-CEO Keith Block steps down, the CRM vendor acquires Vlocity to spur growth in healthcare, energy, media, government, financial services and insurance.
Salesforce announced that Keith Block stepped down as co-CEO this week. He will remain with the company for a year as an adviser to founder Marc Benioff, who retains the CEO position by himself.
In other news, Salesforce acquired Vlocity, which configures Salesforce for six vertical markets, for $1.33 billion in cash. The Salesforce Vlocity buy nets the company CRM configurations specific to communications, insurance, energy, media, healthcare and government sectors.
Benioff said in Tuesday's earnings call that Salesforce plans to pause acquisitions, for now. He also assured shareholders that Salesforce's leadership remains strong, naming COO Bret Taylor, CFO Mark Hawkins and Tableau CEO Adam Selipsky in particular. Block, who was also on the call, characterized the "state of the union" of Salesforce leadership as strong.
While Salesforce named no immediate successor to Block, Benioff wrote in his book Trailblazer last fall that he had elevated Block to co-CEO in 2018 to maintain his own sanity and accelerate the company's future growth.
"Continuing to carry the full weight of the company on my shoulders wasn't helping anybody," Benioff wrote, adding that he'd arrived at the decision to elevate Block after swimming with humpback whales in Tonga. "The new arrangement would allow me to be more mindful, more present, and perhaps less chronically late for meetings. It was a dramatic move, but one I believe will help Salesforce prosper for many years."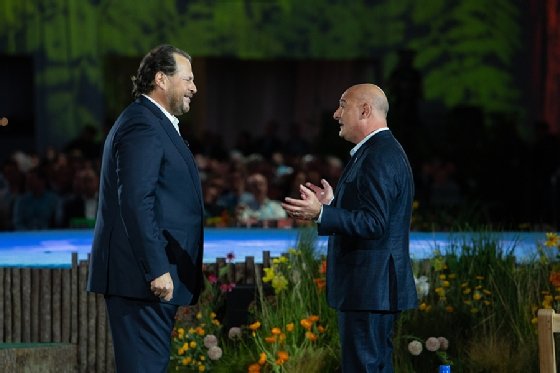 More Salesforce execs on the move
Like Salesforce's competitors SAP and -- until the death of Mark Hurd last October -- Oracle, Salesforce divided the CEO position among two top executives. While this model has advantages in splitting up overwhelming leadership positions at large software companies, it can sometimes lead to conflict, said Nicole France, an analyst at Constellation Research.
Any partnership, as anyone who's been in a marriage can tell you, is tough to get right.

Nicole FranceAnalyst, Constellation Research
"Any partnership, as anyone who's been in a marriage can tell you, is tough to get right," France said, adding that running large organizations in tandem adds challenges that solo CEOs don't have. "You don't have clarity about where the buck stops. I think, at some point, all dual CEOs face challenges that become insurmountable."
Salesforce also named former BT Group Chief Executive Gavin Patterson its president and CEO of Salesforce International. He replaces one of Block's direct reports, Miguel Milano, who also left the company. Milano takes over as chief revenue officer and co-owner of Celonis, a vendor of business process analytics software.
Milano follows former Salesforce Marketing Cloud CEO Bob Stutz, who left to run SAP's C/4HANA customer experience platform last fall.
Vlocity a move into verticals
Terry Simpson, technical evangelist at Nintex, said the Salesforce Vlocity acquisition helps users in verticals like healthcare, energy and media by configuring Salesforce CRM to those specific industries. Nintex is a Salesforce partner that automates processes by integrating Salesforce with back-end systems via forms.
Purchasing a Salesforce instance pre-configured to a vertical, as Vlocity tools do for large enterprises, requires far less time and capital than customizing Salesforce with a large consulting firm such as Accenture, Simpson said. It also can cut implementation time from six months to two. He said he sees the Salesforce Vlocity acquisition potentially attracting new customers in the industries it serves.
"A lot of the times, these projects don't get off the ground because of the duration of the project lifecycle," Simpson said. "When you're configuring Salesforce and not customizing it, it's so much easier to do."
Constellation's France said she envisions Salesforce using Vlocity technology to strengthen its platform in the verticals Vlocity serves at first, and using those products as a template to move into new ones.