Sergey Nvns - Fotolia
Salesforce Lightning App Builder adds low-code forms features
Salesforce Lighting App Builder will include oft-requested low-code features for building complex forms that previously required developer coding to create and update.
Salesforce this week previewed Dynamic Forms and Dynamic Actions, two upcoming low-code form-building features set to debut in its upcoming Summer '20 release. They will roll out to some customers in May, and to most others in June.
Dynamic Forms is a Salesforce low-code tool on Lightning App Builder that enables the drag-and-drop creation of complex forms for users' internal business workflows. The "dynamic" part involves showing custom fields that populate the form as an employee fills it out.
Dynamic Actions is an accompanying wizardlike interface that guides Salesforce users through the creation of workflows that route employees filling out forms to a next appropriate step based on their roles or where they are in the completion of a process, such as hiring or onboarding.
While many vendors offer forms creation engines -- and have, for years -- Salesforce users will appreciate these new, low-code tools because they're native to the platform, said Nicole France, an analyst at Constellation Research.
"There's tremendous interest in having these tools in the digital workspace that employees are already using," France said. "Even though it's easy to do integrations through APIs, it's still way easier to have something integrated into the tool set you're already using than to go get something else and to integrate it."
The features were one of the most requested on Salesforce's IdeaExchange, a portal where customers suggest additions to the platform, and others can vote on the ones they want most. Salesforce takes these tallies into consideration when developing its product roadmap, said Ryan Ellis, senior vice president of product management at Salesforce.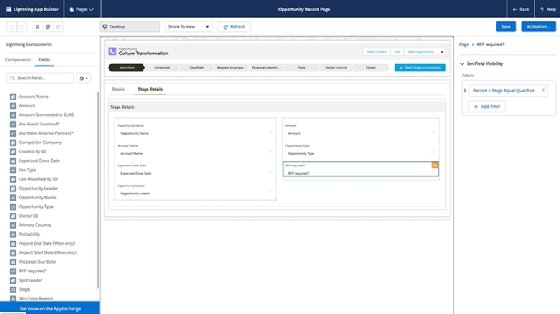 Reducing developer workloads
While the forms that the Salesforce low-code Lightning App Builder will be able to make could be built before in Salesforce, it required developers to code them, Ellis said. Updating the forms when processes changed would often require the coders to start over. The low-code version will allow nondevelopers to create the forms and reduce admin workloads required for maintenance.
Once the Salesforce low-code form builder was put on the product roadmap, Ellis added, more than 400 customers signed up to pilot them. That's far higher than the typical number of pilot participants, which he characterized as a "couple dozen."
"There were so many notes about this on the IdeaExchange, across the board," Ellis said, adding that interest cut across many Salesforce customer demographics and firmographics. "Judging by the pilot alone, they came from a broad spectrum of industries, a broad spectrum of sizes."
The Salesforce low-code form builder has initially been used for internal, employee-based processes. Ellis' team anticipates that Salesforce users will eventually use Dynamic Forms to gather customer data on projects such as e-commerce sites as they learn to integrate them into their business processes. But that will come later.
Forms still serve a role
Forms remain a strong metaphor for business processes, despite the concept predating software, Ellis said. While the form is an old idea, it resonates with businesses as a commonly understood way to ingest data and catalyze other processes as data flows through an organization.
A form is fairly easy to comprehend as a structure; we're all so used to filling them out.

Nicole FranceAnalyst, Constellation Research
"A form is fairly easy to comprehend as a structure; we're all so used to filling them out," said France, adding that business in general and Salesforce users should evaluate their processes before committing them to forms. "In the short term, that might be the easiest thing to do, but are you just digitizing what you did before, and does that make the most sense? Does that best meet the need?"
Salesforce's low-code tools represent the latest push for the company to extend its reach outside the platform into the back office, France said. While many low-code platforms exist, France predicts there will be a consolidation over the next five years, as IT departments clash with superusers of platforms such as Salesforce to standardize on preferred development tools. She said Salesforce's low-code platform is in a good position to remain relevant among operations teams, however.
In the Salesforce Summer '20 release, Dynamic Actions will appear in beta; Dynamic Forms will be in "non-GA preview," which means Salesforce customers will be able to use the feature, but it won't be in its final state.