metamorworks - stock.adobe.com
HubSpot CRM adds B2B online payments processing
HubSpot CRM adds no-code Stripe online payments as well as data governance and enhancements to Operations Hub such as analytics and a Snowflake integration.
To build out its CRM platform, HubSpot will add no-code Stripe online payments processing later this year for U.S. users, along with new Operations Hub features and integrations with data sources such as Snowflake, as well as new data-governance features.
HubSpot Payments online payments processing, currently in beta, came through a partnership HubSpot forged with Stripe to enable no-code credit card and bank transfers, said Brad Greene, vice president of commerce and payments at HubSpot. HubSpot users in 41 countries can sync data with Stripe and generate quotes, but payments aren't built natively into the platform.
Prior to the COVID-19 pandemic, many of HubSpot's small- and medium-sized business customers -- especially service-oriented HubSpot users with 100 employees or fewer -- hadn't set up digital commerce mechanisms. Instead, they managed invoices and payments through accounting departments with checks and wire transfers. Few had coded their own integrations with companies such as Stripe or PayPal.
"A lot of B2B services businesses aren't even selling online today," Greene said. "It's just not a channel that they put to work. We think they can open up new revenue streams and improve the customer experience by allowing their customers to buy and pay online."
CRM-based online payments processing doesn't constitute an e-commerce cloud, Greene said, but that doesn't preclude HubSpot from doing it in the future.
For now, though, SMBs aren't thinking about sophisticated e-commerce sites and the content to support it, said Liz Miller, an analyst at Constellation Research. Instead, they're thinking more along the lines of moving from paper transactions and light automation such as configure-price-quote, where customers or sales reps can configure an order online and make a payment through a centralized CRM without Excel spreadsheets or the finance department.
"It's not e-commerce if you want to take an individual payment for a one-off service," Miller said. "If we strip away vendor language around commerce, it's about the transaction, and how much of that data can you get and can you make visible in a safe, secure space. That becomes a new model, a new way of thinking for sales, for marketing. This gets people closer to that frictionless transaction."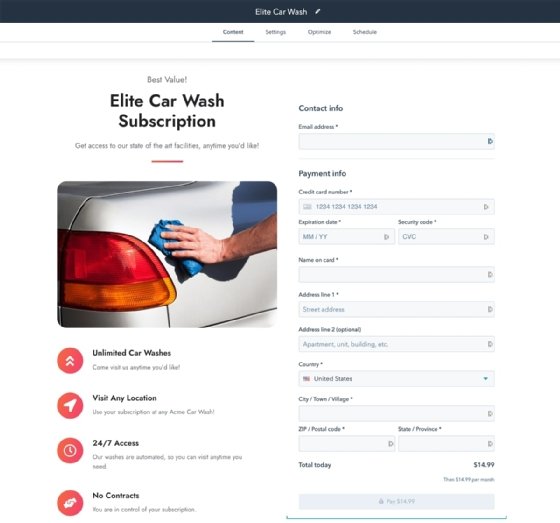 HubSpot focuses on CRM
While HubSpot's core marketing platform has many users who connect it to CRM systems from Microsoft, Salesforce and other vendors, HubSpot continues to build its competing CRM, which was launched in 2015 and expanded to enterprise users last year. HubSpot will add enterprise data governance and user controls to its CRM, including permission sets, user impersonation, audit logging and signature management.
Earlier this year, HubSpot unveiled Operations Hub, which added revenue operations forecasting tools to its CRM. On Nov. 1, HubSpot will offer an enterprise edition of Operations Hub. Features and capabilities planned for this edition include a business intelligence feature called data sets, which enables analysts and operations teams to curate collections of data -- including calculations and pre-selected fields -- for downstream users to build reports on. It also includes Snowflake Data Share, an integration with the popular cloud data warehouse.
Admittedly, there's only a small percentage of HubSpot customers who use Snowflake today, said Andy Pitre, HubSpot vice president of product.
But HubSpot finds its way into large enterprises in a few scenarios, Miller said. One, when a department or regional office decides to set up a HubSpot instance for its own marketing use because it's quick and simple, and two, when a company decides to bypass its legacy infrastructure and start from scratch in the cloud on HubSpot.
"Now all of a sudden the CIO says, 'We're bringing all of our systems, all of your CRM data from around the world and dumping it into Snowflake. Everyone, let's figure this out, tell me what you've got,'" Miller said. "All of a sudden, someone raises their hand and says, 'We've got HubSpot.'"
In those instances, HubSpot's integration with large enterprise tools becomes a customer retention strategy, even though most HubSpot users are smaller than the typical enterprise.
Adding sophistication to its CRM could keep HubSpot's medium-sized users from outgrowing the platform quickly. There's a point on the growth curve where every company needs to jump to a Salesforce, Microsoft Dynamics or Oracle CRM, but if HubSpot can keep customers for just a little longer in those cases, it can make a big difference to HubSpot's bottom line, Miller said.
HubSpot discussed the new features at its annual Inbound user conference. Pricing on HubSpot Payments is a flat rate of 2.9% of the transaction amount for credit cards, and 0.5% for bank account transfers, capped at a maximum of $5 per transaction.
Don Fluckinger covers enterprise content management, CRM, marketing automation, e-commerce, customer service and enabling technologies for TechTarget.