Getty Images/iStockphoto
Amazon Connect updates contact center workforce management
AWS's Amazon Connect contact center as a service platform adds machine learning workforce optimization to predict customer contact volume, as well as staffing numbers to cover it.
AWS revealed new machine learning workforce optimization features coming to its Amazon Connect contact center as a service platform.
They include forecasting, capacity planning and scheduling tools to automate functions many contact centers keep track of on spreadsheets, said Sajith Kaimal, Amazon Connect product manager, in a blog post. The preview of the new features is available for many users in the United States, with Europe and Asia Pacific regions to follow.
Adding these capabilities is a "brilliant move" by Amazon, because machine learning is underutilized in contact center operations and administration, said Dan Miller, co-founder of Opus Research.
Planning and forecasting are largely manual processes that can benefit from AI.

Dan MillerCo-founder, Opus Research
"As companies contemplate moving their contact center resources to the cloud, they should take advantage of single-button access to planning and forecasting capabilities," Miller said. "It may seem deep in the weeds, but planning and forecasting are largely manual processes that can benefit from AI."
AWS grows its CCaaS
The features follow AWS's rapid build of Amazon Connect, which is based on Amazon's homegrown contact center software. In the last year, AWS added chatbots as well as agent-assist tools. Some AWS Marketplace partners such as Calabrio also offer capabilities for agent staffing, which can account for 75% of a contact center's operational costs, according to research by F. Curtis Barry & Co., a supply chain and distribution consultancy.
In Amazon Connect, users can set rules for the machine learning algorithm to generate schedules, such as hours limits for agents, maximum consecutive working days, minimum and maximum staffing levels, voice vs. chat volume predictions, and time zone calculations that can take into account multiple contact centers for large organizations with global operations. The new tools can make short- and long-term predictions for staffing needs. Users can create "what-if" scenarios based on different agent attrition rates.
AWS previewed the Amazon Connect workforce optimization features at the Enterprise Connect conference this week. Pricing has not yet been set, but "will follow Amazon Connect's pay-as-you-go pricing model once generally available," Kaimal said.
Don Fluckinger covers enterprise content management, CRM, marketing automation, e-commerce, customer service and enabling technologies for TechTarget.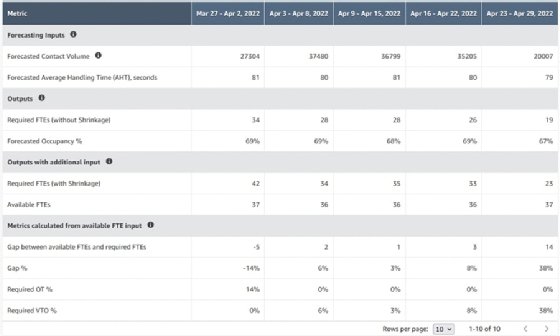 Dig Deeper on Customer service and contact center